Staff Enrichment offerings for June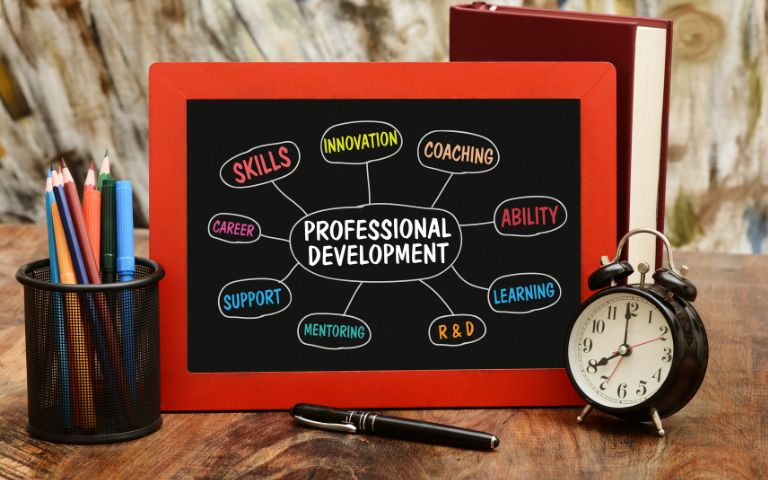 June Staff Enichrment will be held June 20-21 from 10 a.m. to 12 p.m. and 2-4 p.m. Programs will last one hour and be virtual unless otherwise noted.
Staff can choose self- or team-directed professional development in place of our monthly offerings, just be sure to work with your supervisor on any details.
Schedule
Tuesday, June 20
Español-English Meetup

10-11 a.m.
Location: Pickle Jar
Bring your lunch and join for this monthly bilingual conversation group. Everyone is welcome! Trae tu almuerzo y únete a nosotros para este groupo de conversación bilingüe menusal. ¡Todos son bienvenidos!
25Live Refresher

11 a.m. to 12 p.m.
Presented by Nakita Green
Location: Microsoft Teams
Need to reserve a space for your event and don't have a clue on where to begin? Come join us and take a dive into 25Live and learn how to navigate the system like a pro.

Byte-Size Tech: Microsoft Teams Meetings

2-3 p.m.
Presented by Deb Carley, Matt Horvat and Tamar Pandi
Location: Where else? Microsoft Teams
New technology can overwhelm our appetite for change, so we are here to break it down into manageable pieces for easy digestion. These sessions are designed to ensure you get the information you need in a way you can use it. For our June session, we are going to focus on Microsoft Teams meetings. You will learn the entire cycle of a Microsoft Teams meeting: how to set it up, what you can do during a meeting, and how you can access the recording afterward.
Wednesday, June 21
Behind the Scenes: Student Orientation

10-11 a.m.
Presented by Aaron Ross
Location: Microsoft Teams Meeting
Student orientation is crucial to ensuring students acclimate to UNCSA and starting them on their UNCSA journey. In this session, you will learn about the overall timeline and key collaborations across the campus that help facilitate orientation every year.

Craft Circle

11 a.m. to 12 p.m.
Location: Library Makerspace
Bring your own project to work on, or come work on the sewing machines to make a napkin or coaster (fabric and supplies will be provided). Enjoy spending an hour being creative with a great group of people.

Back in time in the Archives: UNCSA 1973 & Today

3-4 p.m.
Presented by Kait Dorsky
Location: University Archives (Library Annex)
Come explore the UNCSA Archives as we look back at (U)NCSA 50 years ago. Take a view into the past as we explore the campus and culture in its early years through performance programs, photographs, student newspapers and more from the Archives collections.
Contact: Matt Horvat
June 8, 2023