Music Appreciation Class
Music Appreciation Class
Spring 2018: What do we listen for in Classical Music?
Dates & Times
Thursdays, March 1-29, 2018, 9:30-11:30 a.m.
*No class March 8
Cost
$70
Location
UNCSA Library, Fourth Floor
Contact
For more information, please call 336-734-2848
School of Music piano faculty Dmitri Vorobiev presents a series of four educational, entertaining and highly opinionated lectures. This course will focus on comparing various recordings of famous and not-so-famous artists to reveal what professional musicians listen for in performances, why certain performances which sound "fine" are criticized by musicians, and what personality really means when it comes to performing.
Another element of these lectures will illuminate why music by certain composers is so popular 200 or more years after their deaths, yet compositions by other composers from the same time period are almost completely forgotten.
There is no requirement for any musical background for this course. Those who attend will, however, be much more educated for next concert they attend and will be able to formulate their own opinions about performance and composition.
The lectures will be given in two parts, with a break and refreshments.
Registration
Or call 336-734-2848 to register by phone.
Find Us on Social Media
Instructor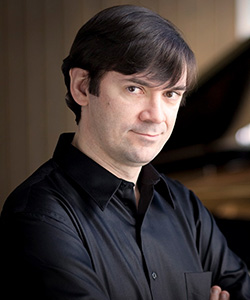 A native of Moscow, Russia, Dmitri Vorobiev began his piano studies when he was five. He first came to international attention after winning the Casagrande International Piano Competition in Italy in 1994, followed by performances at the Festival of Two Worlds in Spoleto and numerous recitals throughout Italy. He joined the UNCSA Music faculty in 2017 as Associate Professor of Piano. Previously, he was on the faculty of Northern Iowa School of Music and International Music Academy in Pilsen.