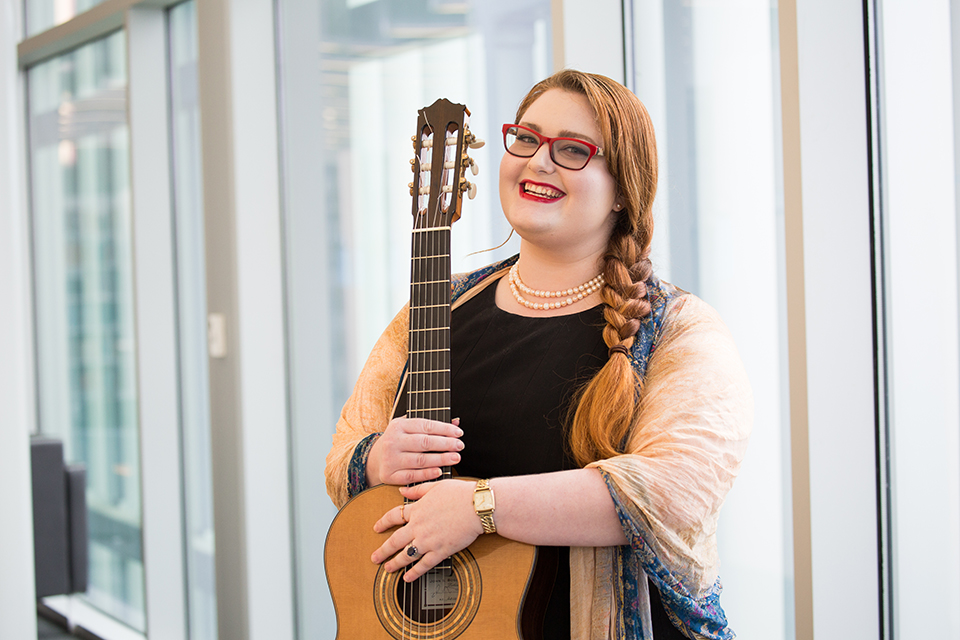 Juliet A. Gervasi is currently working on her master's degree in classical guitar performance at the University of North Carolina School of the Arts as a graduate teaching assistant. She began her studies in guitar in 1999. She graduated from the guitar program at Weaver Academy for the Performing and Visual Arts in 2011. In 2013, she completed a January term program at St. Clare's College in Oxford, England affiliated with Guilford College and studied for a semester in Siena, Italy with the Scuola Leonardo da Vinci. She graduated from Guilford College with a bachelor's degree in music and minoring in education studies in 2017.
Most recently, she placed second in the Eastern Music Festival's first ever guitar competition in 2015, and she has placed twice in the Music Academy of North Carolina's Annual Guitar Festival and Competition. Juliet has performed with many ensembles including the Guilford College guitar ensemble, the Appalachian State University's annual Guitarfest guitar ensemble, and the Consensus guitar quartet in the Eastern Music Festival's annual Chamber Crawl event. She also has extensive experience as a solo performer in various contexts. She was a teaching assistant for the Guilford College guitar ensemble and a Music Theory I tutor at Guilford College, and is a substitute teacher for Guilford County Schools. In the summer of 2014, she worked with the Eastern Music Festival.
Juliet welcomes students of all ages and at all levels of experience, and her teaching experience includes students ranging from 6 years old to seniors. She teaches to share appreciation for, love, and understanding of music through the guitar. Juliet strives to provide an engaging, nurturing, and intellectually challenging atmosphere for her students.
Education
B.M.Guilford College