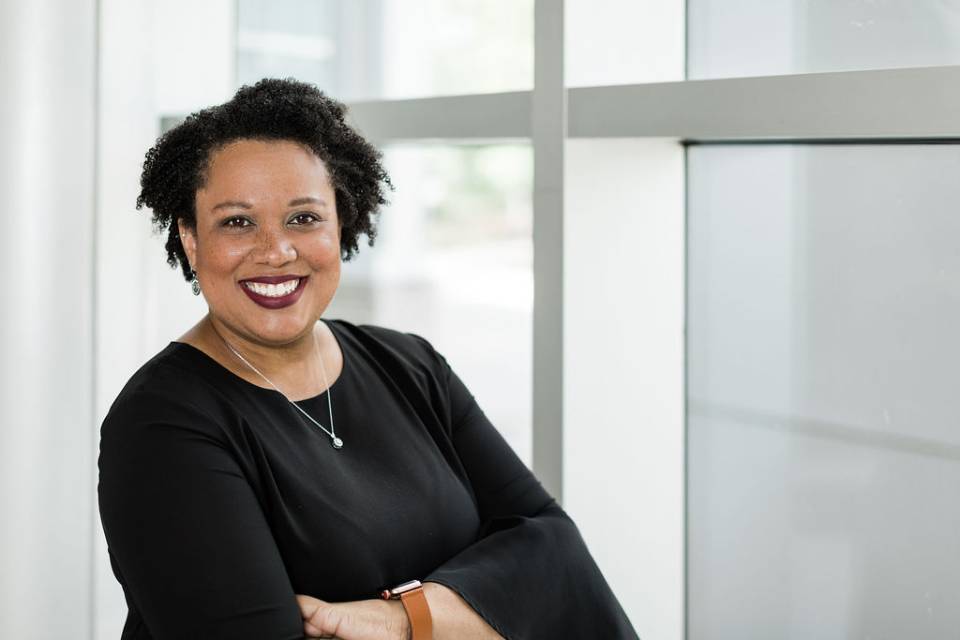 Theater educator, dramaturg and author Martine Kei Green-Rogers is interim dean of the Division of Liberal Arts at UNCSA. She leads a full-time faculty of 14 who teach courses in composition, foreign languages (French, German, and Italian), history, humanities, literature, mathematics, media studies, philosophy, psychology, science, and writing. Courses are designed to enrich the students' work in the arts while developing knowledge and skills to participate effectively as responsible citizens.
Green-Rogers joined UNCSA from the State University of New York-New Paltz, where as associate professor in the Department of Theatre Arts, she taught courses related to dramaturgy, violence in African American theater, African diaspora theater, world theater, gender and race in American theater, and issues of sustainability in the theater. She is the fellowship associate for the 2021-22 season at the Playwrights' Center in Minneapolis. Green-Rogers has two books in process: "Devising and Dramaturgy," forthcoming from global publisher Routledge; and "In the Studio: Dramaturgy and Stage Design" (co-authored with Jesse Portillo), forthcoming from Southern Illinois University Press.
Credentials
Served as the adapter of the Kennedy Center's world premiere of Jason Reynolds' "Long Way Down."

Dramaturgical credits include seven seasons with the internationally renowned Oregon Shakespeare Festival ("Hairspray," "The Book of Will," "Shakespeare in Love," "Hannah and the Dread Gazebo," "UniSon," "The Comedy of Errors," "To Kill A Mockingbird," "The African Company Presents Richard III," "A Midsummer Night's Dream," "Fences" and the Play on! Project's 21st-century translations of "Comedy of Errors" and "The Two Noble Kinsmen"); numerous seasons at the Court Theatre in Chicago ("Radio Golf," "Five Guys Named Moe," "Blues for an Alabama Sky," "Gem of the Ocean," "Waiting for Godot," "Iphigenia in Aulis," "Seven Guitars," "The Mountaintop," "Home" and "Porgy and Bess"); "The Greatest" with the Louisville (Kentucky) Orchestra; numerous seasons with the Classical Theatre Company of Houston ("Miss Julie," "The Tempest," "Uncle Vanya," "The Triumph of Love," "Antigone," "Candida," "Ghosts," "Tartuffe" and "Shylock, The Jew of Venice"); three seasons with the Pioneer Memorial Theatre in Salt Lake City ("Fences" and "One Man, Two Guvnors"); and "The Catastrophist" at Marin Theatre Company in the California Bay Area.

Directed "The Brothers Size" for the Ancram Opera House in Hudson Valley, New York, "Sender" with New Paltz's Denizen Theatre, and has upcoming productions as director with Salt Lake Acting Company.
Organizations
Association for Theatre in Higher Education (ATHE)

Past-President, Literary Managers and Dramaturgs of the Americas (LMDA)
Education
Ph.D. Theater and DramaUniversity of Wisconsin-Madison
M.A. Theater History and CriticismThe Catholic University of America
B.A. TheaterVirginia Wesleyan College