David Biedenbender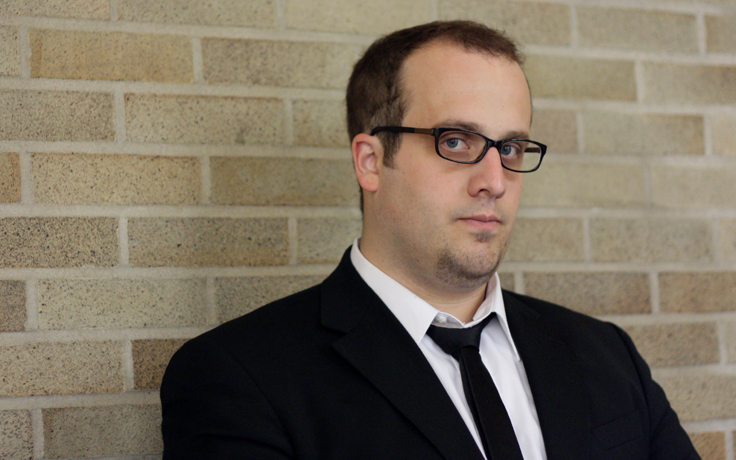 nu ensemble performed David Biedenbender's "Schism" at its Oct. 24, 2013 concert.
Composer David Biedenbender was born in 1984 in Waukesha, Wisconsin. His first musical collaborations were in rock and jazz bands as an electric bassist and in wind and jazz bands as a bass trombone and euphonium player. A musical omnivore and a passionate collaborator, David is inspired by a diverse array of interests and experiences, and he seeks to fuse the energy and clarity of those influences with his own musical language. His present creative interests include working with everyone from classically trained musicians to improvisers, acoustic chamber music to large ensembles, and interactive electronic interfaces to live brain data.
David has had the privilege of collaborating with many talented performers and ensembles, including Alarm Will Sound, the PRISM Saxophone Quartet, the Stenhammar String Quartet (Sweden), the Aspen Contemporary Ensemble, the United States Navy Band, the Philharmonie Baden-Baden (Germany), VocalEssence, the Eastman Wind Ensemble, Detroit Symphony Orchestra bass trombonist Randall Hawes, the Juventas New Music Ensemble, the Washington Kantorei, the Atlantic Chamber Ensemble, the Boston New Music Initiative, Ann Arbor Dance Works, Composer's Inc. (San Francisco), the University of Michigan Symphony Orchestra and Chamber Choir, and the Vivo Sinfonietta.
Recognition for his work includes two ASCAP Morton Gould Young Composer Awards (2011, 2012), the 2012 Suzanne and Lee Ettelson Composers Award, regional winner of the SCI Student Composer Competition, the Third Millenium Ensemble's Composition Prize, honorable mention for the ASCAP/CBDNA Frederick Fennell Prize and the Michigan Music Teacher's Association Composition Competition, and a Composer Assistance Program Grant from the American Music Center. His music has been heard in many diverse venues, including Symphony Space (New York City), the Fifth Avenue Presbyterian Church (NYC), the German Embassy (Washington, DC), the Middle East (Boston, MA), the Antonín Dvořák Museum (Prague, CZ), the Old First Church (San Francisco, CA), the Settlement Music School (Philadelphia, PA), the Interlochen Center for the Arts (Interlochen, MI), Hill Auditorium (Ann Arbor, MI), the University of Michigan Museum of Art (Ann Arbor), and on WNYC's (New York City Public Radio) Soundcheck with John Schaefer.
In addition to composing, David is a dedicated teacher. He maintains a private studio of composition students and was a graduate student instructor in music theory at the University of Michigan and a member of the composition/theory faculty at the Interlochen Arts Camp and Oakland University. Current and upcoming commissions and projects include works for the Cabrillo Festival of Contemporary Music, soprano Lindsay Kesselman, San Francisco Symphony principal trombonist Tim Higgins, the Donald Sinta Saxophone Quartet, the Grand Valley State University New Music Ensemble, the Akropolis Reed Quintet, pianist Jeannette Fang, and Dark in the Song (bassoon quintet).
He received the Doctor of Musical Arts and Master of Music degrees in composition from the University of Michigan, Ann Arbor and the Bachelor of Music degree in composition and theory from Central Michigan University. He has also studied at the Swedish Collegium for Advanced Study in Uppsala, Sweden with Anders Hillborg and Steven Stucky, the Aspen Music Festival and School with Syd Hodkinson, and in Mysore, India where he studied South Indian Carnatic music. His primary musical mentors include Stephen Rush, Evan Chambers, Kristin Kuster, Michael Daugherty, Bright Sheng, Erik Santos, Christopher Lees, David R. Gillingham, José Luis-Maurtúa, John Williamson, and Mark Cox.