Alfonso Fuentes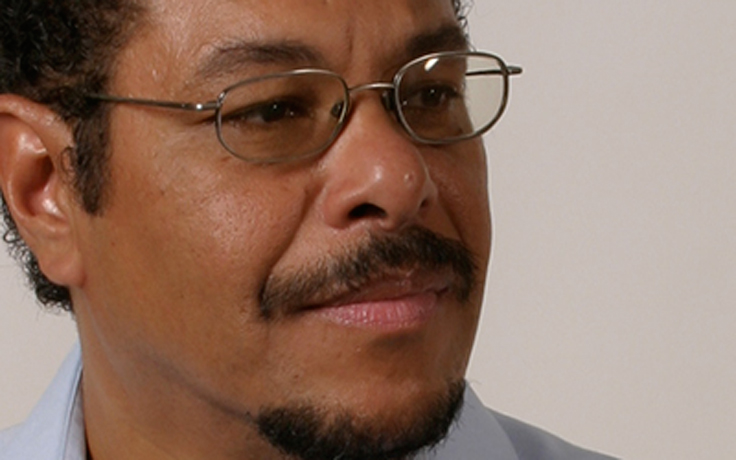 nu ensemble performed Alfonso Fuentes' "Cuarteto para la Coexistencia" on its Oct. 24, 2013 concert.
Composer, pianist, poet and educator Alfonso Fuentes (b. 1954) was nominated for a Latin Grammy in 2009 for Best Classical Work of the Year. He studied at the Puerto Rico Conservatory of Music, in San Juan, and the New England Conservatory, in Boston.
Alfonso Fuente's oeuvre, which includes works for orchestra, ensemble and solo, has been performed by the Warsaw Symphony; Puerto Rico Symphony Orchestra; Cuba Symphony Orchestra; Aulos Wind Quintet; Warsaw Wind Quintet; Camerata Caribe; by members of the faculty at the universities of Michigan, North Carolina, Colorado at Boulder and others; and by distinguished international soloists. In October 2010 his music was presented throughout New York at Symphony Space, El Museo del Barrio and Loft Artists in Stamford.
His commissions include "Planeaciones Ancestrales" for orchestra (1993), "Tropical Conserto for Bass Guitar and orchestra (2006); "Mejunje del Fagobóngo" for bassoon and bongos (2006), "Three pieces for wind quintet" (1998), String Quartet No. 1 (1996), "Cuarteto para la Coexistencia" (2010), "Kumba- Kim" for trombone (2003) and many others.
He has represented his country as a composer at several forums that include the First Iberoamerican Congress of Composers (Buenos Aires, 1996); the 10th and 11th Composers Forum of Central America and the Caribbean (Guatemala, 1998, and Veracrúz, 2000, respectively) and 2nd Latin American Congress of Composers (Venezuela, 2008).
As a pianist, his performances include over 3,500 appearances in all media industry, including 300 concert-tours. He has collaborated as a pianist with artists such as Plácido Domingo, Erwin Scrott, Justino Díaz, Lissette Alvarez, Gina María Hidalgo, in venues such as Carnegie Hall, Town Hall, Atlantic City, Altos de Chavón, etc.
His administrative experience includes having been Dean of Academic Affairs at the Puerto Rico Conservatory of Music (1993-96), where he currently serves as Associate Professor of Composition, offering courses in orchestration and composition. He is music director of the Puerto Rican Congress of Musical Creation, an annual international composition festival, which he founded at the Puerto Rico Conservatory in 2010.