Wolfgang Rihm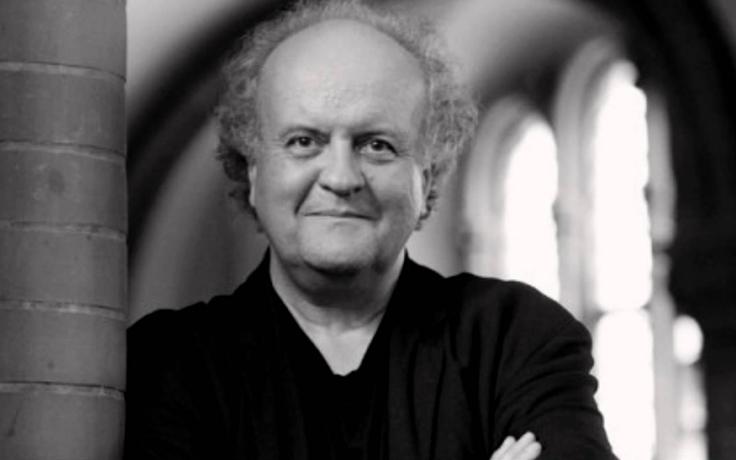 nu performed Rihm's "Will Sound" (2006) at its Oct. 27, 2012 concert.
"Something will sound because it wishes to sound. The composer acts upon its will to be and notes down the spaces in between. There emerges a form, which is the imprint of the energy that demands a form for itself. An imprint? Yes, a trace, a coagulated shadow. Just as this text is an imprint of the will not to write it. I don't understand this. Just as well… It's better to listen to the piece. It is short. It will sound…"
-Wolfgang Rihm
The prolific composer Wolfgang Rihm's music is unpredictable, with wide mood swings and shocking juxtapositions between harsh utter violence and gentle, lovely sounds. He began composing at the age of 11. In 1968, he began studying at the State Hochschule fur Musik in Karlsruhe where his composition teacher was Eugene Velte. He also attended a special course in Humanities on modern composition with composer Wolfgang Fortner and Humphrey Searle, one of the best-known British composers using Schoenberg's 12-tone system.
In 1969, Rihm went to the German center of avant-garde music, Darmstadt, to attend a course in new music. He graduated from the conservatory in Karlsruhe in 1972. After that, he pursued further independent study with Karlheinz Stockhausen, then attended classes with composer Klaus Huber and musicology with Hans Heinrich Eggebrecht.
From 1973 to 1978, he was a member of the faculty of the Hochschule fur Musik in Karlsruhe and, in 1978, was a lecturer at the Darmstadt Festival courses. He wrote two chamber operas, Faust und Yorick (1976) and Jakob Lenz (1977-78), which were given in Hamburg in 1979. He gained considerable recognition, including the Hamburg City Prize, the Berlin Arts Prize, the Darmstadt Kranichsteiner Music Prize, and Freiburg City Reinhold Schneider Prize, and the German Prix de Rome, which carried with it a residency at the Villa Massima of Rome.
In 1985 he was named professor of composition at Karlsruhe. He has continued to win awards and prizes, such as the 1986 Rolf Lieberman Prize for his opera Hamlet-Machine (1983-86), the 1997 Prince Pierre of Monaco Prize for Musical Composition, the Jacob Burckhardt Prize of the Johann Wolfgang von Goethe Foundation (1998), and an honorary doctorate from the Free University of Berlin. He has gone on to write the operas Oedipus (1986-87); Die Eroberung von Mexico (1987-91); Andere Schatten, (1985) which is what he called a "musical scene"; and Seraphim (1994), designated "music theater without a text."


He tends to follow the 12-tone system as used by Anton Webern, Luigi Nono, the later composers William Killmayer and Helmuth Lachenmann, as well as being influenced by the music of Stockhausen and Morton Feldman. Rihm has become one of the most influential composers of the generation born after the Second World War, and was among those who effected a paradigm shift in German musical culture, replacing his predecessors' essentially intellectual and structuralist conception of art with one giving freer rein to emotion, adopting a more flexible approach to structure. To this end, Rihm's music often appeals to the highly expressive sound worlds of late nineteenth- and early twentieth-century composers, with Mahler and Bruckner being particular favourites. Rihm's output is extremely large and includes highly influential stage works, as well as orchestral compositions, chamber music, and songs.