School of Music Fall 2020 Information
My SA
School of Music Fall 2020 Information
Updated Aug. 31, 2020 with link to protocols for mitigating performance risks
Updates and information for students of the School of Music will be published on this page throughout the year.
The School of Music faculty, staff and administration have been working tirelessly to ensure we can provide a vibrant and interactive campus experience, always with the community's health and well-being as our top priority.

We have seen the situation regarding COVID-19 continue to evolve and so we must not only be strict and comprehensive with safety protocols on campus, but we must also be ready to adapt quickly and seamlessly to whatever changes should occur. Please ensure you fully understand our Community Health Standards; you will be expected to follow them once you return to campus. Through planning and research, safety equipment and protocols, technology and training, we are ready to provide an exciting conservatory experience under safe conditions for everyone.

We at UNCSA feel a strong commitment to continue to deliver the best conservatory-level experience possible. Though this semester will be different, in-person teaching combined with highly-interactive synchronous online instruction will continue to deliver top-level training from our world-renowned faculty.
Individual lessons
Lessons will be delivered through a hybrid form of instruction, combining both in-person and online work for a comprehensive and meaningful lesson experience. The number of in-person vs. online individual lessons begins from a default starting point of half and half. The number of in-person lessons can increase, an outcome initiated by the faculty member and accompanied by student agreement. Likewise, the number of online lessons can also increase, but in this instance the outcome is initiated by the student and confirmed by the faculty. It will fundamentally be a conversation between each faculty member and each student to decide the proportion with which all are most comfortable.
Classroom courses
Classroom courses will be delivered also in a hybrid model, with material delivered in-person when necessary, and online when possible. Through faculty training and significant new technology and equipment acquisitions, we can provide considerable facets of our classroom experiences online in ways our faculty feel are more effective and efficient than ever before. In those cases, some courses will be taught entirely online. These decisions were made by weighing the best ways to deliver specific material, and most importantly, safety concerns involving such factors as student density and scheduling.
Safety protocols
None of our in-person instruction could occur without strict safety protocols, diligent cleaning and sanitizing, and extensive ubiquitous safety equipment. To that end, here are some of the measures we have put in place:
All students, faculty and staff will be required to complete a daily COVID-19 screening self-assessment before attending class or coming to work. All visitors will be required to do a screening self-assessment when entering campus.
Every practice room and teaching space where unmasked activity occurs will be outfitted with a HEPA filter air purifier.
Individual student practice time occurring in the School of Music facilities will be scheduled and monitored, with strict consideration for sanitizing and air cleaning before and after each session.
Students and faculty will be provided masks, and everyone on campus will be required to wear a mask or face covering at all times (with some exceptions, such as when playing a wind instrument, at which time extra protective precautions will be taken, such as face shields and plexiglass barriers).
Wipes and hand sanitizer will be widely available and easily accessible for students, faculty and staff throughout the School of Music facilities.
Housekeeping forces have been greatly increased, and cleaning and sanitizing will occur multiple times per day throughout the School of Music facilities, with electrostatic sprayers and foggers employed daily.
In addition to all of this, it's important to note that members of the UNCSA School of Music community must share a collective responsibility for everyone's health and safety on campus. It will be a combined effort to keep each other safe.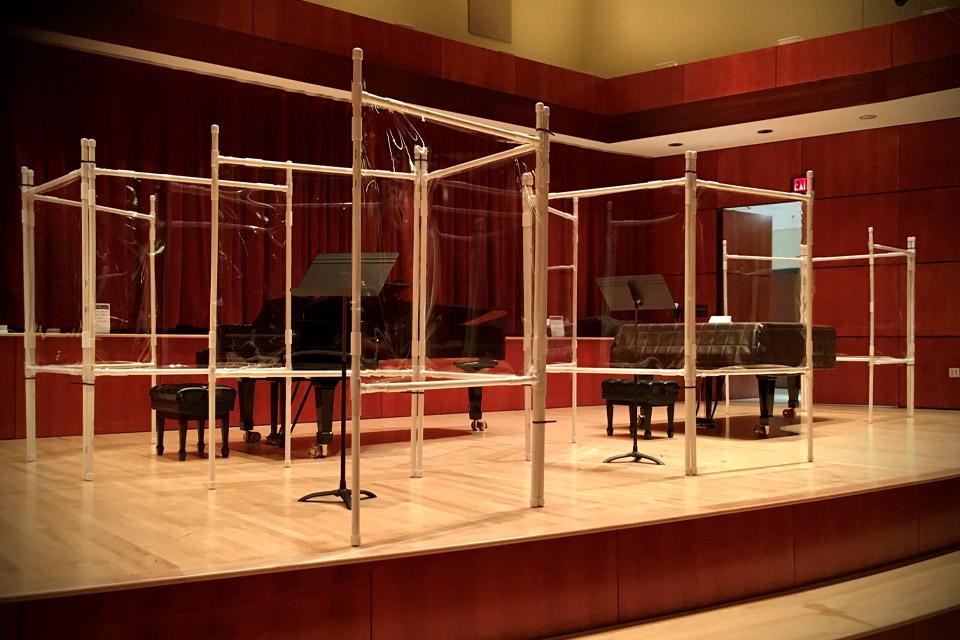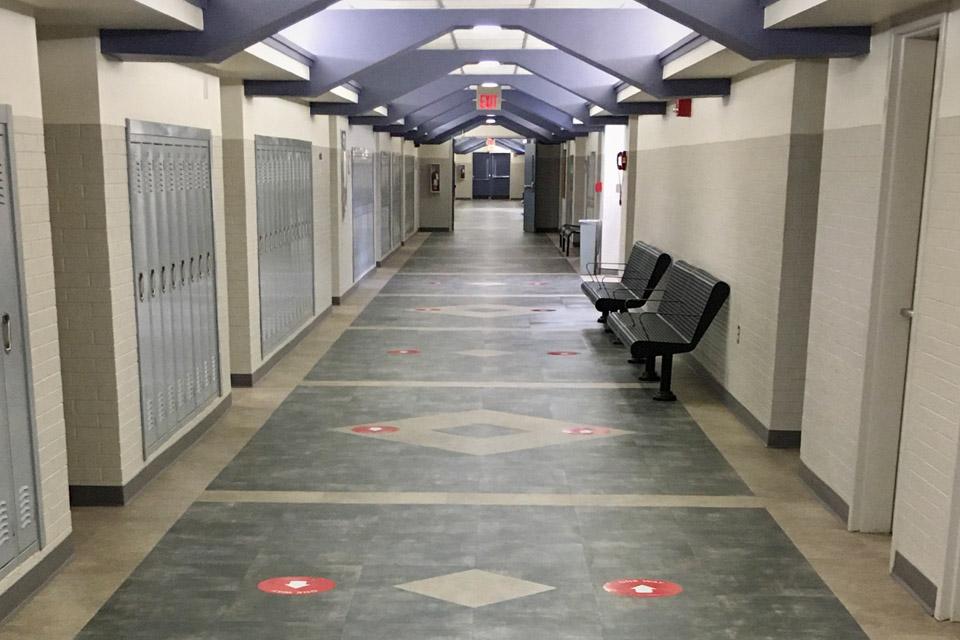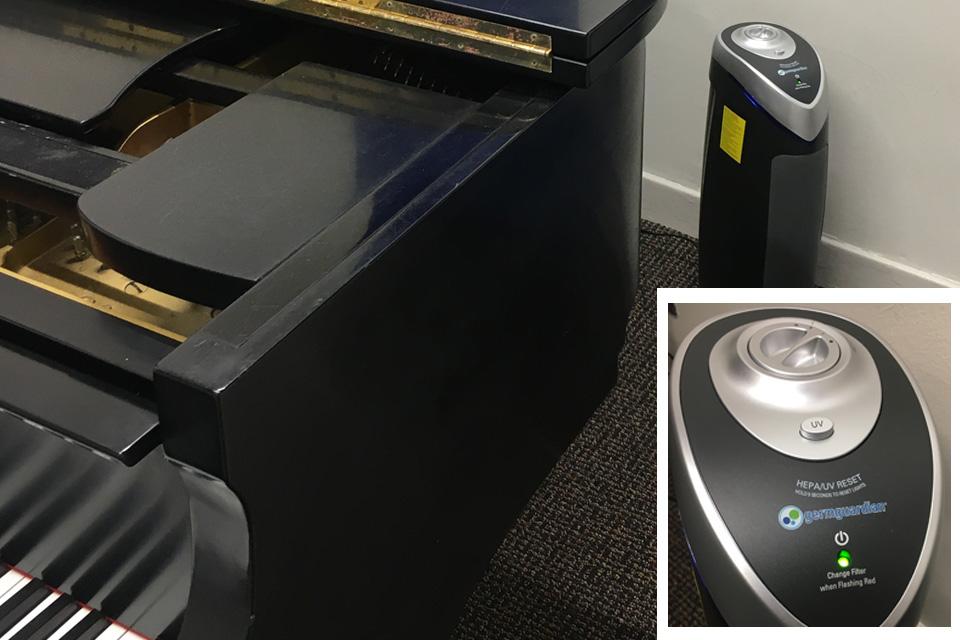 Rehearsals and performances
Rehearsing and performing together is the centerpiece of a music conservatory education. It is an essential pedagogical element to our curriculum, but also comprises some of the most enjoyable and memorable experiences for our students. Though we won't be able to perform Mahler's "Symphony of a Thousand" this semester, we see this as an exciting opportunity to explore more chamber music and smaller ensemble repertoire. The detailed and intricate work our faculty can accomplish with this repertoire is the foundation for every type of performance environment. Though performances may not have in-person audiences, many more of our performances will be livestreamed or filmed than ever before using our livestreaming camera system installed in Watson Hall. Considerable time and research have gone into establishing protocols allowing our students to play together safely. We relied on multiple scientific studies and sources, including the 25-page report from Karen Hoffmann, RN, MS, CIC, FSHEA, FAPIC, an infectious disease expert from the UNC School of Medicine who spent multiple days on the UNCSA campus assessing School of Music and other facilities.

Our planning for instrumental and vocal rehearsal, performance, and collaboration include the following protocols that will be rigorously enforced by faculty and staff:
Protocols for mitigating COVID-19 Risk for performers
String and wind instrumentalists will not play together in the same space.
Masks must be worn while entering and exiting all ensemble spaces.
Proper spacing of a minimum of 6 feet must be maintained.
Speaking will not be permitted in rehearsal without a mask.
Wind instrumental rehearsals, performances and recordings must not exceed 45 minutes in one space.
String instrumental rehearsals will be limited to no more than 60 minutes per session.
Voice students must wear masks during Cantata Singers activity and stay appropriately distanced. Faculty will wear a mask and face shield.
A 45-minute room air-change period will proceed and follow each rehearsal in a single room.
The conductor or coach will wear a KN95 respirator while in the ensemble space.
Wind instrumentalists will find plexiglass or vinyl partition modules in the ensemble room set in their assigned locations, appropriately distanced and oriented for maximum safety. Wind instrumentalists will always use these during ensemble rehearsals.
New technology
The pandemic has created difficult challenges for all of us; however, we at the School of Music have seen this as an opportunity to discover and enhance ways in which we educate. I believe this experience will fundamentally change the way we use technology in arts education. I am excited to share with you that we have made significant investments to equip our students and faculty with the latest tools and technology, not only for the coming year but into the future as well. Classrooms and many large spaces will contain newly purchased mobile technology carts that house an advanced programmable camera system, large TV displays, speakers, and high-quality microphones. A large number of external USB microphones and audio/video recorders will be available for students to check out. Microphones and other recording equipment have been purchased for all faculty. Additional electronic keyboards have also been purchased for student use. Students will continue to have full access to the Adobe Creative Cloud, which allows them to download and use the extensive suite of Adobe desktop and mobile apps. Additionally, we will augment our technology offerings with audio and video recording boot camps, giving students training in essential videography and audio recording engineering software and techniques.

We must acknowledge the uncertainty ahead, but with careful planning, diligence and compassion for each other, I am confident our community will come together and produce great music again this year.
- Saxton Rose, Interim Dean of UNCSA School of Music
Information Sessions
Recorded Session