Student harnesses the power of music to impact social change
This summer, Lizzy Cook challenged herself. The cellist and Professional Artist Certificate (PAC) candidate in the School of Music made it her mission to explore how musicians can effect social change, leading her on a path through some meaningful, and often difficult, discoveries about herself as an artist and a citizen of the world.
Lizzy tells us about her life-changing experiences teaching music to Palestinian students through the volunteer organization Musicians Without Borders this summer:
Tell us about your summer work.
I volunteered in Bethlehem, West Bank, for Sounds of Palestine—a community music project inspired by the concept of El Sistema in Venezuela. This concept uses music education as a medium to achieve long-term social change for the children and families involved and has proven to be successful in more than 60 countries all over the world. My main responsibilities were to teach private cello lessons and to assist in group lessons and large ensemble settings. I also taught a few English lessons to adult Arabic speakers and I even got to teach the hokey pokey. I looked and felt like a madwoman, but it was fun.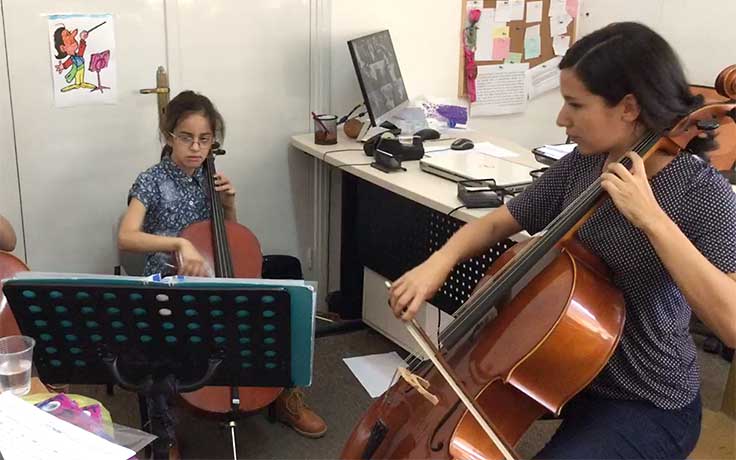 Cook teaching cello to students in the Sounds of Palestine program.
How did you find this opportunity?
I found this opportunity when I was doing research for my PAC project. My project is based on creating social change using music; I am so tired of being upset by injustice in the world and not doing anything about it. I don't want to turn my head when I see something wrong. I decided to use my PAC project to help me figure out what I want to do about this feeling and how to do it. I began to search for organizations, groups and individuals who share the same aspirations. I came across an organization called Musicians Without Borders, which uses music to heal and connect communities who have been divided by war. They sent me to work with their partner in Bethlehem called Sounds of Palestine.
Share a special or favorite moment from your experience.
One of the songs that was on the program for our final concert at Sounds of Palestine was "Fidai'i," the Palestinian national anthem. Some students played the song on their instruments and most of the others sang. I remember playing along at the back of the cello section while the children sang the anthem and I found it to be very moving.
Many of these children live in refugee camps where conditions are dangerous and very poor, for example, water can be shut off for weeks at a time without notice. Also, I was volunteering during Ramadan, so many of the children were very hungry and tired [from fasting].
Despite all odds, these children came to the program and they tried to apply themselves. And they really SANG! They sang loud with pride and I thought it was so beautiful. After all their people have been through, they still are strong and are proud to be Palestinian. I always kind of secretly teared up. I liked watching my little stand partner while he sang. Sometimes he was tired during orchestra and had a bit of trouble concentrating, but when he sang "Fidai'i," he really sang with all of his might—with a sort of pained looked on his face, like he meant every word he sang.
If you had to describe your experience in one word, what would it be?
Eye-opening. That's kind of two words. My eyes were opened to many things about the world, about who I am and about who I want to be. During my experience, I often found myself deeply questioning everything that I once believed to be true. I'm truly grateful for this experience.
Did you meet anyone that you found interesting or impactful?
I was very inspired by the artistic director of Sounds of Palestine, Fabienne. She is a wonderful person, cellist and teacher. I was so impressed by her many talents, speaking fluent Arabic, Hebrew and other languages, conducting the orchestra, successfully teaching many young cellists, the list goes on. She never lost her cool or acted unprofessionally.
Fabienne had many interesting, creative and fun strategies for maintaining order in her classroom. She always seemed to know exactly what to do at all times, even during the occasional moments of chaos. The children looked up to her with respect, love, admiration and trust. There is something very special about the relationship between the children and Fabienne.
What about this experience challenged you and what did you learn?
I learned so much and the way that I view the world has completely changed. I would truly love to say, "I went to teach cello to children in Palestine and it was wonderful! Yay!" It was a positive experience, for sure. But honestly, it was challenging, both mentally and emotionally. First of all, the political conflict in this region really left me devastated and made me realize how much I take for granted.
It was also difficult to teach children who don't speak English; I sometimes felt very foolish because I simply couldn't communicate with the children. I couldn't joke with them or tell them how much potential I saw in them. I felt naïve for thinking that I could come to an Arabic-speaking region and be able to teach without speaking the language. After observing Fabienne teach using non-verbal techniques, and with the help of translators, I did begin to have more success in teaching.
In discussing these challenges, my coworker who taught double bass at Sounds of Palestine told me, "If you're not being challenged, you're not learning." I was really fortunate to be working with likeminded individuals who encouraged and supported me during my experience in Palestine.
How does your summer work relate to your future career goals?
This summer I had the opportunity to be a part of something that I've always dreamed of. I have been on a continuous search throughout my life for a way to use my musical skills to help create social change in the world. Sounds of Palestine does just that, using music education to help disadvantaged Palestinian children to develop into better citizens. Through group learning, the children in the program learn many skills that will help them to interact with others, such as how to work as a group, how to listen to others and how to respect others.
This summer I had the opportunity to be a part of something that I've always dreamed of. I have been on a continuous search throughout my life for a way to use my musical skills to help create social change in the world.
For some reason playing concerts and practicing in a room by myself for hours just doesn't satisfy me. I feel somehow disconnected from others, although music is an effective tool in connecting with others. My future career goal is to be engaged with people in my local and global community and with all of the many different cultures and problems they face. I want to do everything I can to help those in need, in whatever shape or form that may be.