Interactive, educational children's aquarium adventure event is Sunday March 29 at the Stevens Center
This performance has been canceled.
A fun and educational event awaits children ages three and up at Erth's Prehistoric Aquarium Adventure, offered by the award-winning "UNCSA Presents" at 3 p.m. Sunday, March 29 at the Stevens Center. Actors, technology, puppets, and imagination create an amazing and interactive visual introduction to prehistoric dinosaurs who lived in the depths of the ocean more than 100 million years ago.
Up to four lucky youngsters will be selected to come on stage to participate in the show.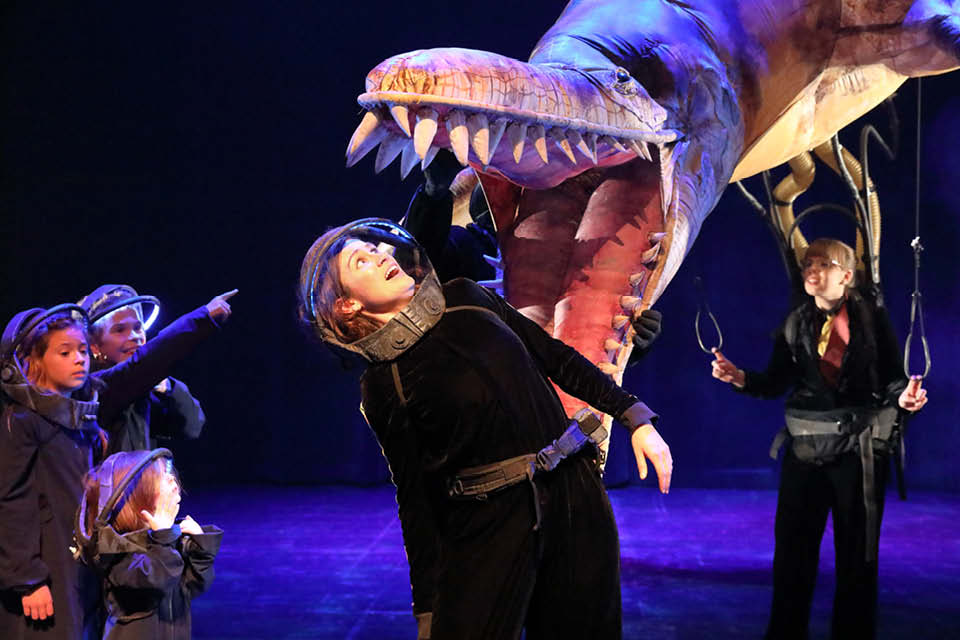 Tickets start at $15 and are available at online or at the UNCSA Box Office, 336-721-1945. The Stevens Center is located at 405 West Fourth St. in downtown Winston-Salem.
"Nothing like this has been seen in Winston-Salem," said Wiley Hausam, curator of "UNCSA Presents." "The special effects make you feel like you are underwater with these creatures. It is highly entertaining for all ages."
The audience for Erth's Prehistoric Aquarium Adventure will see more than 30 hand-crafted puppets modeling dinosaurs from the size of a fist to the massive intimidating creature called Kronosaurus, which was 30 feet long and weighed about 10 tons.
Created in Australia by Erth Visual & Physical - recognized internationally as an innovator of physical and visual theatre - the show is touring the U.S. from coast to coast, with stops in 18 states. The Stevens Center is its only scheduled show in North Carolina.
Erth Visual & Physical, Inc. is a team of creators, makers and performers who are pushing the limits of design, content and experience. For more than 25 years Erth's puppetry-based theatrical productions and innovative community projects have challenged and inspired audiences across the world, driven by a special interest in natural history, indigenous folklore, sociology and urban mythology. Erth's previous production, Dinosaur Zoo Live, introduced a menagerie of insects, mammals and dinosaurs which roamed the planet 65 million years ago.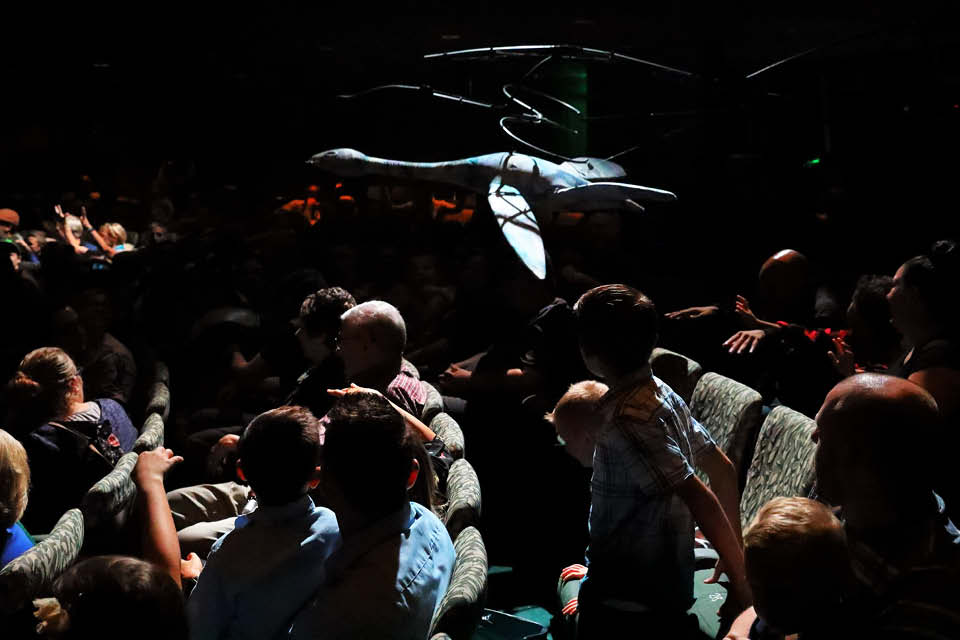 "One of the great joys of making an Erth show is the knowledge, skill, experience and history we can draw from," said writer and director Scott Wright, a dancer and choreographer. "Whilst shows evolve and grow, Prehistoric Aquarium is unlike anything we've done before, yet it feels so familiar -- a return to the ocean where all life began, interactively with the audience in a totally immersive manner.
"The amazing puppets in the show have even left us a bit gob smacked; when we first started bringing them to life the opportunity to have them literally swim off the stage into the audience gave us the most immense pleasure and continues to excite us," Wright added.
Wright is artistic director and founder of Erth, whose work tours year-round internationally and has appeared at international events including the Sydney Olympic Games Opening Ceremony; Hong Kong Fringe; Galway Arts Festival in Ireland; Stockton International Riverside Festival in the United Kingdom; Singapore Arts Festival; Shanghai World Expo; the opening of the Mall of Qatar, United Arab Emirates; Hampyeong Butterfly Festival in South Korea; and the International Festival of Arts & Ideas in New Haven, Connecticut.
Hausam says interactive children's shows are not typical fare for the Stevens Center, but are a good fit for the "UNCSA Presents" season lineup. "We want the Stevens Center to be THE entertainment destination in downtown Winston-Salem for audiences of all ages," he said. "We're very excited to offer this unique opportunity alongside our professional touring productions like The Choir of Man, the upcoming national Broadway Tour of "The Color Purple" and virtuosic vocal trio Lula Wiles. We think our series offers something for everyone."
"UNCSA Presents," the recent recipient of a Downtown Excellence Award from the Downtown Winston-Salem partnership, brings world-class, professional live entertainment back to downtown Winston-Salem at the historic Stevens Center. The series was honored for its positive impact on the community. Previous offerings this season included Grammy award-winning singer and songwriter Kathy Mattea, comedian Maria Bamford, female mariachi band Flor De Toloache, and the national Broadway Tour of the musical "Once."
Get the best news, performance and alumni stories from UNCSA.
SUBSCRIBE TO OUR NEWSLETTERS