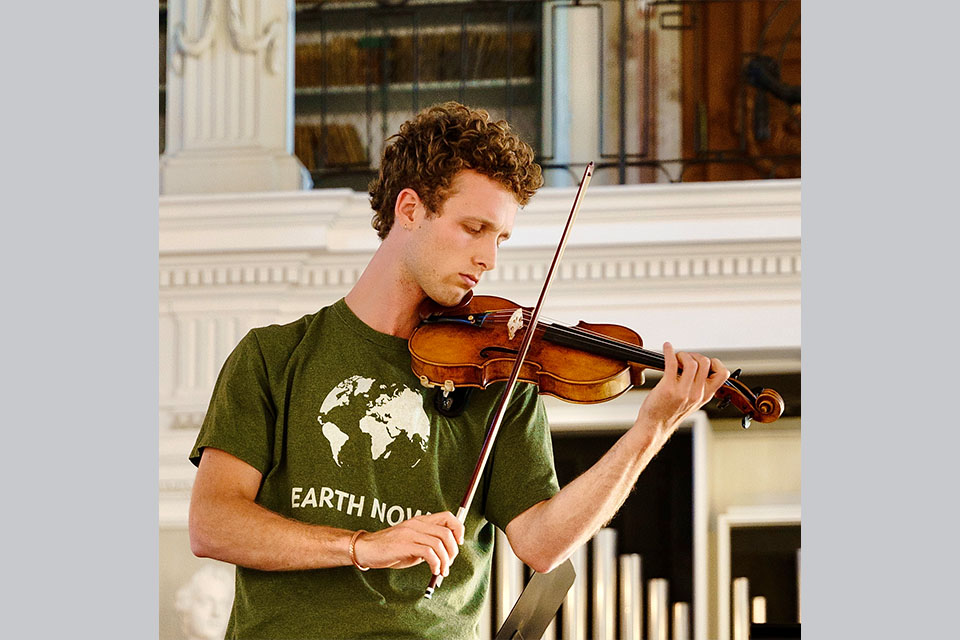 British/Israeli violinist Raphael Papo attended the Wells Cathedral Specialist School of Music in Somerset England, for pre-college studies under the tutelage of Catherine Lord. Graduating in 2019, he began undergraduate studies at the Mannes School of Music in NYC, studying with Lewis Kaplan, continuing as a student of Professor Ida Bieler at the University of North Carolina School of the Arts. In 2022, Raphael received the appointment of Teaching Assistant of Prof. Bieler.
A committed chamber musician, Raphael has studied and collaborated with such outstanding artists as Shmuel Ashkanasi, the Verona Quartet, Jan Vogler, Ida Bieler, Paul Neubauer, Matthew Souter and Ulrich Eichenhauer. Further insight into solo repertoire has been fostered in masterclasses with violinists such as Hagai Shaham, Augustin Hadelich, Dmitry Sitkovetsky, Jack Liebeck, and So-Ok Kim.
His passion and wide experience in orchestral performance has led to leadership positions in resident ensembles in London, NYC, Raleigh/Durham, NC, and Dresden, Germany, including a multi-year fellowship with the Chamber Orchestra of the Triangle and performances with the Carolina Ballet, Moritzburg Akademie, the Montclair Orchestra led by David Chan, the Greensboro Symphony Orchestra, and Davos Festival Akademie.
Raphael has won recognition and prizes in competitions such as the Music Teachers National Association competition USA, 1st prize in the NC Euterpe competition, the Bruno Frey Award of Southern Germany and the Wells Cathedral String Prize.
Raphael's active commitment to teaching has led him to work with children and young adults including in ArtistCorps' acclaimed Vivaldi Project, where he teaches under resourced Pre-K children, and in an arts-integration team using the arts to supplement the course of study.