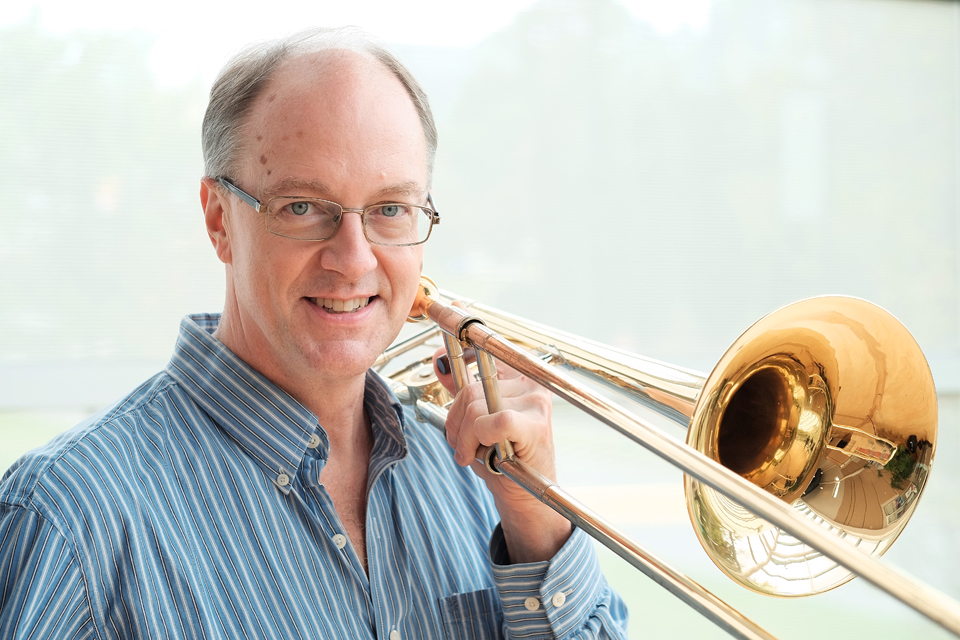 Coming from a background as an accomplished freelancer in and around Philadelphia for 15 years and also as Principal Trombone of a major symphony orchestra since 2001, trombone faculty John Ilika has familiarity with both worlds. Whether you want to play commercially, or prepare for a orchestral audition, he has been there—and he's been successful. He has also played alto, tenor and bass trombone professionally for over 30 years and has been on faculty at UNCSA since 2010.
Each student's program is individualized to foster superior growth as a musician. Doubling is highly encouraged once there is basic mastery of the instrument.
Credentials
Active member of Philadelphia substitute list since 1989, subbing bass trombone and tenor trombone. Played assistant Principal as well as associate Principal.
Principal Trombone for NC Symphony since 2001
Former Principal Trombone for Delaware Symphony, Reading Symphony, Pennsylvania Ballet, Philadelphia Brass, Florida Music Festival and many other organizations
Bass Trombone for Eastern Music Festival, Greensboro, for 10 years; second trombone for two years
Former Instructor of Trombone at Lehigh University, Moravian College and Community College of Philadelphia
Substitute (semester) Instructor at University of Delaware and University of West Chester in Penn.
Graduate studies with Charlie Vernon, one year towards Masters of Performance, University of the Arts
Career Highlights
Performance with Low Brass Project 2010 with members of Philadelphia Orchestra, Baltimore Symphony and Sao Paolo Symphony
Performance of Gurre-Lieder with Philadelphia Orchestra, Sir Simon Rattle conducting
Performance of Tomasi, Trombone Concerto with NC Symphony
Substitute Principal Trombone with Sao Paulo Symphony, performing Schoenberg, Pelleas & Mellisande
Recording of American Spectrum CD with NC Symphony, Editor's Choice, Gramophone
Awards, Recognitions and Honors
First full time job was with La Orquesta de Sinfonica de Maracaibo, Venezuela as assistant principal trombone. I was offered this position before my graduation from Luther College in 1981.
Organizations
International Trombone Association
North Carolina Music Educators Association
Shires Artist
American Federation of Musicians since 1984
Education
B.A. Music EducationLuther College