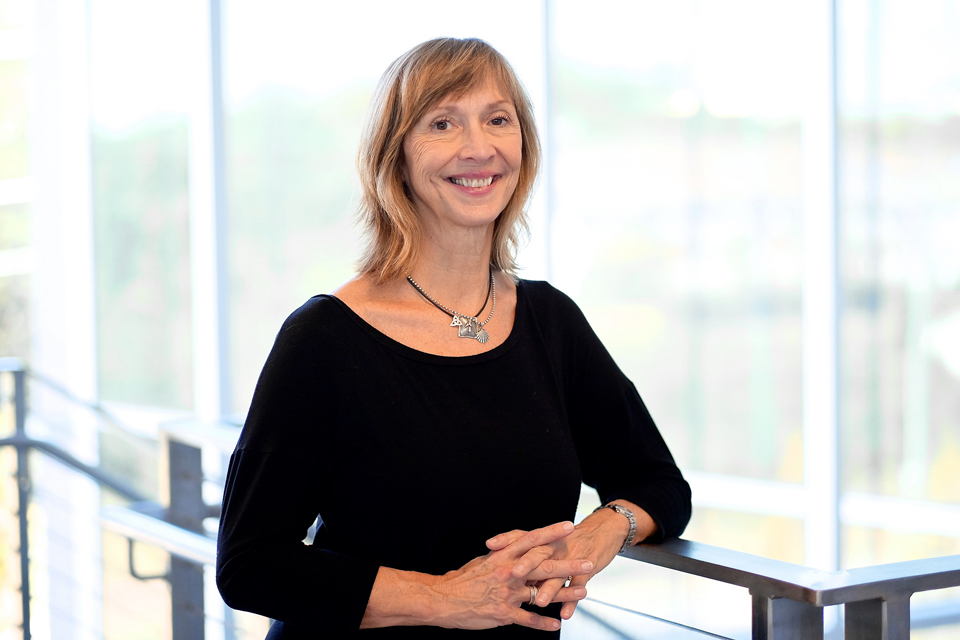 Nancy Streblow has taught Advanced Placement Literature and Composition at UNCSA since 2006, and at Career Center from 2001-2006. She taught English and Journalism at Forsyth Country Day School from 1993-2001. She received her BA in English from the University of North Carolina-Chapel Hill in 1972, her MA in English from the University of Texas-Arlington in 1984. She received her National Board Certification in 1996.
When I came to UNCSA I noticed that the small classes invited seminar-style discussion, that these students could carry the discussion, and that I did not need to talk so much. I work constantly on this element of my teaching—to listen more, to talk less, to encourage conversation, to affirm positively so students feel comfortable sharing their thoughts.
AP Lit & Comp is a college-level, seminar-style English class focused on closely reading and discussing challenging works of literature and writing textual analysis of the reading. Ms. Streblow writes, "My task is to awaken students' critical thinking, foster their reading and writing skills, and prepare them for achieving college credit for this high school course by taking the AP exam. The AP curriculum is rigorous and the AP Lit exam assesses reading comprehension and writing skills that reflect higher-level thinking and mastery over the use of language." Students are encouraged to approach literature as art and are trained how to critique this art form. These critical skills are developed through class discussions, presentations, and group work. Ms. Streblow incorporates film, visual art, television shows, and pop songs into class discussions; she also encourages students to see films and compare them to the novels they have read, to go to museums and see Picasso's "Les Demoiselles D'Avignon" and Willem de Kooning's "Woman I" and think about the different representations of women in these paintings, to look at dance and music critically—to use art to understand the art of literature. Watching YouTube, using Wikipedia to look up bios of authors, and laughing at Thug Notes on the Internet enhance class, but nothing can replace a student discussion of Hamlet's tragic flaw, even at eight o'clock in the morning. This discussion format provides a forum for ideas so that students can develop their own analytical skills. Emphasis is always on student-centered learning, collaborative effort, small group projects—less talking for the teacher and more talking for the student.
Career Highlights
Excellence in Teaching Award at UNCSA in 2012
Organizations
AP essay reader for College Board and for the National Science and Math Initiative.
Education
M.A. EnglishUniversity of Texas, Arlington
B.A. EnglishUNC, Chapel Hill