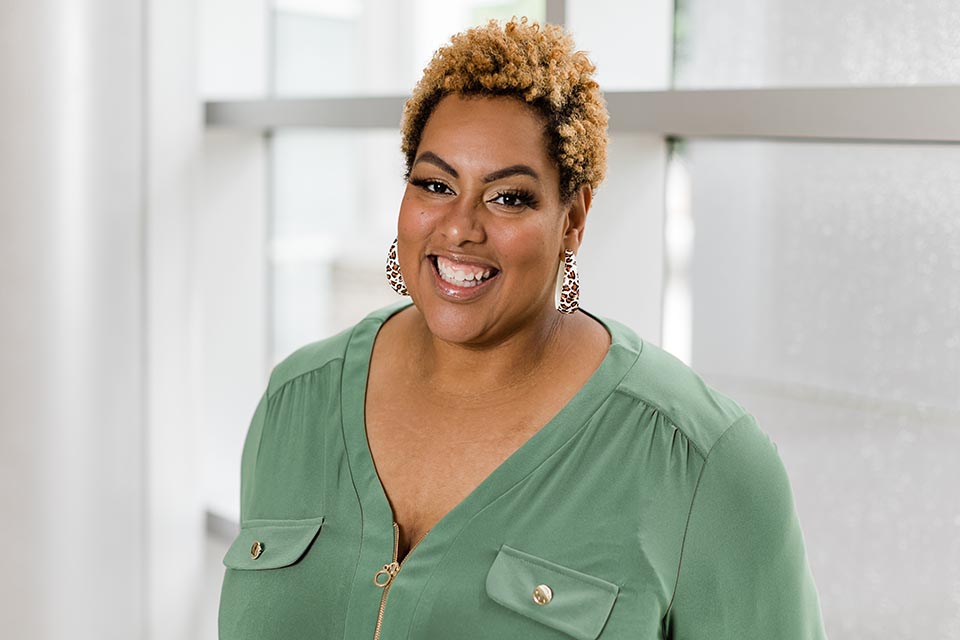 Tasha is the inaugural director of Intercultural Engagement and is the first staff member in UNCSA's history to be hired to support EDIB initiatives.
Tasha has nearly 15 years of experience in higher education, including student leadership development; diversity, equity, and inclusion; innovation in program creation and expansion; professional development; and training. She uses her extensive knowledge of theory in leadership, student development, and identity development to create and maintain inclusive environments centered on the concept of community, equity, social responsibility, and altruism. Myers has also been involved in several professional organizations, including being published and presenting at local, regional, and national conferences for several professional organizations.
Why were you interested in working at UNCSA?
In addition to higher education, I've also worked behind the scenes producing fashion shows, concerts, theater productions, hair shows, cooking shows, and pageants, as well as many projects doing hair, make-up for dance competitions & productions, crafting, and graphic design. While I'm new to UNCSA, I've long appreciated the work that it takes to be an artist and I'm excited to be able to combine my passions in my everyday work.
What's your favorite thing to do in your free time?
I love hanging out with my family, including my husband Rob, and my kids, Jackson and Taj. I might be biased, but we're all pretty cool, and we each have our own connection with and interest in the arts.
Awards, Recognitions, & Honors
Mid-Career Practitioner Alumni Award, Mary Frances Early College of Education at University of Georgia
Woodland Ellroy Hall Fellow, North Carolina A&T State University
Honorary Member, National Society of Leadership & Success
Onyx Award, African American Student Union at Georgia Institute of Technology
Golden Bull, Division of Student Affairs at University of South Florida
Marshall Student Center Hall of Fame, University of South Florida
Past & Current Professional Organizations
Delta Sigma Theta Sorority, Inc.
National Association of Diversity Officers in Higher Education (NADOHE)
North Carolina Association for Research in Education
Student Affairs Professionals in Higher Education (NASPA)
ACUI (previously known as Association of College Unions International)
Education
M.Ed. College Student Affairs AdministrationUniversity of Georgia
B.A. Public & Cultural CommunicationUniversity of South Florida