Dance alumni receive prestigious United States Artist Fellowships, among other honors
Two alumni of the School of Dance are recipients of United States Artists (USA) Fellowships. Jonah Bokaer (high school '00) and Camille A. Brown (undergraduate '01) are among 36 artists who each will receive a $50,000 unrestricted grant. Bokaer is also the recipient of a Guggenheim Fellowship this year, and Brown is TED Fellow and a Doris Duke Performing Artist Award recipient for 2015.
The USA Fellowships recognize America's most accomplished and innovative artists in the fields of architecture and design, crafts, dance, literature, media, music, theatre and performance, traditional arts and visual arts.
Bokaer and Brown join Trey McIntyre, who graduated in 1987 from the School of Dance and was a USA Fellow in 2010. Other USA Fellows have been guest artists in the School of Dance, including Alonzo King, Lar Lubovitch, and Bill T. Jones, recipient of UNCSA's Lucia Chase Fellowship in 2013.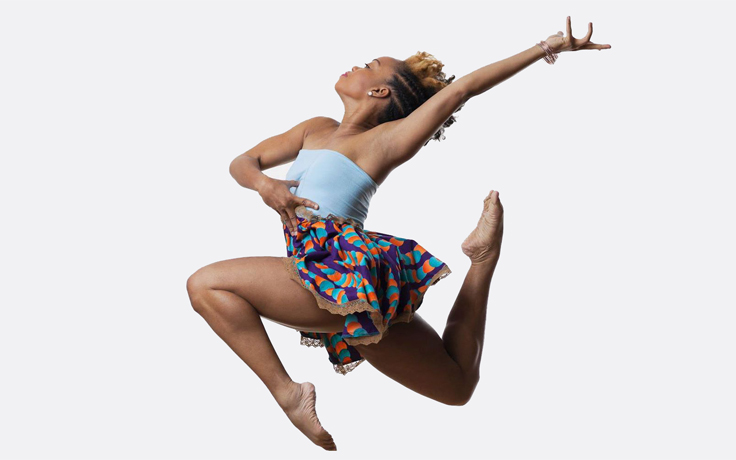 "These are prestigious fellowships for Jonah and Camille," said Dean of Dance Susan Jaffe. "Some of the country's most innovative choreographers are USA fellows. The awards offer artists the financial freedom to fully explore their creativity. We look forward to watching Jonah and Camille develop and share their unique gifts." In addition to the USA Fellowship, Bokaer is the recipient of the 2015 John Simon Guggenheim Memorial Fellowship in Choreography. Often characterized as "midcareer" awards, Guggenheim Fellowships are intended for men and women who have already demonstrated exceptional capacity for productive scholarship or exceptional creative ability in the arts. Approximately 200 Guggenheim Fellowships are awarded each year.
Also this year, Brown was chosen as one of 40 TED Fellows, and one of 20 recipients of the Doris Duke Performing Artists Award. Begun in 1984 as a conference where technology, entertainment and design converged, today TED covers almost all topics — from science to business to global issues — in more than 100 languages. Every year, the TED Fellows program nurtures the vision and passion of thought leaders and trailblazers, giving momentum to their ideas.
The Doris Duke Performing Artist Awards is a 10-year program undertaken by the Doris Duke Charitable Foundation in partnership with Creative Capital to empower, invest in and celebrate artists by offering flexible, multi-year funding as a response to financial and funding challenges both unique to the performing arts and to each grantee. Launched in 2011, the awards program supports individual artists in contemporary dance, theatre, jazz and related interdisciplinary work.
"Jonah's and Camille's career trajectories are truly inspiring," Jaffe said. "To receive multiple important fellowships in the same year is quite an accomplishment for each of them."
Created in 2006 by the Ford, Rockefeller, Rasmuson and Prudential Foundations with $22 million in seed funding, United States Artists was founded to address the lack of unrestricted funding available to artists. USA is currently funded by a broad range of philanthropic foundations and individuals committed to cultivating the vibrant character of contemporary culture in America.
Through its signature USA Fellows program, United States Artists has distributed more than $21 million in support of almost 450 artists. Past recipients of USA Fellowships include visual artists Glenn Ligon, Kara Walker, Theaster Gates and Catherine Opie; cartoonist Chris Ware; designers Kate and Laura Mulleavy (of Rodarte); performing artist Meredith Monk; jazz composer Jason Moran; ballet dancer and choreographer Benjamin Millepied; and writers Annie Proulx and Sapphire.
USA Fellows are selected through a rigorous, highly competitive process involving hundreds of experts, scholars, administrators and artists. USA Fellows spotlight the importance of originality across every creative discipline, celebrating the broad diversity of American artistic practices from coast to coast, cultivating a creative ecology that is diverse in age, race, religion, gender, and sexual orientation. United States Artists believes in risk-taking as central to promoting the power of art in American life and creatively impacting the world.
JONAH BOKAER has cultivated a new form of choreography with a structure that relies on visual art and design. His aim is to transform notions of how the public views and understands dance. Bokaer has been active as a choreographer since 2002. He has created more than 55 works in a wide range of mediums, such as film, opera, applications, and installation, in a variety of venues, ranging from stages to museums and galleries. He works internationally, exhibiting and touring worldwide.
Bokaer has created works within museum spaces that live between choreography, visual art, and moving images. This approach to art making has been acknowledged by museums such as the Solomon R. Guggenheim Museum, PS1 MoMA, The New Museum, The Museum of Arts & Design, along with many others.
A few of Bokaer's frequent collaborators are Daniel Arsham (2007-Present), Anne Carson, Richard Chai, Merce Cunningham, Anthony McCall, Abbott Miller, Tino Sehgal, Robert Wilson (2007-Present), along with other leading innovators in mediums such as performance, visual art, literature, and design.
Recent awards include the Prix Nouveau Talent Chorégraphie (Paris, 2011), the Jerome Robbins Special Prize Fellowship in Choreography from the Bogliasco Foundation (Italy, 2011), and Fellowships from the National Endowment for the Arts (2014, 2013, 2012 and 2011).
CAMILLE A. BROWN is recognized for her daring yet introspective approach to cultural themes through masterful storytelling and political dialogues. She is a 2015 Doris Duke Artist Award recipient; 2015 TED Fellow; 2014 Bessie Award winner for "Outstanding Production" (Mr. TOL E. RAncE); two-time Princess Grace Award winner (Choreography & Works in Progress Residency); two-time recipient of New England Foundation for the Arts' National Dance Project production grant; 2015 Multi-Art Production Fund grantee; 2015 Engaging Dance Audiences Grant recipient; 2014 Joyce Award recipient with DANCECleveland; a Jerome Foundation 50th Anniversary grantee; and a 2014 New York City Center Choreography Fellow.
Her theatre credits include the 2012 Broadway revival of A Streetcar Named Desire, Fortress of Solitude at The Public Theater (Lucille Lortel Award Nominee for Choreography), Stagger Lee at Dallas Theatre Center, Blood Quilt at Arena Stage, Tick, Tick...Boom at New York City Center Encores, Shakespeare's The Winter's Tale on regional tour, and The Box: A Black Comedy.
She has created works for Alvin Ailey American Dance Theater, Philadanco!, Complexions and Urban Bush Women, among others. Brown danced with Ronald K. Brown/Evidence and was a guest with Rennie Harris/ Puremovement. In 2014, Brown founded two initiatives: The Gathering, an annual open forum for intergenerational black female artists to advocate for greater cultural equity and acknowledgement in the dance world; and Black Girl Spectrum, a community engagement initiative that seeks to amplify the cultural and creative empowerment of black girls and women through dance, dialogue, and popular education tools. In 2015, she co-directed the School of Jacob's Pillow's new program, Social Dances: Jazz to Hip Hop with Moncell Durden, and was featured on the cover of the 2015 August issue of Dance Teacher Magazine. Upcoming projects include choreographing the musical Cabin in the Sky for New York City Center Encores.