Be yourself, be patient, build a life, Tony Award-winning actress tells UNCSA college graduates
Tony Award-winning actress Kelli O'Hara told 226 graduates at the University of North Carolina School of the Arts to be themselves, be patient and build a life. O'Hara, who won a Tony in 2015 as Anna in the Broadway revival of The King and I, was commencement speaker for the May 7 ceremony at the Stevens Center in downtown Winston-Salem.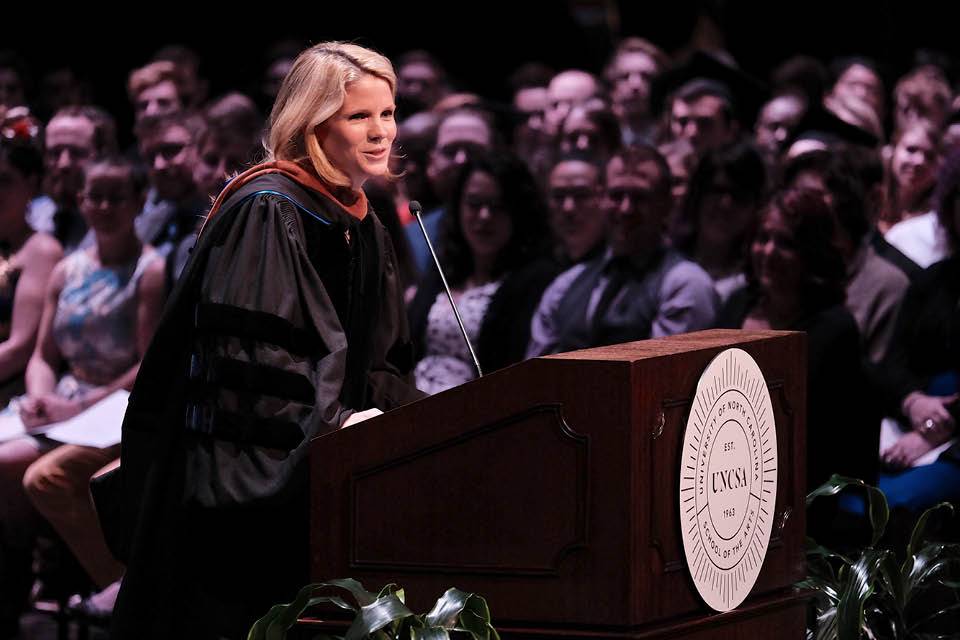 Watch Kelli O'Hara's full Commencement address.
O'Hara spoke of leaving her home in Oklahoma after earning a Bachelor of Music in vocal performance/opera from Oklahoma City University and moving to New York with no job and no place to stay. "It's been almost 20 years," she said. "I'm really pissed off to have to say that.
"But I thought about what I might have wanted to hear, what might have helped me, a naïve girl from Elk City, Oklahoma, with two suitcases, having only visited New York once, coming to find a weird and crazy dream. It can happen," she said.
O'Hara urged the graduates to be themselves. "There is no one else like you. It may seem cliché, and you might think you know what I mean," she said. "There is only one you, so be that you. And I promise you will forget, because you will need a spot. We all need a spot because we want to belong and we want to be accepted and we need to have a platform."
She told graduates they will be tempted to fit into someone else's spot, or that their industry might try to define their spot. "It's easier for them because they want to know who you are and who you are like," she said.
"Dig deep down inside and decide what kind of artist you want to be. And stick with. Be prepared to stand your ground," she advised.
O'Hara received her first Tony nomination in 2005 for The Light in the Piazza. She has since been nominated for every role she played on Broadway. But in the beginning, she told the graduates, she didn't know her spot, and she jumped from genre to genre.
"I got lucky and found my role with Light in the Piazza," she said. "It changed the course of my career."
O'Hara's second piece of advice to the graduates was "be patient. That's like telling my two-year-old not to have the lollipop that is unwrapped in her hand."
A career in the arts, she said, should not be a roller coaster, but a steady run. "On that roller coaster, the highs don't last long enough," she said. "It will be so much more fulfilling when you look back and say 'Every step I took might not be the most glamorous but I'm really happy I took that step and I learned so much.' As an artist, our careers can last a whole lifetime if we choose to do that which feeds our artistic soul."
In addition to Broadway performances in The Pajama Game, South Pacific, and Nice Work if You Can Get It, O'Hara has appeared on television in "Blue Bloods" and "Numb3rs" and in the films "Sex and the City 2" and Martin Scorcese's short "The Key To Reserva".
But career success, said the married mother of two, means nothing without family. O'Hara urged the graduates to build a life as they build a career. "Keep the people around you – maybe it's a handful, maybe it's just one or maybe it's a whole group. You will find the people who will be there forever and maybe they will come to your funeral and say nice things about you. They are going to be the ones who knew you when and saw you on your worst days. You make yourself a life and build yourself a family. Believe in each other and don't be alone," she added.
In closing, O'Hara quoted good luck phrases used by artists – "merde" for dancers, "toi, toi toi" for opera singers, "break a leg" for actors.
"It's not good luck to say good luck, but good luck," she said.
O'Hara received an honorary Doctor of Performing Arts at the ceremony.
May 19, 2016