"First-rate" Sphinx Virtuosi chamber orchestra returns to UNCSA
A nationally acclaimed chamber orchestra composed of 18 of the nation's top Black and Latinx classical soloists will perform at Watson Hall on the UNCSA campus on Tuesday, Oct. 1.
Sphinx Virtuosi is coming to Winston-Salem as part of their national tour, "For Justice and Peace." It is their second trip to UNCSA after a highly successful first engagement in October 2018.
The concert will begin at 7:30 p.m. Tickets are $25 for adults and $20 for students with a valid ID. Order tickets online at or call 336-721-1945.
They will also work with students in the UNCSA School of Music and will perform an outreach concert for area schoolchildren through the Winston-Salem Symphony.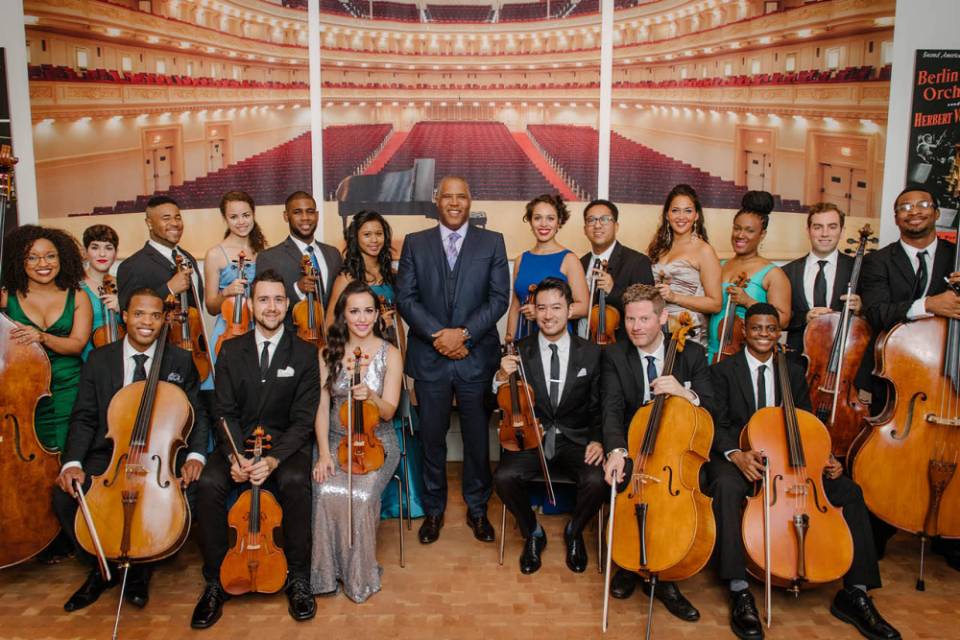 Sphinx's "For Justice and Peace" program will include selections from among the following: "Fuga con Pajarillo" by Romero Aldemaro, "Divertimento for String Orchestra" by Béla Bartók, "Global Warming" by Michael Abels, "Elegy: In Memoriam – Stephen Lawrence" by Philip Herbert, "For Justice and Peace" by Xavier Foley, "Source Code" by Jessie Montgomery, and "Death and the Maiden" by Franz Schubert.
One of the nation's most dynamic chamber orchestras, Sphinx Virtuosi is composed of alumni of the internationally renowned Sphinx Competition who serve as cultural ambassadors in order to reach new audiences. Through its national tour, this unique, self-conducted ensemble brings fresh, diverse programming to leading venues around the country – including annual stops at Carnegie Hall and Miami's New World Center – where they perform to sold-out crowds and garner critical acclaim.
Sphinx Virtuosi have earned rave reviews from The Washington Post, Chicago Sun Times, and beyond. Allan Kozinn of The New York Times described their performance as "first-rate in every way…."
Dedicated to new music, the ensemble has pioneered the discovery of gems by composers of color, with the aim of expanding the canon and amplifying new and important voices. Collaborations with composers like Michael Abels, Kareem Roustom, Jimmy Lopez, Gabriela Lena Frank, Jessie Montgomery, Daniel Bernard Roumain, Terence Blanchard and Xavier Foley are among many exciting highlights. Masterworks by Shostakovich, Bartok, Schubert, Jennifer Higdon, John Adams, Bach and Mozart are often woven into the carefully curated programs, which combine risk, exploration and homage. They have also collaborated with Denyce Graves, Sweet Honey in The Rock, Joshua Bell, Pinchas Zukerman, Chicago Children's Choir, Damien Sneed and others.
As individual artists, Sphinx Virtuosi have performed as soloists with America's major orchestras, including the New York Philharmonic and the Cleveland, Detroit, Atlanta, Philadelphia, Seattle and Pittsburgh symphony orchestras. Members also hold professional orchestral positions, and several have been named Laureates of other prestigious international competitions, including the Queen Elizabeth and Yehudi Menuhin.
A program of the Detroit-based Sphinx Organization, whose overarching mission is transforming lives through the power of diversity in the arts, the Sphinx Virtuosi work to advance the social impact of music upon our greater society. At once a bridge between communities of color and the classical music establishment, they are passionate about empowering the next generation of artists and audiences.
The name Sphinx, inspired by the mythical creature and legendary statue, reflects the power, wisdom and persistence that characterize Sphinx's participants.
As part of their visit to UNCSA, Sphinx Virtuosi will attend string master classes during the afternoon of Oct. 1 to provide feedback to student performers. They will also work with the string orchestra in a rehearsal during the afternoon of Oct. 2.
During the morning of Oct. 2, Sphinx Virtuosi will perform an outreach event through the Winston-Salem Symphony for approximately 750 students and teachers from Easton, Diggs-Latham, Jefferson, Old Town and Kimmel Farm elementary schools as well as Winston-Salem's Arts Based School.