Film Appreciation Class
Film Appreciation Class
Fall 2019
Color and Film: A Lesson for Our Senses
Color has been an element of cinema since its start in the 1890s. Movies were meticulously tinted frame by frame, and full color films were being made in the 1920s.

We will not be studying the history of film color, but the power and symbolism of color in film. I have identified six colors and we will discuss the power of color in storytelling through six films that visualize these colors in a predominant way. I will also hand out a list of other films that can be viewed in an interesting way through the lens of color.
Films
The films screened will include:
Week One: Red, the Anxious Color
"Run, Lola, Run" (1988, 80 minutes) Directed by Tom Tykwer, with Franka Potente, Motitz Bleibtreu, Herbert Knaup
Week Two: Yellow, the Exuberant Color
"The Thomas Crown Affair" (1968, 102 minutes) Directed by Norman Jewison, with Steve McQueen, Faye Dunaway, Jack Weston
Week Three: Blue, the Detached Color
"Blow Up" (1966, 111 minutes) Directed by Michelangelo Antonioni, with David Hemmings, Vanessa Redgrave, Sarah Miles

Week Four: Orange, the Sweet and Sour Color
"The Big Easy" (1986, 102 minutes) Directed by Jim McBride, with Dennis Quaid, Ellen Barkin, Ned Beatty

Week Five: Green the Split Personality Color
"The Virgin Suicides" (1999, 97 minutes) Directed by Sofia Coppola, with Kathleen Turner, James Woods, Kirsten Dunst

Week Six: Purple, the Illusory Beyond the Body Color
"Rushmore" (1998, 93 min.-utes) Directed by Wes Anderson, with Jason Schwartzman, Olivia Williams, Bill Murray
Watching a great movie on the big screen is becoming a rare experience. The six selected films are all worth seeing again as they were meant to be seen, especially under the guidance of a great teacher!
Registration
Registration is online using the link below, or call 336-734-2848 to register by phone.
Instructor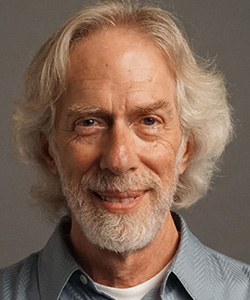 Dale M. Pollock has produced 13 feature films, including "Set It Off," "Mrs. Winterbourne," "A Midnight Clear," "The Beast" and "Blaze." His films have received four Academy Award nominations and have won several awards, including Best Film at the Cleveland and Houston film festivals.
He was chief film reviewer for Daily Variety, chief film reporter for the Los Angeles Times (where he was a Pulitzer Prize nominee) and author of "Skywalking: The Life and Films of George Lucas," first published in 1984 with more than 150,000 copies in print. He is a member of the Academy of Motion Picture Arts and Sciences; the Producers Guild; the Writers Guild of America, West; and frequently speaks at film festivals and conferences.
Pollock was awarded the Board of Governors Award for Excellence in Teaching for his work at UNCSA.