Film Appreciation Class
Film Appreciation Class
Fall 2018: Reinventing Film Noir
Film noir is the term coined to describe stylish Hollywood crime dramas in the early 1940s through the 1950s. Dale Pollock will lead an exploration of what makes a film "noir" and how one of the most famous American movie genres has proved very relevant in today's world, as contemporary filmmakers re-imagine the classic style and characters of film noir.
Films
The films screened will include:
"Out of the Past" (1947, 1 hour 37 minutes) Directed by Jacques Tourneur, with Robert Mitchum, Jane Greer, Kirk Douglas
"Blood Simple" (1984, 1 hours 39 minutes) Directed by Joel Coen and Ethan Coen, with John Getz, Frances McDormand, Dan Hedaya
"Body Heat" (1981, 1 hours 53 minutes) Directed by Lawrence Kasdan, with Kathleen Turner, William Hurt, Richard Crenna
"L.A. Confidential" (1997, 2 hours 18 minutes) Directed by Curtis Hanson, with Kevin Spacey, Russell Crowe, Kim Basinger
"Red Rock West" (1993, 1 hour 38 minutes) Directed by John Dahl, with Nicolas Cage, Dennis Hopper, Lara Flynn Boyle
Watching a great movie on the big screen is becoming a rare experience. The five selected films are all worth seeing again as they were meant to be seen, especially under the guidance of a great teacher!
Registration
Registration is online using the link below, or call 336-734-2848 to register by phone.
Instructor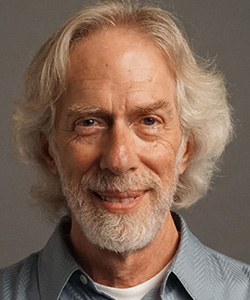 Dale M. Pollock has produced 13 feature films, including "Set It Off," "Mrs. Winterbourne," "A Midnight Clear," "The Beast" and "Blaze." His films have received four Academy Award nominations and have won several awards, including Best Film at the Cleveland and Houston film festivals.
He was chief film reviewer for Daily Variety, chief film reporter for the Los Angeles Times (where he was a Pulitzer Prize nominee) and author of "Skywalking: The Life and Films of George Lucas," first published in 1984 with more than 150,000 copies in print. He is a member of the Academy of Motion Picture Arts and Sciences; the Producers Guild; the Writers Guild of America, West; and frequently speaks at film festivals and conferences.
Pollock was awarded the Board of Governors Award for Excellence in Teaching for his work at UNCSA.