Film Appreciation Class
Film Appreciation Class
Fall 2022
Senior Moments
Or call 336-734-2848
Emeritus professor Dale Pollock will present a new film appreciation series this Fall, entitled Senior Moments.
Hollywood has always had difficulty in portraying the elderly. Depictions have ranged from the clichéd and the garish to the heartwarming and heartbreaking. Actresses over 50 saw their careers end, and every male senior was a judge or a doctor. As the baby boomers have aged, major changes have taken place in stories about them. Actors like Liam Neeson and Helen Mirren play action heroes into their 70s. Films about dementia and Alzheimer's disease have proliferated. Streaming services now cater to an older viewing audience. In SENIOR MOMENTS, we will explore the past, present, and future of senior images and stories.
A screening of the full film will follow each lecture, concluding with a Q&A discussion.
Films
The films screened will include:
"Make Way for Tomorrow" (1937), starring Victor Moore and Beulah Bondi, directed by Leo McCarey.
"Whatever Happened to Baby Jane?" (1962), starring Bette Davis and Joan Crawford, directed by Robert Aldrich.
"Harold and Maude" (1971), starring Ruth Gordon and Bud Cort, directed by Hal Ashby.
"RED" (2010), starring Bruce Willis, Helen Mirren, Morgan Freeman; directed by Robert Schwentke.
"Away from Her" (2006), starring Julie Christie and Michael Murphy, directed by Sarah Polley.
"A Straight Story" (1999), starring Richard Farnsworth and Sissy Spacek, directed by David Lynch.
Watching a great movie on the big screen is becoming a rare experience. The six selected films are all worth seeing again as they were meant to be seen, especially under the guidance of a great teacher!
Instructor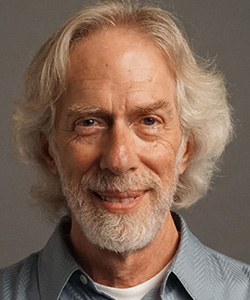 Dale M. Pollock has produced 13 feature films, including "Set It Off," "Mrs. Winterbourne," "A Midnight Clear," "The Beast" and "Blaze." His films have received four Academy Award nominations and have won several awards, including Best Film at the Cleveland and Houston film festivals.
He was chief film reviewer for Daily Variety, chief film reporter for the Los Angeles Times (where he was a Pulitzer Prize nominee) and author of "Skywalking: The Life and Films of George Lucas," first published in 1984 with more than 150,000 copies in print. He is a member of the Academy of Motion Picture Arts and Sciences; the Producers Guild; the Writers Guild of America, West; and frequently speaks at film festivals and conferences.