ABT Soloist Blaine Hoven brings his love of ballet full circle
As a soloist for American Ballet Theatre, Blaine Hoven has performed on stages across the country and around the world. Before joining ABT in 2003, he was a student in the School of Dance's High School Ballet program.
He joined the ABT Studio Company following his junior year of high school and moved to the main company a year later. In 2016, he was promoted to soloist. Dance plays a major part in Hoven's life outside of ABT as well. He performs in the summer with the Cirio Collective, a group of dancers, choreographers and artists that explore and collaborate on new and innovative works.
He also maintains connections with his hometown of Mobile, Alabama, and Mobile Ballet, where he began his training. Last fall, he presented his own show in Mobile—"Blaine Hoven Full Circle."
Hoven recently took time out of his busy schedule to reflect on his experience at UNCSA and some of the challenges he's faced as a professional ballet dancer:
Why did you attend UNCSA for high school?
I chose UNCSA because of the wide range of ballet techniques that were taught. There were teachers from American Ballet Theatre, New York City Ballet and from major Russian companies as well. Throughout my career, the varied techniques I learned at UNCSA, including modern dance, have been very beneficial to me.
In a ballet company, you have to constantly adapt to different movement styles and techniques. This adaptivity has helped when ballets made by new choreographers enter the repertory.
What was your favorite campus spot?
The lawn outside of the high school dorms. There was nothing better than lying out there on a nice spring day. Ok, maybe there were two things that were better: the biscuits and hash browns at the cafeteria for breakfast. They were worth waking up early for!
What are some of the highlights of your career?
Performing Aminta in Sir Frederick Ashton's "Sylvia" is a major career highlight for me. It was my first principal in a ballet and after that season, I was promoted to soloist. Another highlight was having the opportunity to work with choreographer Wayne McGregor this past spring and summer.
What challenges have you encountered? How have you overcome them?
Throughout your dance career, you face many obstacles. I had an ankle repair surgery about five years ago, and at first it seemed like something I wasn't ready for. I decided to approach it with a different attitude. I didn't think about how much time I would be out of work or how much it would set me back.
You can turn injuries into something positive. I embraced it and did things I wouldn't normally be able to do, like visiting home frequently and spending time with friends who had normal working schedules. It worked in my favor and I was only out for six months.
Do you have relationships you formed at UNCSA that you still maintain today?
The connections and friends you make at UNCSA last a lifetime. When you meet people who went to UNCSA, you have an instant connection. All you have to say is, "Fighting Pickles!"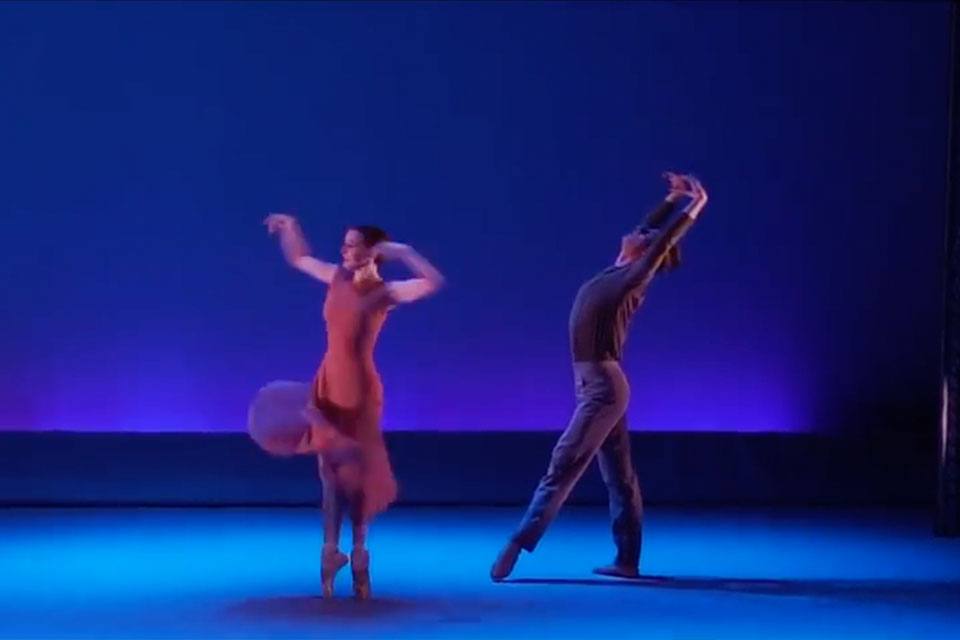 Hoven performs "On The Water" with UNCSA alumna Gillian Murphy at the BGC Arts Center in the Philippines.
What advice would you share with students?
Always remember to work hard and have fun with your art. Sometimes it's really easy to get overwhelmed by how harsh and demanding the arts world can be. I constantly remind myself that I do this for me and because I love it. Don't sweat the small stuff and enjoy every minute.