Hamilton style: alumnus designs costumes for Broadway's hottest show
Paul Tazewell. His name is Paul Tazewell. And there's a million things he hasn't done. But just you wait, just you wait…
He may not have done it all, but what the School of Design & Production alumnus (B.F.A. '86) has done over the course of his 25-year career is pretty amazing — designing stellar original costumes for nearly two dozen Broadway shows, including the wildly successful smash hit Hamilton: An American Musical.
He's also designed for countless shows off-Broadway, for the Metropolitan Opera, Cirque du Soleil and television — think 2015's "The Wiz! Live." His work has earned a Tony Award (along with five additional Tony nominations), four Helen Hayes Awards, a Princess Grace Statue Award and numerous other accolades and honors.
As an aspiring actor, Tazewell, who grew up in Akron, Ohio, set his sights early on the Big Apple. "I took trips to New York in high school," he recalls. "And I knew I would do what I had to do to get there."
After high school, he spent a year acting at the Pratt Institute, which is perhaps where the idea of being a costume designer began to take shape. Tazewell found himself not only acting in shows, but designing costumes for them as well.
He came to UNCSA as a sophomore, under the possibility of pursuing a double major in acting and costume design. "There was not enough time to do both," he says with a laugh, so he narrowed his focus to design.
During his time at UNCSA, Tazewell developed the love for costume design and a strong understanding and knowledge base that included the practical experience of researching, designing and creating for campus performances in all genres and time periods. The design approach, which he studied with his instructors John Sneden, Mark Pirolo, Clyde Fowler and Howard Jones, was a traditional approach to classical theatre that he still sees in his work today.
The School of the Arts has been life-changing for me. I have realized just how much of an effect it's had on my growth overall … the school is so much a part of who I am and how I relate to people.

Paul Tazewell
He saw costume design as a way for him to work on the kinds of shows he was most interested in. "It was a tough decision for me because I really loved performing," he adds. "It's what pulled me into the world of theatre."
A lot of his decision had to do with the reality of landing the types of leading man roles he aspired to, particularly in historical productions like Shakespeare. "There was not as much opportunity for African American actors in those roles," he says. "With costume design I thought, 'I can do whatever shows I want.' I wouldn't be typecast by the color of my skin."
After earning his B.F.A., he attended NYU's Tisch School of the Arts for graduate school, graduating in 1989. He began working professionally the next year and hasn't slowed down since.
His Broadway work (complete list) includes costume design for Bring in 'Da Noise, Bring in 'Da Funk (1996-99), A Raisin in the Sun (2004), The Color Purple (2005-08), In The Heights (2008-11), Guys and Dolls (2009), Jesus Christ Superstar (2012), A Streetcar Named Desire (2012) and Dr. Zhivago (2015).
It's all about 'Hamilton,' baby
Not even President Barack Obama can resist the force that is Hamilton. The Broadway show—which tells the story of one of America's notorious founding fathers with music and lyrics infused with rapid-fire hip hop—is sold out through 2017 and has garnered a record 16 Tony nominations for 2016, including one for Tazewell's costume design.
The response to Hamilton has been "off the charts," Tazewell says. "It's an amazing piece of theatre … It's poetic, emotionally moving, smartly written." And he's been on board almost since the beginning.
"Many of us had worked together on In The Heights," Tazewell says of his colleagues on the show. In The Heights (for which Tazewell also earned a Tony nomination) was co-written by Hamilton creator and star Lin-Manuel Miranda and directed by Thomas Kail.
As Hamilton began to take shape, Kail approached Tazewell about designing the show's costumes. At that point, the hit was still in workshop form and Tazewell was invited to an early reading.
I was just blown away. I was crying … I knew there was something very special about this piece.

Paul Tazewell
The next step was staged public readings and working on getting the show produced. The costume design and how to best visually represent the work presented some interesting challenges for Tazewell.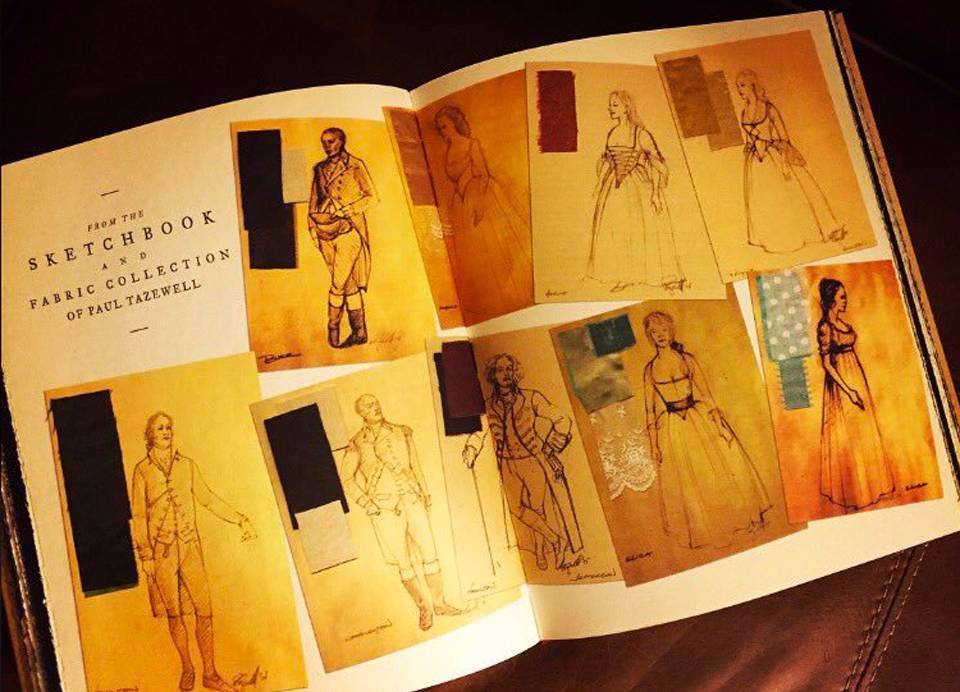 "It's a modern piece, written in modern language," he says, but at the same time, "these were real people from a real time, a definite year." He had to ask himself, "How are we best served to design the costumes while still honoring the time period and how the piece was written? How to blend 18th century and contemporary fashions?"
Those questions led him to an extensive amount of research about the time period and thoughtfully dressing actors from a vast stock of 18th century costumes at the first public staged reading at the Public Theatre. It was the right call, Tazewell says. "It turned out to be the most compelling way to tell the story."
That's not to say there aren't modern elements crafted into his designs. "For me, it's very important to design in a way so that the actors can relate to the clothing in a contemporary way," he says.
The result is a visually compelling element that helps bring the hottest show on Broadway — and its characters — to life.
"This year has been a pretty amazing year for me," Tazewell says. "I am grateful for the opportunity to do what I love to do. It's a privilege."