From UNCSA student to SpaceX leader: Randy Rees pioneers and pivots
On February 6, 2018, SpaceX launched the Falcon Heavy, the most powerful operational rocket in the world. It was another huge milestone for the company that's revolutionizing space technology. And in the middle of it all is UNCSA alumnus Randy Rees.
Rees, a 1999 graduate of the School of Design & Production, is an environmental health and safety engineer at SpaceX—a long way from working behind the scenes at UNCSA. But he says that everything he has done in his career, be it touring with international programs, serving as a first responder and firefighter or ensuring the safety of SpaceX can be traced back to what he learned during his time in school. The father of three lives in Orlando and commutes to SpaceX facilities at Cape Canaveral Air Force Station.
How did you decide to attend UNCSA?
I grew up in Atlanta and knew that after high school I wanted to go to theater production. I looked at three programs, and when I visited the School of the Arts I knew immediately that I wanted to go. One of the things that sets the school apart is that students learn how to operate as they will in the 'real world.' For instance, at some schools the lights are already all set and students just use whatever is there, verses at UNCSA you have a lighting designer, a budget, a stage manager and many others who actually make the productions happen.
What performances or projects stand out as the most memorable?
One was "The Nutcracker," which is an annual production. A core group of us worked on that year after year, and my senior year we mounted a new production with alumnus John McKernon, who traveled from New York to assist us. My junior year I was the lighting designer for "Romeo and Juliet," and the director was Gerald Freedman, who the theater is now named after. That was an eye opening experience, because, though it was a stunning design, I learned my heart wasn't in design.
What did you learn during these productions?
I learned many things. I learned how to make mistakes and how to fix mistakes. For instance, during "Romeo and Juliet," my initial color selection ended up being very wrong. Director of Lighting Norman Coates said, 'Well you picked the wrong colors. Own it and make it right.' It was the moment of understanding that sometimes we make mistakes and need to learn how to correct them.
Director of Lighting Norman Coates said, 'Well you picked the wrong colors. Own it and make it right.' It was the moment of understanding that sometimes we make mistakes and need to learn how to correct them.

Randy Rees
Another memory is from a show called "Enemy of the People." It was the first show at that theater to feature a stage that operated on a turntable. During the performance the turntable stopped working and pieces of the equipment went flying. So the entire crew manually pushed the turntable so the actors could finish the scene. I learned how to adapt and get it done—the show must go on.
Where did you head after graduation?
At the end of my senior year I was a student, student-teacher in Electrics and on staff as a houseman at the Stevens Center. Within a month I went out on the road with Blue's Clues Live with Juniper Street Productions. Ultimately, I worked on a number of different shows with them, and they hired many other School of the Arts alumni. I worked as an electrician, became a head electrician and started working carpentry, then rigging.
I then started working with ZFX Flying Illusions, doing touring productions and working on helping people fly. I became very good friends with Cathy Rigby and went out flying her in "Seussical the Musical" and "Peter Pan." ZFX took me all over the Western Hemisphere, and I flew all kinds of people and objects.
I spent six years touring, and when my first child was born I knew I needed to settle down and be in one spot.
Tell us about this career pivot.
During my years of touring I got to know stagehands all over the country. With the exception of the big cities there are a lot of cities in the country, particularly throughout the Midwest, where there's not enough full-time work for stage hands. Many of them become substitute teachers or firefighters because the schedule is flexible. I had met hundreds of firefighters and decided to move to Des Moines, Iowa, where I became a firefighter/paramedic and a stagehand.
I went through a lot of education and training, and firefighting became a passion. I was able to take a lot of the things I learned at UNCSA and apply them in a totally different industry, particularly thinking on my feet, responding and working with a lot of people at one time. I spent 10 years with the Des Moines Fire Department and became an officer. I was injured on duty and after five back surgeries it was determined I could no longer be a front line officer. At that point I had to once again figure out what I was going to be "when I grew up."
This is a question I have asked that myself many times—when I was heading to School of the Arts, when I was transitioning to becoming a firefighter and now once again. I spent a year working with organ donation services, which was very eye opening in working with people going through extreme grief.
How did you get from working in organ donation support to working with SpaceX?
I have always been a space buff. One night I was online and checking out SpaceX, which I had followed since their inception. I thought, "I wonder if they have anything for someone who started in the entertainment industry and then went into firefighting"… and they kind of did. They were looking for someone with experience in incident response, safety, handling hazardous materials, working within government guidelines, working relationally with other people—many things I had done with the fire department. So I applied, honestly having no expectations of getting the job.
My first launch campaign was OrbComm-2, which happened to be the first time we ever landed a rocket. We literally changed the map of what could happen with that launch.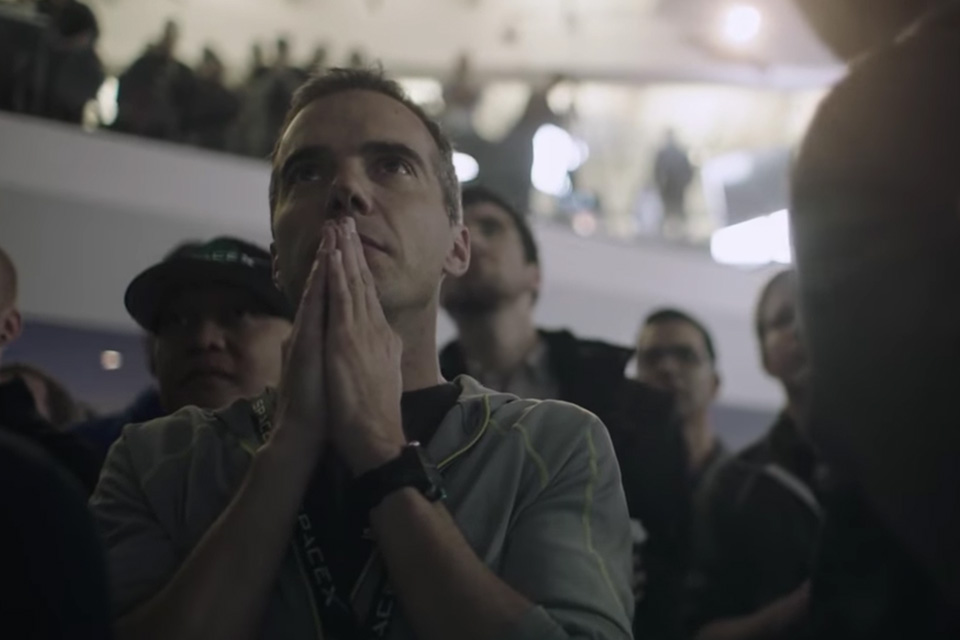 Reese's first campaign with SpaceX was the December 2015 launch of the OrbComm-2. Watch this emotional moment for the company, courtesy of National Geographic.
Tell us a bit about your day-to-day responsibilities and how they relate to SpaceX's mission.
I oversee SpaceX launch operations and how they relate to safety. I work with a huge group of SpaceX folks and outside folks. I produce risk probabilities, potential debris patterns, and all kinds of things along those lines that help us understand and execute safely during test launches. I also work to develop a planning process for how to handle if something does go wrong.
I work with emergency services here at the base and with NASA, the Air Force and their contractors, PR and press groups and cities and their contractors. During a launch campaign I'm often in the emergency services room.
In 2017, SpaceX launched more missions than any country. This year we are going to far exceed that. We're able to launch and re-launch the same vehicle and components, making it cost-effective and reliable. Safety is an important part of that.
What is it like to be part of a company doing such groundbreaking work?
SpaceX isn't just saying that we're going to change the map of space flights and space exploration—we're actively doing it. Elon (Musk) is so visionary, and it's amazing to see that what he's talking about isn't just about something that could happen in the future—we are developing technology and moving quickly now.
We have a large workforce in California building in the factory, but the launch group is still small and we are very tight-knit. I refer to SpaceX as a lifestyle not a job. When I started, it was not uncommon to spent 12 or 13 hours working seven days a week working toward a launch. Now there's much more of a work-life balance.
One of the things I love about SpaceX is that we have a line on our employee evaluation that says, "What did you do this year to help get us to Mars?" You think that's years away, but it's really not, and we get to be a part of it.
One of the things I love about SpaceX is that we have a line on our employee evaluation that says, 'What did you do this year to help get us to Mars?' You think that's years away, but it's really not, and we get to be a part of it.

Randy Rees
What are the similarities between your work in entertainment and in the space industry.
There are so many parallels between the entertainment world and the world that I work in today. There aren't that many industries that really set you up for fixing problems under extraordinarily tight deadlines. Problem solving, work ethic and knowing how to relate to and work with many, many people—that all came from the School of the Arts.