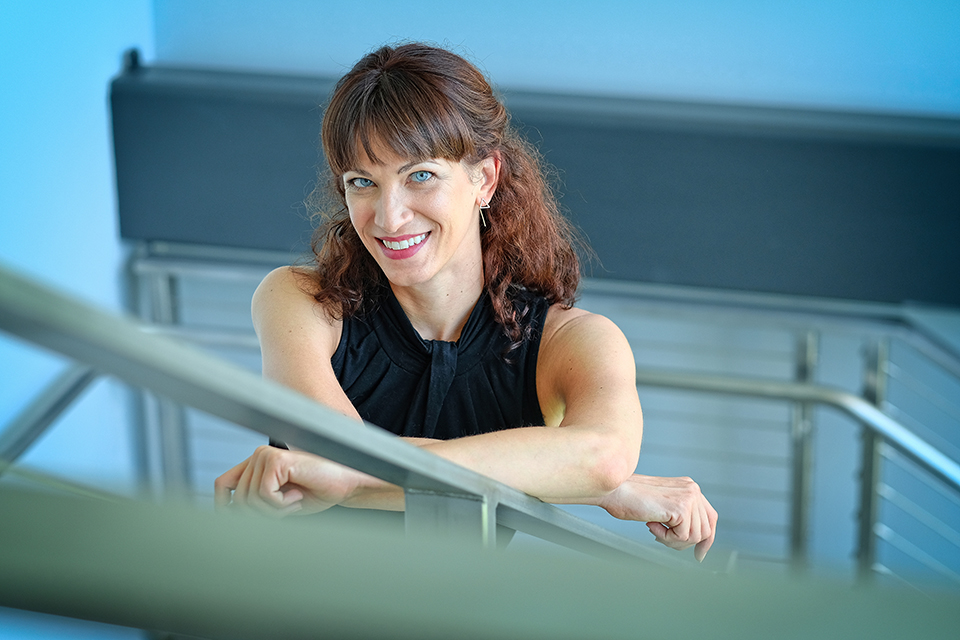 Certified ABT National Training Curriculum Instructor Angelina Sansone joined the School of Dance faculty in 2018 after 13 seasons with the Kansas City Ballet. With an extensive background in both performing and teaching, Angelina brings a wealth of knowledge to the ballet program.
I place a large emphasis on purposeful footwork, economical alignment and dynamics in movement quality and musicality. Beyond technique, I strongly encourage my students to be adaptable, curious and well-rounded artists. I have found that dancers with these traits stand out among their peers and are more readily usable by choreographers.
Credentials
Began formal ballet training with Charlotte City Ballet.
At the age of 14, attended The Harid Conservatory with a full tuition scholarship. Harid is known for its excellence in ballet education based in the Vaganova methodology, including a heavy emphasis on musical studies.
Spent two seasons with the Joffrey Ballet of Chicago, and appeared in Robert Altman's 2003 film, "The Company."
Worked toward a B.S. in Ballet at Indiana University before accepting a contract with the Kansas City Ballet in 2005.
In her 13 seasons with the company, Angelina enjoyed a rich career working with numerous choreographers and performing a ranging repertory of soloist and principle roles.
Joined multidisciplinary art collective Quixotic Performance Fusion in 2006.
Served as a dancer/ballet master for Motion Dance Theatre in Asheville, North Carolina.
Performed as guest artist with Kansas City Dance Festival, New Orleans Ballet Theater, Chamber Dance Project, Kansas Ballet Academy and Piedmont School of Dance and Music.
For over 15 years, she has been on staff as Ballet teacher with several dance schools and taught as guest faculty across the country.
Received certification from the ABT National Training Curriculum in levels pre-primary through level 5 in June 2018.
Career Highlights
Performing in a reconstruction of Nijinsky's original "Le Sacre du Printemps," led by Millicent Hodson and Kenneth Archer.
Returning to the Stravinsky score in the final years of her career, in Adam Highland's "The Rite of Spring" as the Chosen One. It was one of the most exhilarating and all-consuming roles of her career, and being coached by Adam and Wendy Whelan, who originated the role, left a strong mark on her growth as an artist.
Receiving earrings to wear on stage from Mr. Gerald Arpino before her first "Nutcracker" as a professional dancer with the Joffrey Ballet.
Being a part of the collaboration between Quixotic Performance Fusion and the Kansas City Symphony in the multi-sensory experience that was Quixotic Symphonic.
Performing and sharing the role of Juliet with Kimberly Cowen.
Bowing to a roaring audience in Cali, Colombia, after performing Ben Stevenson's "End of Time" for Incolballet's International Ballet Festival.
Performing Helen Pickett's "Petal," and having a student contact her after being cast in the same role and hearing what she learned from watching Angelina's process with the part.