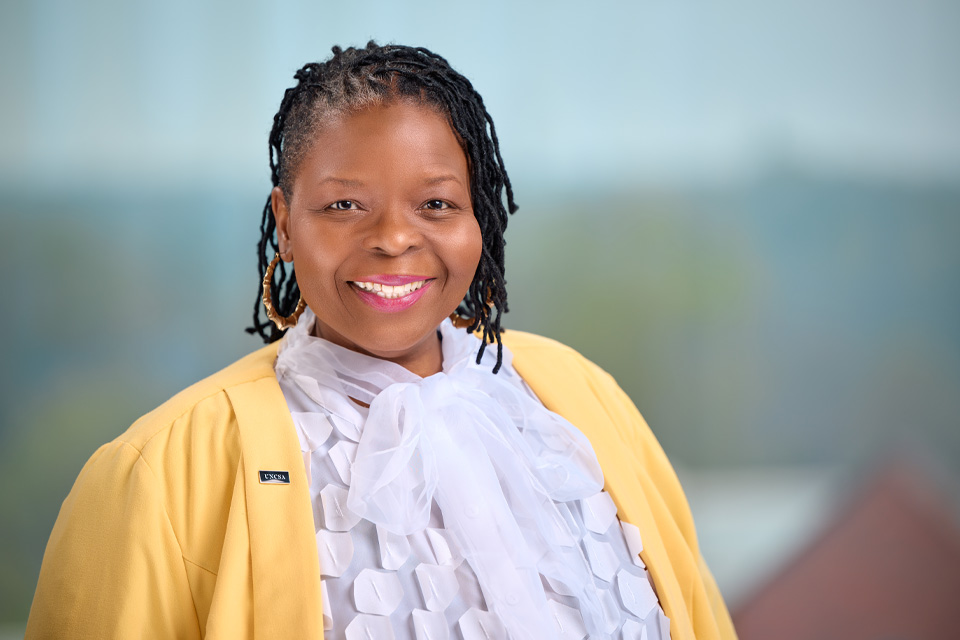 Dr. B. Afeni McNeely Cobham began her tenure as the inaugural Associate Vice Chancellor and Vice Provost for EDIB at UNCSA in April of 2023, bringing comprehensive experience as a senior student affairs administrator, faculty member, curator, and consultant.
As the chief diversity officer at UNCSA, McNeely Cobham reports directly to the chancellor and provides overall leadership and guidance on access and equity for the school's high school, undergraduate, and graduate programs.
A native of East New York, Brooklyn, McNeely Cobham has seen her work benefit student engagement units in academic advising, residential life, judicial affairs, campus activities, career services, enrollment management, multicultural affairs, and more. In 2022, she launched J.E.D.I. TIP (Justice, Equity, Diversity, and Inclusion), a consultant group that offers contemporary and authentic approaches to diversity, equity, and inclusion practices that sustain organizational growth.
Dr. McNeely Cobham was identified after a nationwide search and was one of three finalists chosen to present to the campus earlier this month.
"I am thrilled to welcome Afeni as our university's first-ever associate vice chancellor and vice provost for EDIB," said Chancellor Cole. "We are very fortunate that such a highly qualified and enthusiastic leader is joining our team. Afeni's experience and success in moving institutions forward in EDIB is exactly what we need at UNCSA.
"While we realize that the work of EDIB cannot fall to one person alone, Afeni will work alongside senior leadership and community members who are energized to invest the resources, time and energy needed to address EDIB issues at the university and within the arts."
The new position was identified as a key component of EDIB efforts at UNCSA as part of a framework developed in 2020 that outlines the explicit and continual process of identifying and dismantling systems and practices of bias, exclusion, and oppression. EDIB is also now a pillar of UNCSA Forward: Our 2022-27 Strategic Plan.
McNeely Cobham was the inaugural chief equity and inclusion officer at a community college in the Midwest, serving from 2018-22. She was instrumental in moving the institution toward an overhaul of its strategic plan, centering principles of equity through the core pillars. She also developed the purpose, vision and values for the Office of Diversity, Equity, and Inclusion in partnership with campus and community stakeholders.
In addition, McNeely Cobham curated and launched programming and training initiatives such as the Cultural Competence Institute, J.E.D.I. Series, Feminist Colloquia; and galvanized faculty, staff and students to establish the LGBTQ+ Think Tank, a brave space that promotes awareness, agency and advocacy.
Under her leadership, some of the world's most influential leaders were featured during events sponsored by her office.
Before UNCSA, McNeely Cobham served as an associate dean at Connecticut College, associate provost of student life and affiliate faculty at the University of Denver, and assistant dean at Brown University. She also taught at Salem State University in Massachusetts, Metropolitan State University (MSU) of Denver, and Indiana University, among others.
In 2010, she was the first faculty member at the University of Denver to teach a course on hip-hop culture titled "The 21st Century Minstrel Showdown: Hip Hop Culture vs. Rap Music and the Commodification of Social Identities." That same year, she transitioned to the Department of African American Studies at MSU Denver to amplify the work of the course by curating the Sankofa Lecture Series, a hip-hop cultural literacy conference. While there, she embraced the "Dr. MC" moniker affectionately bestowed by students.
Dr. MC is a member of Delta Sigma Theta sorority, the Order of the Eastern Star, and several academic honor societies.
Education
Ph.D. Higher Education Administration & PolicyIndiana University
M.A. African American and African Diaspora StudiesIndiana University
M.Ed. Student Personnel in Higher EducationUniversity of Georgia
B.A. Radio/TV/FilmMarist College