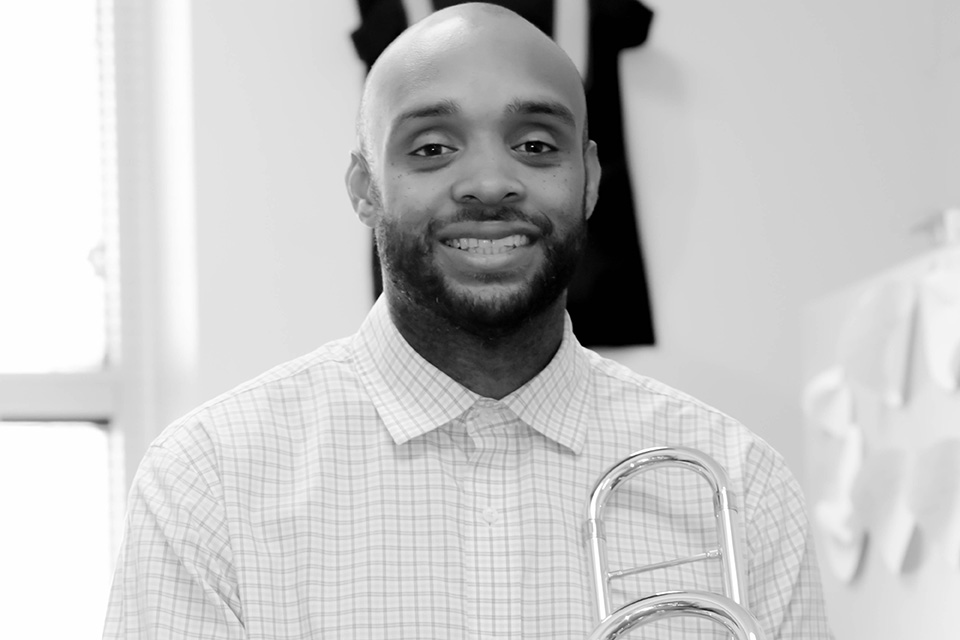 A native of Ettrick, Virginia, Christopher Hayes' music career began at a young age while attending Oak Street A.M.E. Zion Church, where he learned to play hand bells, piano and to sing. He then went on to learn how to play the trombone and the french horn. As an eighth grader, he earned first chair for All District Band as a trombonist. Hayes then continued to Matoaca High School, where he continued to flourish as a musician, earning such distinctions as All-District Band, Virginia Tech Honor Band, Semper Fidelis award, music performance scholarships and the John Phillip Sousa Award.
Hayes received a Bachelor of Science in Music Education with honors from North Carolina A&T State University (NC A&T). While at NC A&T, he quickly established himself as a top notch musician and bandsmen, and was honored as section leader of the year, top musician and the trombone section received the section of the year award. As a member of the symphonic band, he served as principle trombonist for three years and principal hornist for two years. Hayes is a classically trained trombonist, and has served as a principal jazz trombonist and soloist. He was awarded the music department's top performance honor in 2006 for placing first in a classical solo competition. He was also selected to participate in the Historically Black Colleges & Universities (HBCU) All-Star Band in 2006 and made the HBCU consortium symphonic band twice.
Upon graduating from college, Hayes found a position as Director of Bands at Thomasville High School. Under his direction, the band won over 120 first, second and third place trophies, including the 2008 First Place Class AA National High Stepping Band Championship Trophy. After five years of service, Hayes accepted a position at Hillside High School. While at Hillside, he continued the Hillside Legacy of musical excellence. In 2013, the band won two Grand Championship trophies, finished first place in class 3A in the state and second runner up overall. Additionally, the band placed second at the Viewer's Choice Battle of the Bands and Hayes was honored as Director of the Year.
In February 2015, Hayes took over leadership of The Great James B. Dudley High School Department of Bands, succeeding the legendary Ricardo V. Reid Sr. Hayes is a stickler for music fundamentals and diligently works to make sure that all of his students are "musically literate" and proficient. As Director of Bands, Hayes works to ensure that his students have a diverse musical experience, including symphonic, jazz and marching band. Many of Hayes' students have received scholarships and honors after graduating from his tutelage and he has a goal of at least 80% of his graduates each year receiving scholarships and honors from college and university band programs. Hayes is currently pursuing a Masters of Music from UNC School of the Arts.
Organizations & Affiliations
Kappa Kappa Psi
Kappa Delta Pi
North Carolina Music Educators Association
North Carolina Show Style Band Directors Association
HBCU Band Directors Consortium
Education
B.S. Music EducationNC A&T