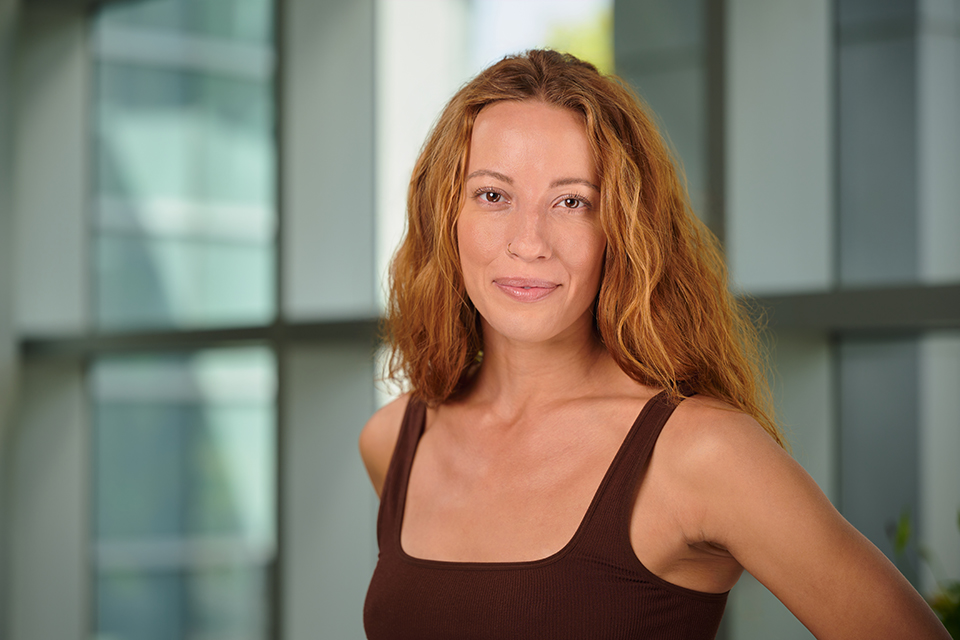 Emily Nicolaou is a dance artist, teacher and choreographer based in Copenhagen and Winston-Salem. She studied at the Ailey School, the Merce Cunningham Studio and the Lines Ballet School and attended UNCSA for her secondary and undergraduate education.
After graduating, Nicolaou accepted a position with Hubbard Street Dance Chicago II in 2009 and pursued her ambition to move to Europe, joining the Danish Dance Theater in 2011 and spending a decade performing, teaching and touring all over Europe, Asia and North America.
I search for genuine movement and honest expression, offering an opportunity to explore strategies and improvise with our choices. I observe our differences, giving space to use the tools we have, unique to each individual, while remaining aware of the space we share with others.

Emily Nicolaou
Credentials
Training vocabulary: The Ailey School (2005-2007), Alonzo King Lines Ballet (2007), Merce Cunningham Studio (2008-2009), Gaga (2009-2022).
Choreographic vocabulary: Guggenheim Museum Chicago Project (2010), Danish Dance Theater Choreographic Copenhagen (2011), Copenhagen International Choreography Assistant (2012), Le Sacre Du Printemps (2013), Repertoire for Conservatories (2012-2022), Repertoire for Film - Copenhagen Artist Collaborations (2018, 2019).
Career Highlights
Dancer with Hubbard Street Dance Chicago II, 2009-10.
Dancer, Creator and Teacher with Danish Dance Theater, Denmark, 2011-20.
Dancer, Creator and Teacher with Musiktheater Im Revier, Germany 2020-22.
Annual performance tours, Denmark, United Kingdom, Sweden, Norway, Finland, Germany, Poland, Lithuania, Latvia, Belgrade, Hungary, Italy, Cyprus, China, Korea, Thailand and the United States (Kennedy Center, Joyce Theater, Harris Theater), 2011-20.
Global workshops in the United States, United Kingdom, Europe and Africa, 2010-22.
Yoga, Injury Prevention + Emotional Balance & Strength Teacher, 2020-22.
Performance repertoire includes Roy Assaf, Marcos Morau, Sebastian Kloborg, Örjan Andersson, Itzik Galili, Fabio Liberti, Ohad Naharin, Andrea Miller, Lar Lubovitch and Merce Cunningham.
Education
B.F.A.UNC School of the Arts