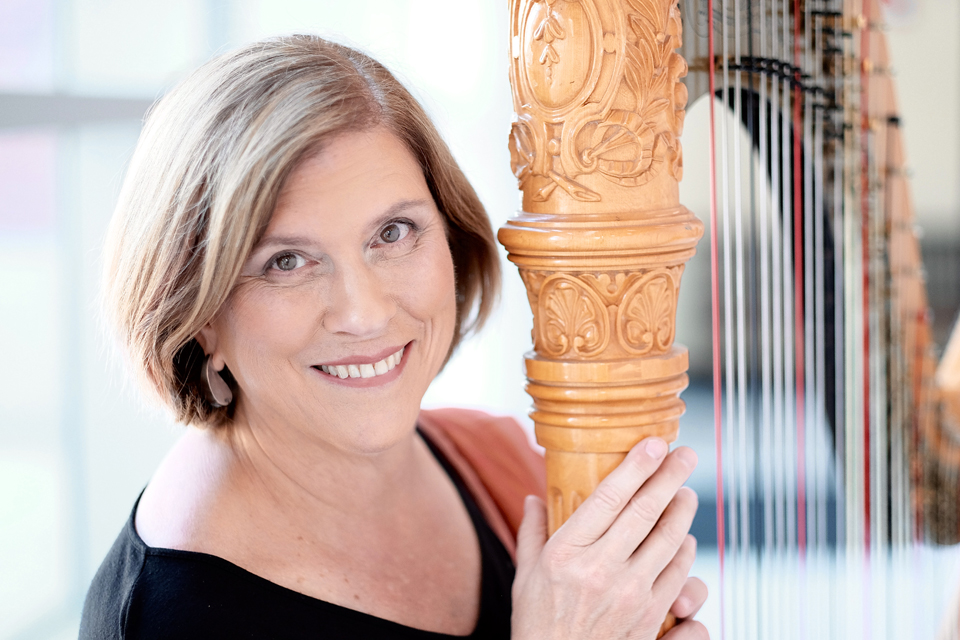 A champion of chamber music, Jacquelyn Bartlett was born in Detroit, Michigan, where she was surrounded with music. Her mother, Mary Bartlett, is a noted harpist, arranger, composer and teacher and Jacquelyn began her musical studies at an early age with her mother.
After continued studies with world renowned harpists, Carlos Salzedo and Alice Chalifoux, she made her solo debut at age 16 in Chicago's Orchestra Hall in a performance of the Handel Harp Concerto, which received high critical praise. Her harp teachers also include Lucy Lewis, Lucille Lawrence and Susann McDonald.

Having served on the faculties of Duke University and the University of North Carolina, Jacquelyn is currently a member of the Artist Faculties of UNCSA, Appalachian State University and UNC Greensboro. A dedicated and passionate educator, she is much sought after as a teacher, chamber music coach and presenter for master classes and seminars.
Credentials
Invited to perform with many of the world's leading orchestras including the Detroit Symphony, the New York Philharmonic, the Indianapolis Symphony, the Rotterdam Philharmonic, the Slovac Radio Symphony, the Baltimore Symphony, the Kansas City Philharmonic, the North Carolina Symphony and the Milwaukee Symphony
Has worked with some of this generation's most well known composers such as Aaron Copeland, George Crumb, Alberto Ginastera, Dan Locklair, George Rochberg and John Rutter and with conductors such as Eugene Ormandy, Sixten Ehrling, Sergiu Commissiona, Aaron Copeland, James Paul, Izler Solomon and Pierre Boulez

For ten years, she was the Founder and Artistic Director of SummerMusic in Blowing Rock, N.C. and Music at St John's in Valle Crucis, N.C.
Career Highlights
Founding member of Fire Pink Trio and long time member of Mallarme Chamber Players

Has written and published articles in professional journals, has edited music for publication and is a recorded artist on the Albany, Capstone and Naxos labels

Recent world premiere recording of Dan Locklair's Concerto for Harp and Orchestra with the Slovak Radio Symphony Orchestra was released by Naxos and has received high, critical praise
Organizations
American Harp Society
World Harp Congress