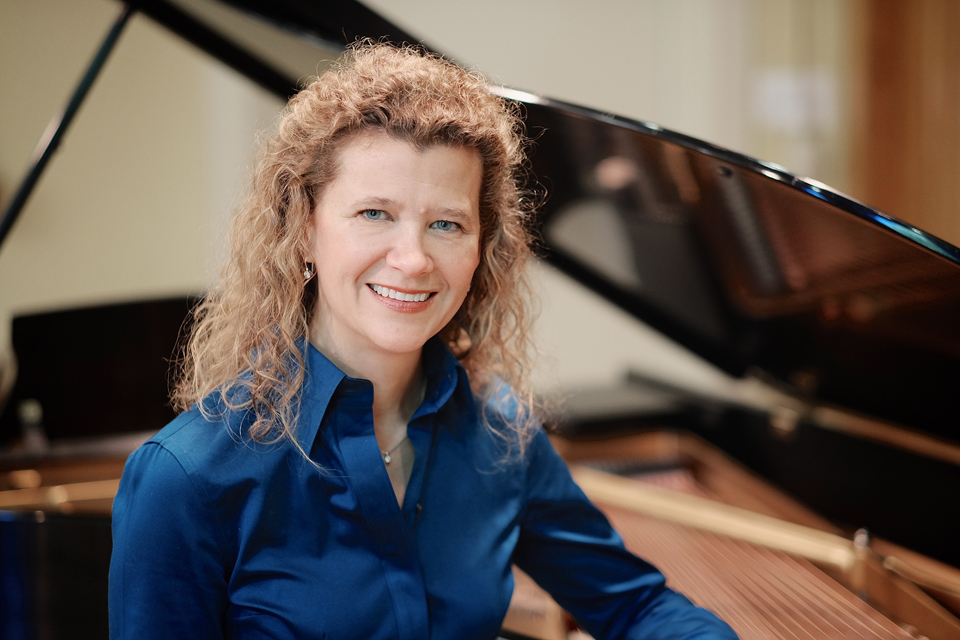 Karen Beres is Vice Provost and Dean of Academic Affairs for UNCSA. She also teaches undergraduate group piano classes and a piano pedagogy class in the School of Music, where she has the opportunity to interact with every undergraduate music student who studies at UNCSA.
On a daily basis, students in Karen's classes work on applications of time management, goal setting, musical analysis, critical response, historical context and many other details that go into creating a well-rounded musician.
I see all levels and abilities, but one thing remains the same – our students tend to be motivated, intelligent, genuinely nice young adults whose education I love to have a hand in shaping!

Karen Beres
Credentials
Nationally Certified Teacher of Music (NCTM), Music Teachers National Association
CanAm Piano Duo (Karen Beres and Christopher Hahn)
Accompanist, Bel Canto Company, a professional choir based in Greensboro, N.C.
Former faculty positions at Bowling Green State University and the University of Oklahoma: taught group piano, piano pedagogy, led a demonstration group piano class for children, taught a private piano studio of students from ages 4-70+ and served as Coordinator of the Creative Arts Program community music school
Career Highlights
Played concerts in the Haydnsaal in the Esterhazy Palace, Eisenstadt, Austria, where Haydn served as court musician for much of his career, in the summers of 2011 and 2012 as a faculty member of the Classical Music Festival Piano Seminar.
Worked with noted composer David Maslanka on This is the World We Know—a work that her piano duo and husband commissioned, premiered and performed numerous times.
Invited to the Idaho State Music Teachers Conference in 2014 as a member of the CanAm Piano Duo.
Championing the efforts of colleagues and students in the School of Music and working with leaders across UNCSA's campus.
Awards, Recognitions and Honors
Outstanding Graduate Assistant Award, University of Oklahoma, 2001
Pi Kappa Lambda, 2002
UNCSA Excellence in Teaching Award, 2008
International Chamber Music Ensemble Competition, Silver Medal, 2008
IBLA Grand Prize Competition, Ragusa, Italy, Distinguished Ranking, 2009
Organizations
Music Teachers National Association
North Carolina Music Teachers Association – Piano Section Chair
College Music Society
Education
DMA Piano Performance and PedagogyUniversity of Oklahoma
MM Piano PerformanceBowling Green State University
BS Music Education/PianoLebanon Valley College