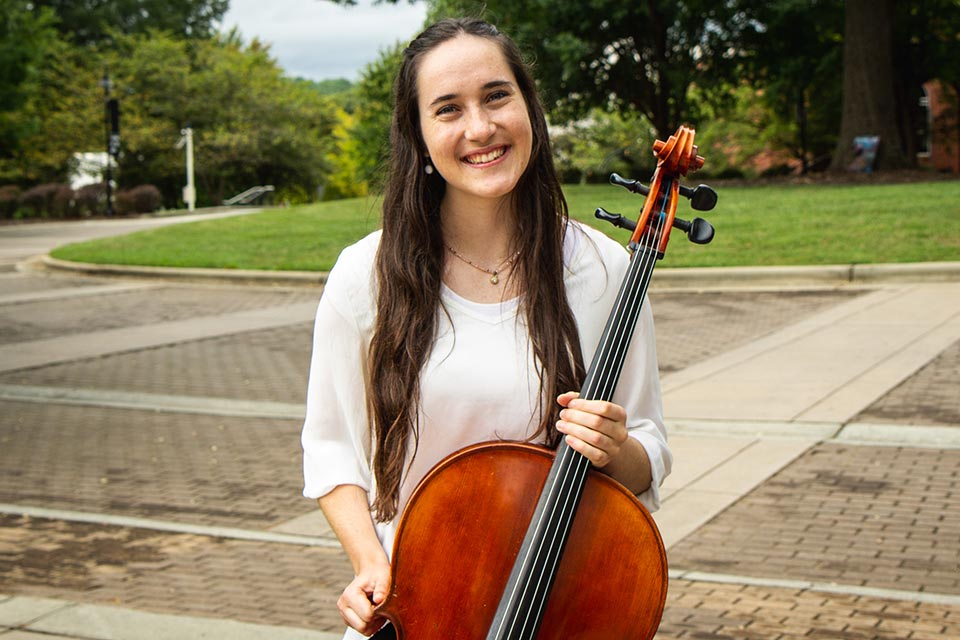 Cellist and Cary, N.C. native Sophie Lyman began her studies with her mother at the age of three. A daughter of a Suzuki teacher, Sophie grew up listening to her five older siblings progressing through the Suzuki method, and uses it in her own teaching. She is in the process of completing full teacher training with the Suzuki Association of the Americas.
Sophie completed one year of undergraduate cello performance at Brigham Young University in Provo, Utah before transferring to UNCSA. She has won various competitions and soloed with the BYU Symphony Orchestra, the Idaho Falls Youth Symphony and her high school orchestra on numerous occasions. She was the third place winner of the 2018 Grand Teton Music Festival Scholarship Competition.
I love teaching music, not only for its beauty, but also for the invaluable skills it teaches such as goal setting, working hard, empathizing with others, feeling confident and being able to enrich the world through high quality arts. It is an endeavor that benefits anyone who engages in it. I strive to cultivate these values with all those I teach.

Sophie Lyman
In past summers she has toured China with the BYU Chamber Orchestra, attended the Prague Summer Nights festival in the Czech Republic, the Brevard Summer Institute and the Credo chamber music camp at the Oberlin Conservatory. She currently studies with Brooks Whitehouse. Her past teachers include Robert Tueller and Michelle Kesler. She has had lessons with and played in masterclasses for Johannes Moser, Amit Peled, Anthony Elliott and Anne Francis Bayless.