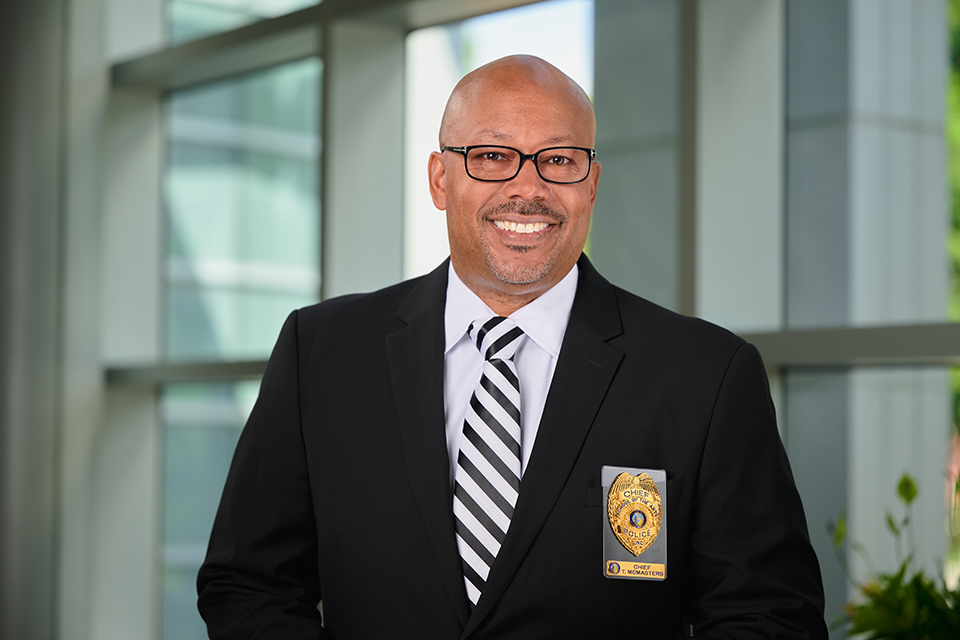 Tommy McMasters came to UNCSA with over 23 years of experience in law enforcement. He has worked in every facet of law enforcement, including patrol, investigations, street-level crimes and narcotics.
Prior to UNCSA, he was police chief for Elizabeth City State University, deputy chief and police operations captain at North Carolina Central University in Durham, patrol commander at Fayetteville State University, chief of police for the city of Hamlet and public safety supervisor at Bennett College in Greensboro. McMasters also was a patrol officer for the Winston-Salem Police Department for five years and a patrol supervisor for the Forsyth County Sheriff's Office for six years. He served as a director of law enforcement training programs for three years and in the U.S. Marines for six years.
McMasters is a member of the International Association of Chiefs of Police (IACP), the International Association of Campus Law Enforcement Administrators (IACLEA) and a board member of Historically Black Colleges Universities Law Enforcement Executives Association (HBCULEEA). He is a proud member of the Alpha Phi Alpha Fraternity, Inc.
McMasters is also a certified NC Law Enforcement Instructor, has a certification in Diversity, Equity and Inclusion from Cornell University and completed the West Point Leadership Program. He was a recipient of the FBI Law Enforcement Executive Development Association (FBI-LEEDA) Trilogy Award, completed FBI Command College and earned a NC Advanced Law Enforcement Certificate.
In addition to law enforcement, McMasters is also a musician – he plays the bass and performs locally in various venues and churches. He enjoys fishing and classic TV such as Andy Griffith, and his motto is "it's nice to be important, but it's more important to be nice."
Education
M.S. Criminal Justice AdministrationGrand Canyon University
B.S. Business/Legal StudiesStrayer University