UNCSA humanities professor wins statewide poetry award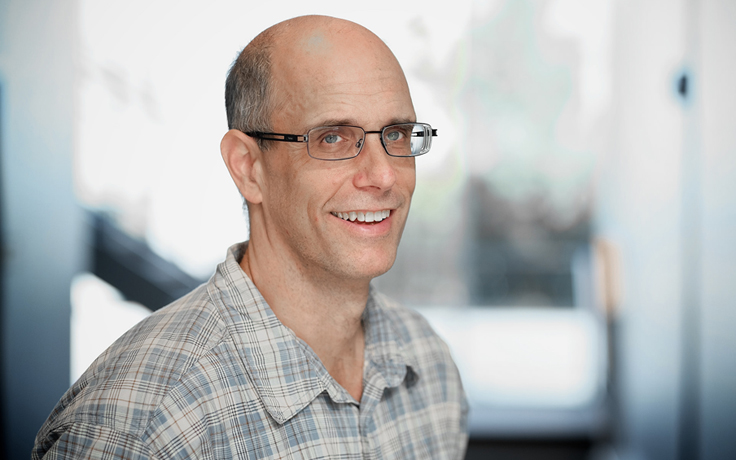 Joseph Mills, a professor of humanities at the University of North Carolina School of the Arts (UNCSA) is the recipient of the Roanoke-Chowan Award for Poetry for his most recent collection of poetry, "This Miraculous Turning." The prize is awarded annually by the North Carolina Literary and Historical Association for what the judges consider the best book of poetry by a North Carolina writer.
Mills was one of 11 nominees for the award, whose past recipients include Carl Sandburg, Reynolds Price, Fred Chappell, Frank Borden Hanes, Joseph Bathanti, Kathryn Stripling Byer, Alan Michael Parker, Charles Edward Eaton and Michael McFee.
Mills holds the Susan Burress Wall Distinguished Professorship in the Humanities in UNCSA's Division of Liberal Arts. He teaches a variety of courses ranging from studies in American humor to modern fiction and contemporary poetry.
His work includes poetry, fiction, drama, and academic criticism. He has published four additional volumes of poetry: "Sending Christmas Cards to Huck and Hamlet;" "Love and Other Collisions;" "Somewhere During the Spin Cycle;" and "Angels, Thieves, and Winemakers." He edited "A Century of the Marx Brothers," and he writes two regular columns, one on parenting for Latitude Magazine and one on wine for Small Winery Magazine.
Mills and his wife, Danielle Tarmey, are the authors of "A Guide to North Carolina's Wineries." The second edition was released in 2007.
Mills holds degrees in literature from the University of Chicago (B.A.), the University of New Mexico (M.A.), and the University of California-Davis (Ph.D.).
The North Carolina Literary and Historical Association, established in 1900, is among the oldest organizations of its kind in the nation. Its objectives include fostering the interest of North Carolinians in the state's literature and history; encouraging productive literary activity within the state; and bringing attention to meritorious works by North Carolina writers. The Roanoke-Chowan Award for Poetry has been offered since 1953.