It's a first! UNCSA Jazz Ensemble to perform with studio orchestra and alumni duo Minas for bossa nova concert
Bossa nova, the sensual and colorful Brazilian music that took America by storm in the 1960s, will bring the warmth of Rio de Janeiro to Winston-Salem in January, when Minas, a Philadelphia-based husband and wife duo of University of North Carolina School of the Arts graduates, performs with the UNCSA Jazz Ensemble plus a 21-piece string section and added percussionists.
Minas, composed of Orlando Haddad (classical guitar and vocals) and Patricia King (piano and vocals) will perform the music of their seventh album, "Symphony in Bossa," in concert at 7:30 p.m. on Friday, Jan. 29 in Freedman Theatre of the Alex Ewing Performance Place on campus at 1533 South Main St. in Winston-Salem. Tickets are $18 regular and $15 students with valid ID, and are available at UNCSA.com/performances or by calling the box office at 336-721-1945.
Ronald Rudkin, who directs the jazz program at UNCSA and will solo during the concert on saxophone and flute, said the concert is a first for the student musicians. "We've never done anything like this performance with a full studio orchestra," he said.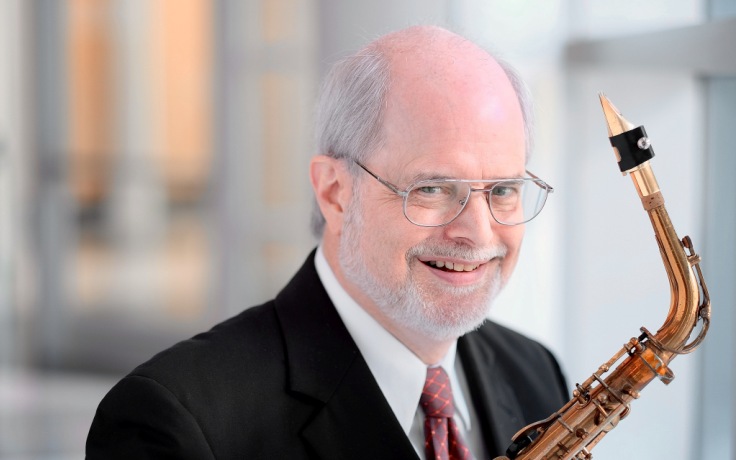 Rudkin said the Jazz Ensemble routinely plays Latin music, but not with a string section, and not with guest artists – and alumni – of the caliber of Haddad and King.
"They are at the peak of an extensive and highly successful career as performers, composers and recording artists," Rudkin added, noting that "Symphony in Bossa," released in April 2015, was in the running for four Grammy Award nominations.
Haddad said the recording was 10 years in the making, but was a pleasure to produce. "It evokes sunsets on Ipanema beach, sunrises overlooking the mighty Amazon forest, fanfare and revelry during Rio's famous Carnaval. It's elegant, colorful, soulful, sensitive, sophisticated, imaginative, cheerful, playful. It's also pensive and poetic," he said.
Minas' previous CD, "Bossa Nova Day," showcased just Haddad and King and cost $5,000 to make. "Symphony in Bossa" featured more than 60 musicians, including a 15-piece big band, a string orchestra, plus guest artists. It cost $50,000, according to Haddad, financed through grants, a crowd funding campaign, and the couple themselves.
January's concert will include all of the album's tracks, including a cover of the most famous bossa nova song, "The Girl from Ipanema," by Antonio Carlos Jobim, and a medley of genre classics. Three of the tracks are new original compositions by Haddad and King, both 1979 graduates of the School of Music.
"Ours is a great story," Haddad says. "Boy comes from Brazil to attend (U)NCSA, meets girl from Pennsylvania; they start a band; get married; move away; raise a family while performing, recording and teaching; and are at the peak of their career 40 years later."
Minas is named for Minas Gerais, the state in Brazil where Haddad was born and raised.
Haddad and King formed Minas in 1978, while studying music at the School of the Arts. They proceeded to play all over the eastern United States before moving to Brazil, where they lived, entertained and traveled, absorbing the essence of Brazilian culture. In 1984 they returned to the United States and raised a family while performing and recording extensively, building their reputation as one of the most sought-after Brazilian groups of its kind.
"We perform for a variety of ages and get excellent response, especially if they are music/arts students," Haddad said. "Bossa nova is the marriage of Brazilian samba and American jazz. Jazz lovers tend to appreciate it more easily, but it is loved all over the world by select and varied types of people spanning several age brackets."
Rudkin said bossa nova music created a sensation when it was introduced in the United States. "People went crazy for it. It is a very important branch of music for jazz musicians. This concert is going to be exciting for our students and for the audience."
Rudkin met Haddad and King when he came to teach at UNCSA shortly before they graduated. He and Haddad performed together frequently and became friends. Rudkin performed as guest soloist on Minas' first album. Although they have kept loosely in touch, they reconnected when Rudkin and his wife were in Philadelphia during the summer of 2014.
"Orlando and Patricia told us about this recording project in process, and an idea for a live performance took shape," Rudkin said. "It is a great project for us to do, to celebrate their major success by bringing them back to campus."
In addition to the concert, the alumni will conduct an open-to-the-public Brazilian jazz workshop scheduled for 4 p.m. on Thursday, Jan. 28. For information please call the School of Music at 336-770-3255, after Jan. 4.
About Minas
Previous full-length recordings by Minas include "Bossa Nova Day" in 2009, "In Rio," in 2006, "Blue Azul" in 1996, "Dreams of Brazil" in 1987, and "Num Dia Azul" (featuring Rudkin on piano and flute) in 1983, soon to be re-released on vinyl and CD. In addition to performing with Minas, Haddad and King work in schools as teaching artists. Their program, "Brazilian Adventure," has reached half a million children. They have presented master classes at colleges and universities including Brown, Pennsylvania State, Ohio State and Ohio University, the University of Maryland, the U.S. Merchant Marine Academy, Dickinson College, Denison and Temple. Haddad has taught Brazilian jazz and samba percussion at the University of the Arts in Philadelphia for 10 years, and has been visiting professor at the University of Pennsylvania, teaching Ph.D. students in the ethnomusicology department. For additional information about Minas, please visit http://www.minasmusic.com/index.html.
About Ronald Rudkin
Ronald Rudkin directs the jazz program and teaches music theory at UNCSA. He holds a Master of Music from the University of Michigan and a Bachelor of Music from East Carolina University, where he received a Distinguished Alumnus Award. In addition to maintaining an active performing career on saxophone, clarinet, and flute with his own jazz groups and dance band, Rudkin plays clarinet in the Winston-Salem Symphony and has appeared with the North Carolina, Greensboro, Charlotte, and Western Piedmont symphonies. An experienced band leader and arranger, he has led professional groups in performance with numerous celebrities from the worlds of entertainment, pop and jazz. His pops arrangements and compositions for symphony orchestra featuring solo saxophone or saxophone quartet have been performed by regional orchestras as well as orchestras around the United States and abroad. Rudkin is a recipient of the Jazz Composers Fellowship from the North Carolina Arts Council, and has toured and performed with legendary jazz drummer Max Roach and drummer T.S. Monk Jr. in public schools across North Carolina as part of an educational program sponsored by the Thelonious Monk Institute. As a big band musician he has performed with the orchestras of Glenn Miller, Peter Duchin, and Les and Larry Elgart; the North Carolina Jazz Repertory Orchestra; the Camel City Jazz Orchestra; the Atlantic Jazz Orchestra; and his own big band, the Ron Rudkin Orchestra.
An active jazz educator and clinician, Mr. Rudkin has directed the UNCSA Jazz Ensemble in concert at jazz festivals, concert halls and events across the Southeast. He has led student jazz combos on summer tours in Europe as part of UNCSA's former International Music Program, and for more than a decade directed all-star UNCSA alumni jazz groups and the UNCSA Jazz Ensemble at Manteo, N.C., as part of the school's summer festival series. He also conducts workshops in jazz improvisation and jazz ensemble performance at public schools and elsewhere across North Carolina.
Dec. 17, 2015