Disney Imagineer shares swashbuckling adventures as a themed entertainment designer
"All I care about is creating cool things for guests," said Luc Mayrand, kicking off his keynote address at UNCSA School of Design & Production's annual Barbizon Extravaganza! event. Mayrand, who has worked with Walt Disney Imagineering for nearly 20 years, currently serves as Vice President Creative for both Hong Kong Disneyland and Shanghai Disney Resorts.
Mayrand's experience as a themed entertainment designer, a critically important role in theme park development, was at the heart of his remarks. His former colleague and current UNCSA Dean of Design & Production Michael Kelley, invited him to share his experiences at Shanghai Disneyland—a theme park in which they collaborated on many projects—to give students the opportunity to hear first-hand accounts of an industry expert.
Themed entertainment design has been part of Kelley's vision for the School of Design & Production since he joined UNCSA as Dean in 2015.
"The principles of design are the same, no matter where they are applied," says Kelley. "We are a global school, offering students the opportunity to expand past theatre design and production into new areas of themed entertainment."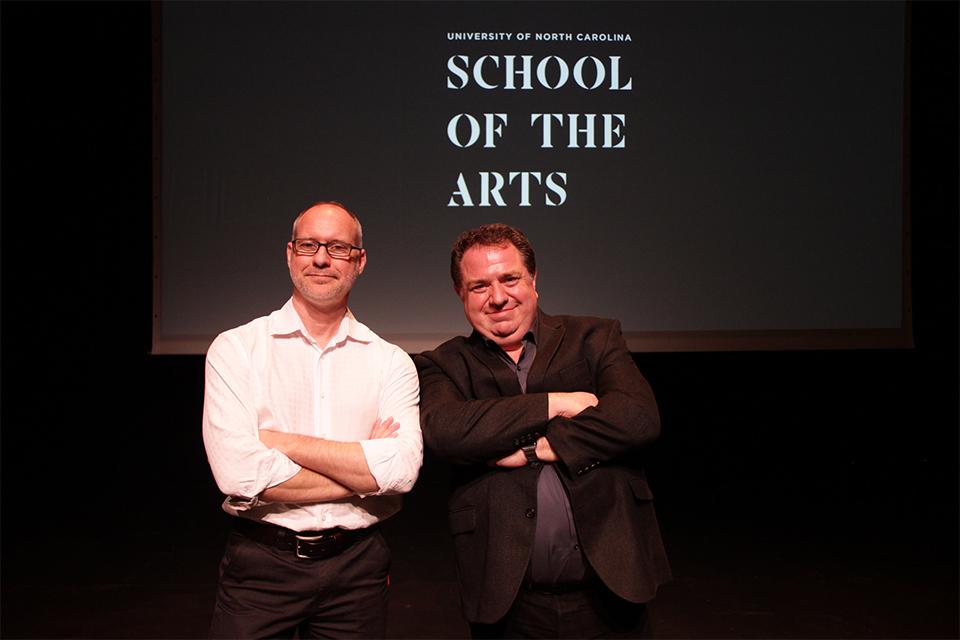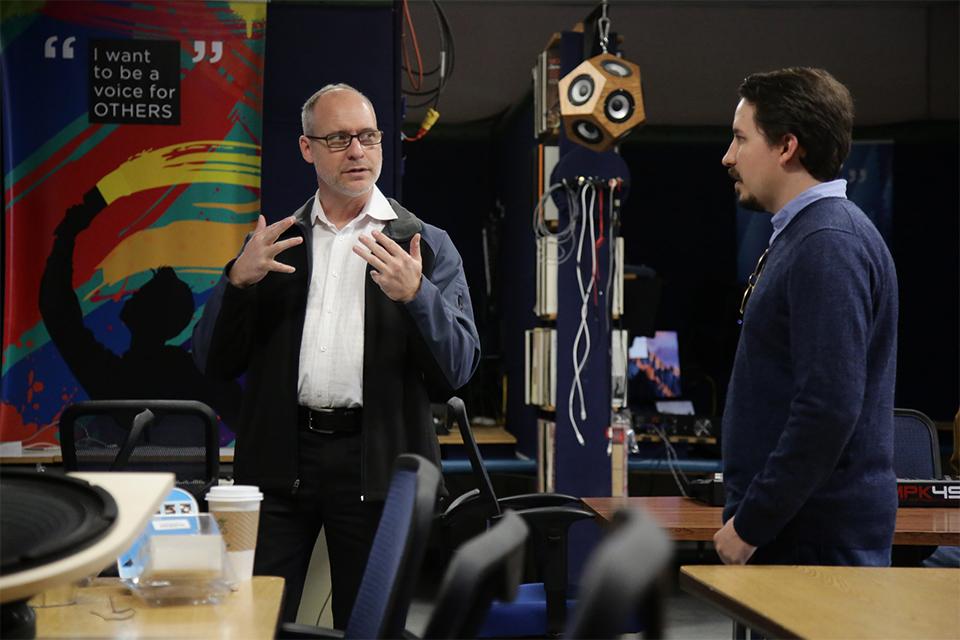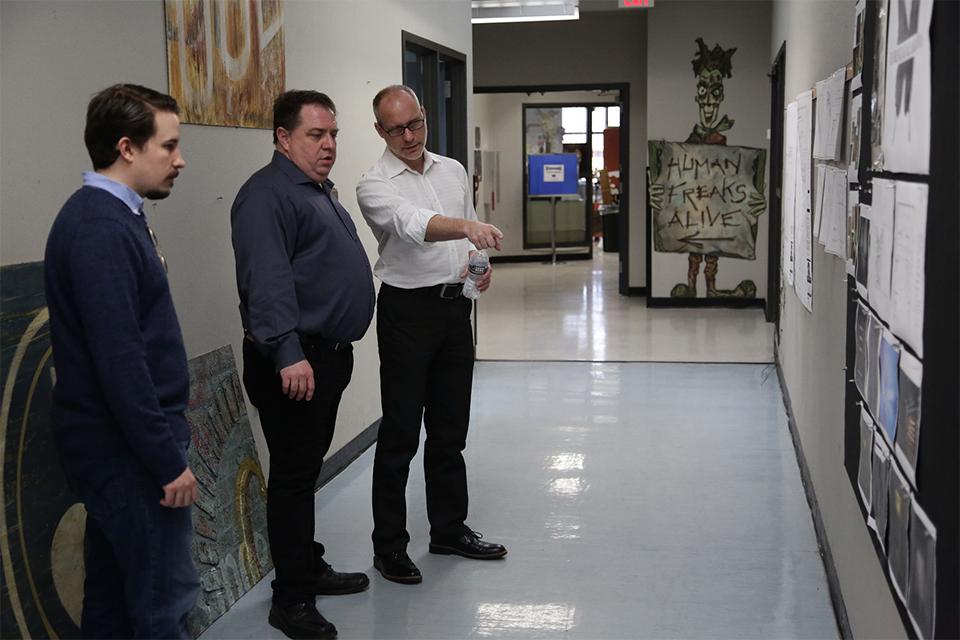 Mayrand oversaw two areas of the park, which opened in June 2016: Treasure Cove and Adventure Isle. Treasure Cove was carefully designed to replicate the success of Pirates of the Caribbean attractions in other Disney theme parks. Here's what Mayrand learned from the experience of bringing pirate lore to mainland China:
Plan carefully
Each land within a Disney theme park has an identity and a back story that is written before concept design ever begins. In this instance, Mayrand and his team knew that it would be challenging to introduce this theme to Chinese visitors who had no national history with pirates.
From the story was born design, and nothing is random—water bells and cannons, hidden speakers to pipe in appropriately-themed music, names for restaurants and posters and signage all were given careful thought.
Don't follow the status quo
The signature attraction of Treasure Cove, Pirates of the Caribbean: Battle for the Sunken Treasure, demanded time to design and test. "Sometimes you get to see your dreams come true," said Mayrand, smiling, as he showed the initial design for the attraction, which was sketched two years before the park opened.
The first design was constructed in Glendale, California, and presented what Mayrand considers a new way to build narrative. Guests move through the attraction seated in boats that run on tracks in water. Each boat is kept out of sight of others, which gives guests a heightened sense of privacy.
A custom-built 900 seat theater was designed for live performance attraction Eye of the Storm: Captain Jack's Stunt Spectacular. The show, which is presented 15 times a day, includes another custom-built item: a wind tunnel without walls.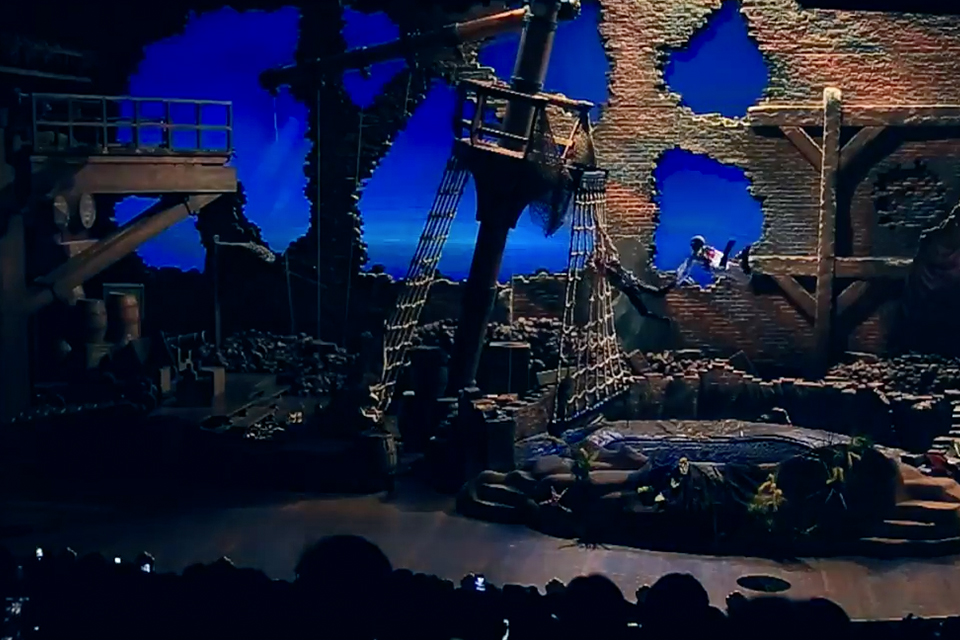 A wind tunnel was custom designed for Eye of the Storm: Captain Jack's Stunt Spectacular.
Expect surprises
Though Pirates of the Caribbean: Battle for the Sunken Treasure and Eye of the Storm: Captain Jack's Stunt Spectacular command huge audiences every day, Mayrand shared the secret super star of Treasure Cove: turkey legs. The Tortuga Treats kiosk keeps a line that occasionally grows to a longer wait time than nearby attractions.
Don't forget heart and soul
Working as a themed entertainment designer on large-scale projects like the opening of Shanghai Disney Resort brings people from diverse backgrounds together—sometimes for years of collaboration. To commemorate their work and "to give the attraction a soul," Mayrand planned a special water ceremony for Pirates of the Caribbean: Battle for the Sunken Treasure. Shortly before opening, he gathered water from each of the Pirates of the Caribbean attractions worldwide—California, Florida, Paris and Tokyo—and, after the water was treated, combined them together to add to the Shanghai attraction's waters.
There's a big world out there
Though most of Mayrand's experiences are within the theme park industry, he spoke to the power of themed entertainment designers and how they are in demand in many areas of entertainment: museums, hotels, dining, gaming, theatre, etc. There are boundless opportunities worldwide for students who are interested in pursuing careers as themed entertainment designers.
"Investing in yourself and your skills is the safest bet," he advised, to find work you love after graduation.
Images ©Disney unless otherwise noted.
February 20, 2017