Essential skills you need to succeed in technical theatre and production work
When we think of theatre, we often think of the actors on stage. But with every production, there's a team of talented artists behind the scenes, constructing sets, designing lighting and engineering the production from start to finish. UNCSA's School of Design and Production (D&P) equips students with the technical theatre knowledge they need to succeed backstage.
Unlike other programs that group design and production into a general degree, UNCSA offers a standalone program that equips students with the hands-on technical knowledge it takes to run a show. And it's ranked as one of the top programs in the world.
"Theater is the backbone of the entertainment industry, and what we teach here is transferable to every facet of the craft, including film and TV production, theater production and museum production," says Michael Kelley, Dean of the School of Design and Production. An alumnus of UNCSA's D&P program, Kelley is an Emmy Award-winning art director and set decorator who has worked across the industry, from Walt Disney Imagineering to the set of "Deadwood" to Broadway production.
Technical theatre fundamentals
Kelley says that to succeed backstage, first a person must be grounded in fundamentals. For instance, before a student learns how to draft on computer, he or she must learn how to draw.
"If you're working in Western China and don't have access to a computer, you need to be able to pick up a pen and paper and draw your vision," he says. To that end, all UNCSA D&P students learn the basics—from sewing by hand to create costumes, to operating a table saw properly.
During their first year, all undergraduate D&P students are introduced to the 12 disciplines in the school. From there, they will go on to specialize in one of these areas, working in their "home shop."
For the next three years, students focus on the work in their concentration, but collaborate closely with all of the other tracks, as well as disciplines in the school. "The students are putting on productions together, attending productions together, working day in and day out," Kelley says.
Communication in all areas
This leads to another important skill students learn: communication. "These kids learn how to constructively critique their peers and to receive criticism," says Kelley. "They learn how to give and take direction, which is crucial to perform well in this industry." Communication is just as key as developing technical skills, because without it, the theatre can't function.
"Our students learn to be creative problem solvers, and that's one of the things that makes them attractive hires," he adds.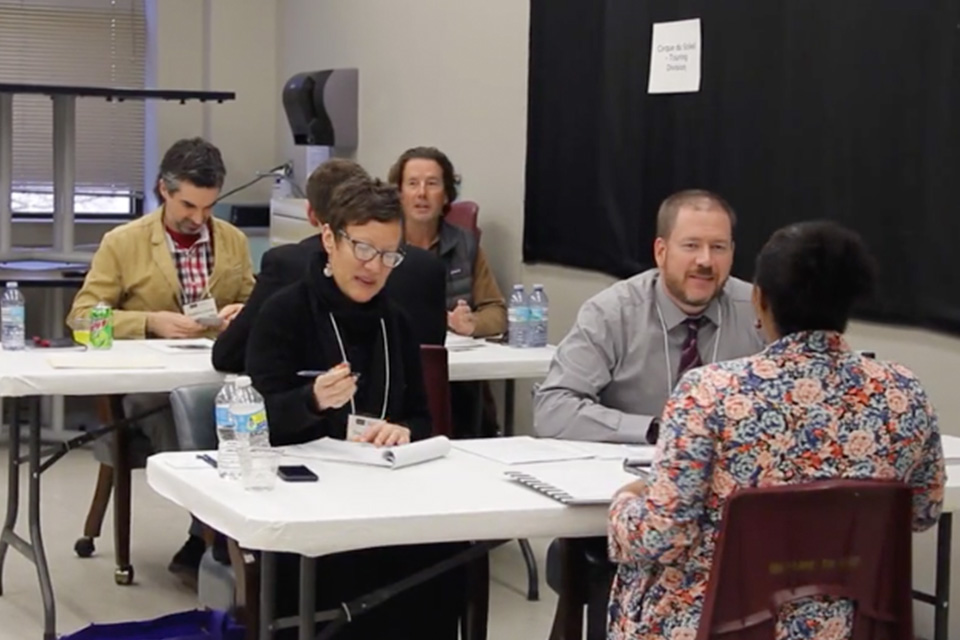 The annual D&P Job Fair, held on UNCSA's campus, allows students to network and interview with more than 50 companies.
Kelley stresses that UNCSA productions are student led, not faculty led. "We're here to guide them, to let them make mistakes, to struggle when they need to. This is what makes them ready to step into the industry when they graduate," he says.
Time management and more
Time management is another crucial skill. D&P students learn how to manage a crew, allocate time, and the commodity of labor and resources. "If you are running a crew, you need to be able to make sure every crew member is on task," Kelley says.
Finally, students must have the hands-on knowledge of the latest technology before entering the workforce. UNCSA has partnerships with industry leaders that allow students to work with new technology, at times before it even enters the market. For instance, each year business partners loan UNCSA the latest and greatest equipment, including lighting, sound and projecting equipment, to stage Photona—an interactive showcase by fourth-year lighting designers. Last year, D&P students traveled to the White House to stage a Halloween party for children.
"We're not just teaching students how to stage productions for a university, but for the world," Kelley says.