7 best music production tips for the enterprising musician
It's never been easier for musicians to take the art of music production into their own hands. But just because it's easier doesn't mean it's simple.
UNCSA saxophone professor Robert Young knows this firsthand. His tutorial videos on everything from saxophone performance to practice techniques have garnered more than 100,000 views on YouTube in the last year alone. Below, he shares some music production tips and insights from his experiences in self-production:
1. Determine your music production goals.
Music production can mean many things. It may be creating your own original works, it may be making a video recording of your recital performance, it may be covering your favorite songs. The definition of music production is as broad as the genres and media it encompasses.
What you decide to produce, Young says, will depend largely on what you want to accomplish and who it's for. "My YouTube tutorials are an effort to clearly explain my approach to some of the fundamental skills needed to play the saxophone with a high level of control," he says. "Most of these videos are geared for high school students and young college students."
"Before producing any kind of content," he adds, "I would recommend that you ask yourself what you are trying to accomplish. Reflecting on this is an important first step."
2. Embrace the entrepreneurial spirit.
"I think that this is what today's music industry requires of a lot of us," Young says. "Musicians are branding themselves, creating opportunities and recording themselves, sometimes without the help of an expert like an audio engineer or manager."
And it's never too soon, he adds, to start exploring these opportunities. "Because of this, it is important for music students to start working on this side of their careers now while they are still in school."
3. Find examples that are done well.
If you don't know where to start with your own production, look for artists or videos that you like—individuals who are engaging and produce high quality work. Reach out and ask the creator questions about his or her process.
Young is happy to share music production tips from his own YouTube experiences: "I recorded all of the videos with a consumer video recorder, a handheld audio recording device and some basic lighting equipment."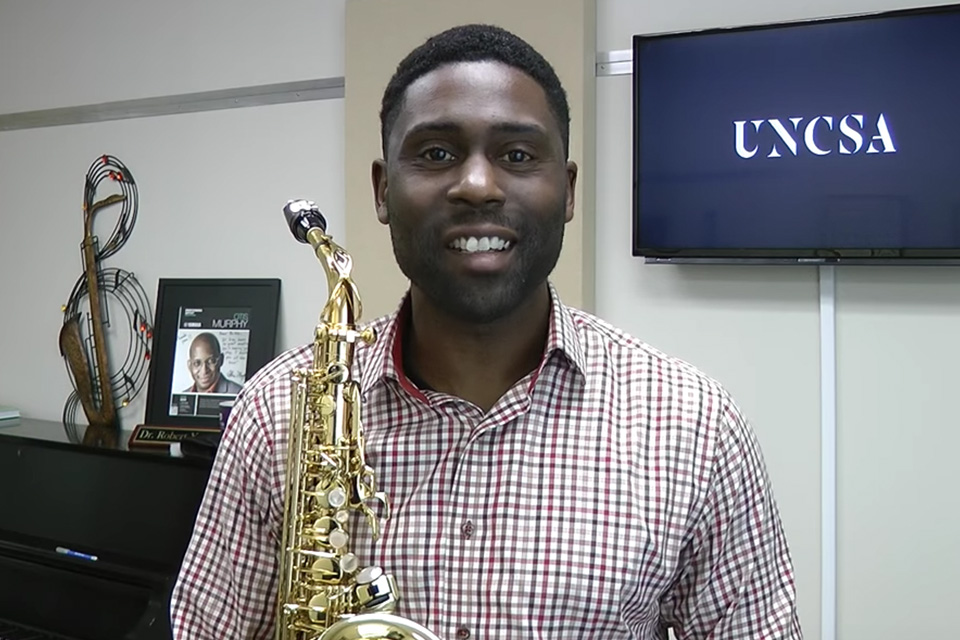 Watch Dr. Young's instructional video for double tonguing.
4. Get the right equipment.
"It is important for musicians to own an audio recording device of some kind," Young says. "They are relatively cheap at the most basic level."
He points to companies like Zoom, Roland and Tascam for affordable devices that produce relatively high-quality audio recordings. For basic audio recording needs, he uses a Zoom H4n.
And this may be a case where your cell phone just doesn't cut it, at least not for recording audio. "I usually do not recommend using mobile phones for audio," Young adds. "However, some of the latest phones have very good video quality."
5. Use the right software.
"My biggest recommendation at this level is to do some research before buying anything," Young advises. "Don't hesitate to ask experts what they use or what the best entry-level programs are in that particular field."
Whether it's notation software like Finale and Sibelius, or video editing software like iMovie or Final Cut Pro, think about what you need the software to do. Not sure if a product will meet your needs? Young says download free trials before purchasing the full product. At UNCSA, all students have access to Adobe Creative Cloud and can test out different Adobe products.
6. Take quality seriously.
It may be relatively easy to record and share your own music and video, but that doesn't mean you should skimp on production value. Young says to set your standards "as high as possible."
"It is important to realize that once you produce your work and share it on the internet, it is relatively permanent and it becomes part of how others will view your brand," he adds. "Just as it is important for a musician to sound as professional as possible in concert, the same should be true for recordings and other forms of sharing your music."
7. Consider the entire process.
Music production doesn't stop when recording ends. For Young, it's important to consider all the processes that surround the production.
"As it relates to what I do, music production is the act of creating a product—performance, audio recording, video, social media content—and releasing it to the public," he says. "Once I've recorded, I use Facebook, Instagram and my artist website to drive traffic to these videos."
Once you've produced your own music or video, you want people to see and hear it. Make a plan ahead of time and think about how sharing your work will influence your goals.
"Once you share your work online or on stage," Young says, "it reflects how people receive your brand as an artist."