Voice student brings music to the community through Meals-on-Wheels
Not many people have opera sung to them regularly in their living rooms. But when second-year undergraduate Music student Grace Pfleger shows up at the doorstep of some Winston-Salem residences, it's a likely occurrence.
Pfleger, a vocalist in the School of Music, has partnered with Senior Services and Meals-on-Wheels to deliver something extra with the hot meals the program provides—music.
Each week, Pfleger pairs with a volunteer on a specified delivery route to greet the seniors, many of whom do not have frequent visitors. Armed with a boombox and her voice, Pfleger sings a song at each stop. She has performed everything from classical arias to Michael Jackson.
"They really like when I sing opera," she says. "Or songs that they know like 'Boogie Woogie Bugle Boy' by the Andrews Sisters. I sang that one recently and one of the participants got up and started dancing with me!"
But it's more than just a weekly delivery. "I've formed such strong bonds with people," Pfleger adds. "I check in with them every week, see how they're doing, talk about their lives."
When she enrolled at UNCSA in the fall of 2017, Pfleger knew she wanted to do something to bring her music to the community. She was inspired after a screening in class of "Alive Inside," a documentary film about the power of music and its effect on memory, particularly that of elderly people.
Finding herself drawn to the senior community was not a new discovery. "I'm the youngest in my entire extended family," she says, "and I have always been interested in spending time with people who are older than me."
When people reach a certain age, a lot of others just forget about them. They have a lot of knowledge and so much to offer. They have given us the world we have now.

Grace Pfleger
"When people reach a certain age, a lot of others just forget about them," she adds. "They have a lot of knowledge and so much to offer. They have given us the world we have now."
Pfleger talked with School of Music faculty Alison Gagnon about her desire to share her music with seniors in the community. Through a fellowship with UNCSA's ArtistCorps program—which provides artist-driven community service to public schools and organizations—Pfleger was able to bring her passion to life.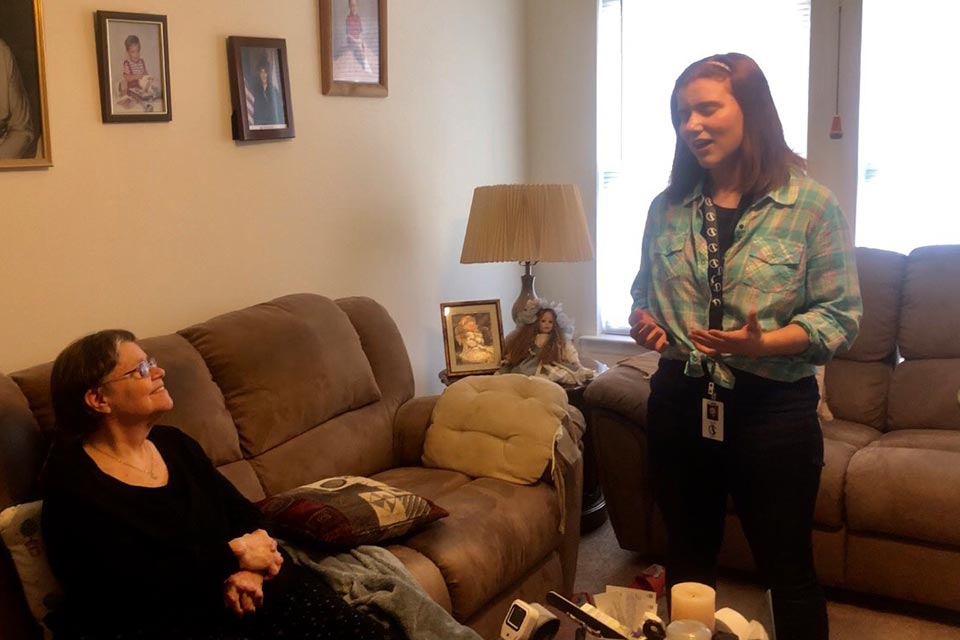 Watch Grace Pfleger perform part of the classic "Somewhere Over the Rainbow" during her Meals-on-Wheels route.
With Gagnon driving the project as a faculty advisor, ArtistCorps Program Director Rebecca Nussbaum was able to pair Pfleger with Senior Services and the Meals-on-Wheels program.
"As ArtistCorps strives to serve the Winston-Salem community, Grace's service with Meals-on-Wheels is a model for how we can meaningfully engage with our elder population," Nussbaum says. "She brings song and cheer into the lives of those she sees every week."
Pfleger joined the program near the end of the spring 2018 semester, and quickly became a hit with the seniors she visited. When they realized the semester was coming to an end and Grace's visits would stop (temporarily), several people gave her handmade gifts and mementos.
"It was so sweet and kind, and all I was doing was what I love," Pfleger says. "We have this art form we have worked on our whole lives. As a student, I feel like part of what we're here for is to share our art with the community. It's great practice, but it also brings art to people who might not otherwise be exposed to it. I'm not sure many people have had opera sung to them in their living room."
At the end of the spring semester, she organized her own concert "tour," performing with three fellow UNCSA students—Erick Esparza, Ramiro Soto and Morgan Hunkele—at local retirement homes. Not only did they enjoy the performances, but it gave them the opportunity to practice planning for future recitals.
More plans are in the works for this semester. Grace and her fellow musicians are planning a possible Christmas concert at the apartment complex where she makes most of her Meals-on-Wheels deliveries.
And, although she has her professional sights set on singing opera in Europe, she knows she's found a passion that will follow her wherever her career takes her. "I want to continue this work because it brings me so much joy," she says, "and it's something I can do anywhere."