Celebrated trio I'm With Her will perform at the Stevens Center
I'm With Her, a trio of celebrated songwriters with a sound that is both "sweetly ethereal…or as hearty as mountain gospel" (The New York Times), will perform on May 28 at UNCSA's Stevens Center (405 West Fourth St.), the latest offering in the American Music Series by UNCSA Presents. Tickets for the one-night only concert are on sale now.
Successful solo artists Sara Watkins (who founded bluegrass/pop crossover band Nickel Creek) and Aoife O'Donovan and Sarah Jarosz (both currently with NPR's "Live From Here" house band), combine their considerable talents in the genre-bending band
Tickets begin at $30 and are available online or by calling the box office at 336-721-1945.
"The music of I'm With Her is kind of quiet and unassuming, but don't let that fool you. They are powerful performers," said Wiley Hausam, UNCSA's managing director of performance facilities, who curates UNCSA Presents, including the American Music Series. Hausam said the musicians are multi-instrumentalists, performing on acoustic guitar, fiddle, mandolin and banjo; songwriters with lengthy catalogs; and singers whose voices combine in perfectly blended harmony.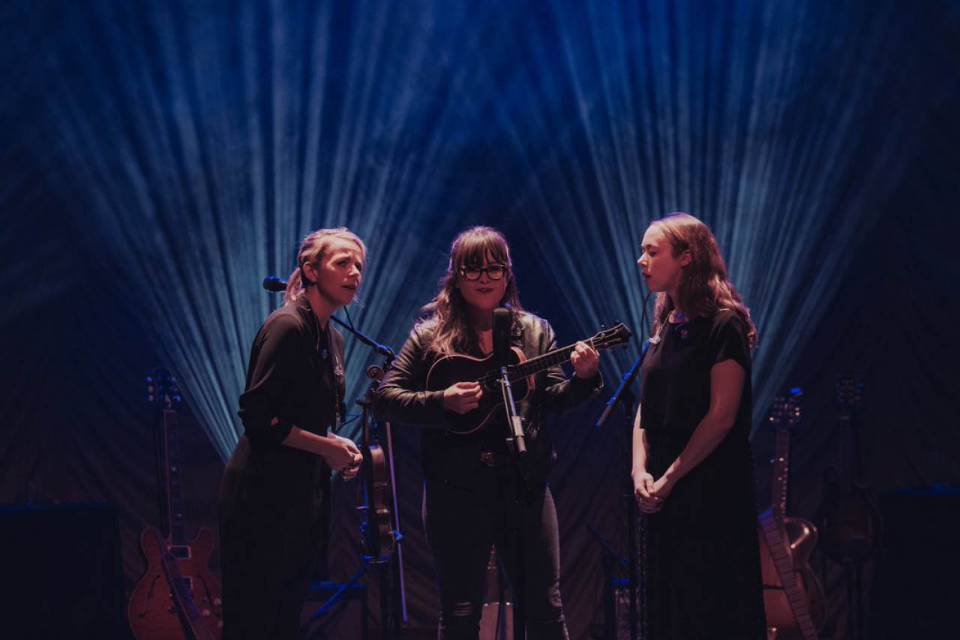 "Between them they've garnered several Grammy Awards, and two of the artists trained at the New England Conservatory," he added. "We're thrilled to offer this virtuosic concert experience to music lovers across the Piedmont Triad and around the state," he said.
Watkins, O'Donovan and Jarosz formed I'm With Her in 2014 after initially teaming up at Telluride Bluegrass Festival. A few years later, a 100-concert tour included many sold-out shows in America and Europe, along with appearances on "Jimmy Kimmel Live!" "CBS Saturday Morning" and NPR's "Tiny Desk Concerts." They released their first full-length album, the acclaimed "See You Around," in 2018.
NPR called the album "willfully open hearted." AllMusic noted, "While 'See You Around' recalls work Watkins, O'Donovan, and Jarosz have done before, none have made an album quite as exquisitely shaded as this." And PopMatters said, "Each member shines at what they do best without sounding overbearing or sacrificing the ensemble's clarity."
Last Month, I'm With Her released a new original single, "Call My Name," a collaboration that "captivates from the first notes" (Consequence of Sound).
Their 2019 tour includes concerts in the United Kingdom, Denmark, Norway, The Netherlands, Spain and Australia, in addition to 17 states, the District of Columbia, and the Dominican Republic. Following their performance in Winston-Salem, they head to the renowned Spoleto Festival in Charleston, S.C., and in July they perform with the legendary John Prine and the Colorado Symphony Orchestra at Red Rocks Amphitheatre.
More about I'm With Her
I'm With Her is a band rooted in a rare alchemy: three celebrated songwriters coming together to create music that reveals entirely new possibilities in their distinct and deep-seated talents. Since forming in 2014, Sara Watkins, Sarah Jarosz, and Aoife O'Donovan have imbued their songs with a sharply detailed lyricism, graceful musicianship, and — perhaps most powerfully — mesmerizing harmonies that endlessly reflect their extraordinary chemistry.
The latest single from I'm With Her, "Call My Name," again shows the strength and vitality of their connection. In a departure from the deliberately insular making of their debut album "See You Around," the band pursued a new creative approach centered on true collaboration with producer Mike Elizondo (Regina Spektor, Fiona Apple, Dr. Dre). Recorded at Sound Emporium Studios in Nashville, "Call My Name" finds Elizondo building a hypnotic sonic backdrop, matching the track's quietly urgent beat with I'm With Her's interplay of guitar, Wurlitzer, and fiddle. The result is a song both stark and luminous, perfectly capturing the potent tension within even the most loving relationship.
After years of crossing paths in their intersecting music scenes, Watkins, Jarosz, and O'Donovan founded I'm With Her following an impromptu gig at the Sheridan Opera House in Telluride. Over the years they began playing shows and festivals around the world, in addition to taking time out for a number of intensely focused writing sessions (including eight days spent in purposeful seclusion at a borrowed Vermont farmhouse). Arriving in early 2018, "See You Around" quickly drew critical acclaim and ultimately graced best-of-the-year lists from leading outlets like the The New York Times, NPR Music, and Paste.
Along with "See You Around," 2018 saw the release of multiple singles from I'm With Her, including a remix by Tune-Yards of "Game to Lose," a rendition of Adele's "Send My Love (To Your New Lover)," and a Spotify session featuring their version of Vampire Weekend's "Hannah Hunt" (a cover that fast became a fan favorite at shows). Nominated for Duo/Group of the Year by the Americana Music Association and Artist of the Year at the International Folk Music Awards, the band has also taken the stage on late-night shows like "Jimmy Kimmel Live!" and "Last Call with Carson Daly." With upcoming U.S. performances including the Ryman Auditorium in Nashville, House of Blues in Boston, The Kennedy Center in Washington, and Red Rocks Amphitheatre in Colorado, I'm With Her will soon return to Europe as well as make their debut across Australia.