Grammy nominee Amythyst Kiah to perform at Stevens Center
Amythyst Kiah — the Southern Gothic alt-country blues musician whose "razor sharp guitar picking" and "deep-hued voice" (New York Times) earned her a Grammy Award nomination this year ˗̶̶ performs at the Stevens Center at 7:30 p.m. Saturday, March 7. Kiah is the latest offering in the American Music Series of "UNCSA Presents."
Tickets are $25, available online or by calling the Box Office at 336-721-1945.
Released in February 2019, "Black Myself" earned the Grammy nomination as Best American Roots Song. It was written by Kiah and recorded by Our Native Daughters, a quartet formed by the Triad's Rhiannon Giddons. Kiah was nominated alongside I'm With Her, a trio that performed at the Stevens Center for "UNCSA Presents" in February 2019. I'm With Her was awarded the Grammy for "Call My Name" on Jan. 26, 2020.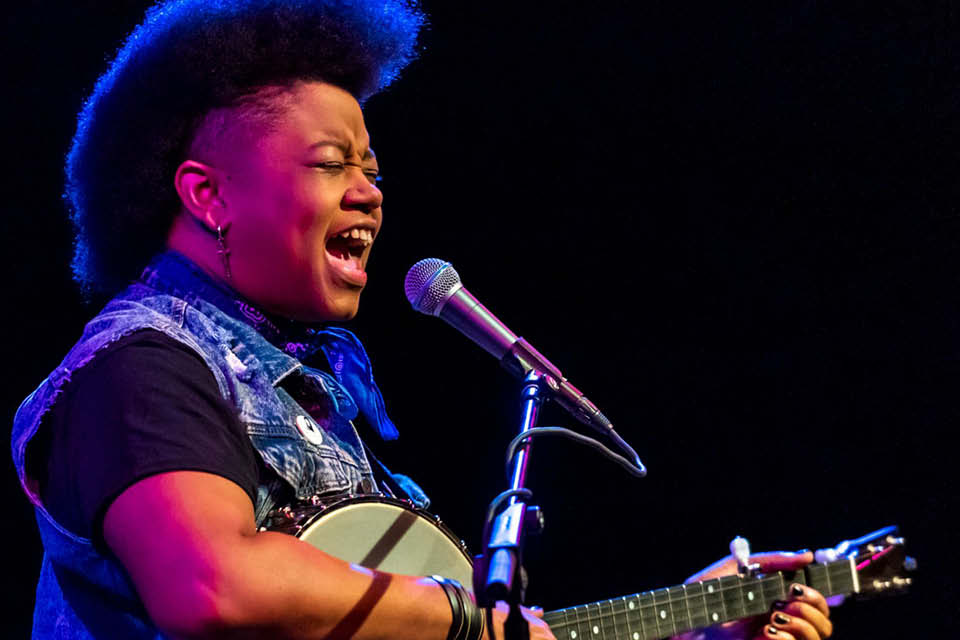 "We're thrilled to provide our Triad-area audience with the opportunity to experience stand-out artists like Amythyst Kiah and I'm With Her," said Wiley Hausam, who curates the "UNCSA Presents" series. "This season of the American Music Series has offered a diverse, all-female roster of artists, and Amythyst Kiah adds something very special to the mix. I believe our audience will look back in a few years and say they saw the next great stars of American roots music right here in downtown Winston-Salem."
Naming Kiah to its list of 20 must-see shows at Nashville's AmericanaFest in September 2019, Rolling Stone said she is "one of roots music's most exciting emerging talents, blending a deep knowledge of old-time music with sensibilities spanning classic country to contemporary R&B."
She was the only solo musician on the multistage showcase GlobalFest, held in New York's Times Square a year ago. The New York Times called it a standout performance and noted that her voice "can change on a dime from brushed steel to melted toffee that commands attention."
Chicago Tribune's music critic noted a standing ovation when Kiah recently opened for fellow Grammy nominee Yola: "The Tennessean's husky, sonorous voice conveyed commanding intensity and steely resolve. Ditto her interpretation of Dolly Parton's 'Jolene,' complete with fingerpicked acoustic guitar, and potent 'Black Myself,' a resilient statement of struggle and triumph…."
The Tennessean's husky, sonorous voice conveyed commanding intensity and steely resolve.

Chicago Tribune music critic
The American Music Series -- celebrating American roots music styles like country, folk, bluegrass, blues and R&B -- premiered in 2018 with a lineup that included Grammy Award winners Steve Earle, Mavis Staples and the Del McCoury Band, along with Las Cafeteras, Anna and Elizabeth, and Josh Ritter. The second season has featured Latin Grammy-winning Mariachi band Flor de Toloache and Grammy Award-winning country and folk singer Kathy Mattea. The current season concludes May 21 with virtuosic all-female trio Lula Wiles.
The American Music Series is part of "UNCSA Presents," an initiative offering entertainment at the Stevens Center by professional touring artists. The 2019-20 season includes the pub concert experience Choir of Man on March 3 and the national Broadway tour of "The Color Purple" on May 13.
More about Amythyst Kiah
Born in Chattanooga and based in Johnson City, Tennessee, Amythyst Kiah's commanding stage presence is matched by her raw and powerful vocals—a deeply moving, hypnotic sound that stirs echoes of a distant and restless past. Accompanied interchangeably with banjo, acoustic guitar, or a full band, her eclectic influences span decades, finding inspiration in old-time music, alternative rock, folk, country and blues.
Our Native Daughters, her recent collaboration with Rhiannon Giddens, Leyla McCalla and Allison Russell (Birds of Chicago), has delivered a full-length album produced by Rhiannon Giddens and Dirk Powell: "Songs of Our Native Daughters" (out now on Smithsonian Folkways). NPR described the opening track, "Black Myself," written by Kiah, as "the simmering defiance of self-respect in the face of racism." The supergroup hit the road in July 2019 with a series of special dates that included performances at Washington, D.C.'s Smithsonian Museum of African American History & Culture as well as Newport Folk Festival. The group was nominated for Duo/Group of the Year at the 2019 Americana Honors & Awards.
Provocative and fierce, Kiah demonstrates an ability to cross boundaries that is groundbreaking and simply unforgettable. Her stylistic range will be on full display in her next full-length album expected later this year.
Kiah regularly tours the United Kingdom and has performed at Celtic Connections, Southern Fried Festival, Cambridge Folk Festival, the Edinburgh Jazz & Blues Festival, and SummerTyne Americana Festival. She is a crowd favorite at Bristol Rhythm & Roots Reunion in the U.S. and has shined at the John F. Kennedy Center for Performing Arts, Smithsonian Folk Life Festival, Winnipeg Folk Festival, and opening for artists such as the Indigo Girls, Rhiannon Giddens, Dom Flemons, Old Crow Medicine Show, First Aid Kit, Darrell Scott and Tim O'Brien.
Get the best news, performance and alumni stories from UNCSA.
SUBSCRIBE TO OUR NEWSLETTERS