Flying Frogs and F-Stops: Film Integration at Brunson Elementary
Author: Kendra Harding
"Can I please do my bird sounds?" a boy asks. "I'm really good at it!" Peyton Clifford, a fourth-year music student and member of ArtistCorps instructs the enthusiastic Brunson Elementary School student to wait until they've captured the ambient sounds of the "forest," a small copse of trees along the banks of a stream that runs by the school. Peyton holds a mobile phone with a small microphone attached to it and the students wait silently as it records the sounds of birds, the rustling of leaves, and the trickle of the brook below.
This is a snapshot of the process of Foley recording, recording sounds and sound effects for film, one of many filmmaking techniques that Brunson's third and fifth grade students have learned this year through ArtistCorps members' service. Since October, the students have been working diligently with guidance from ArtistCorps' integration team to create films synthesizing what they've learned about ecosystems in their classes. These films premiered during Earth Week at the first ever Brunson Elementary Film Festival. Brunson students took part in every aspect of creating the films—from set design and painting, to writing, scoring, acting, and more. While they've been learning new filmmaking skills, they've also been learning valuable life skills.
"I've seen all the ways that art can impact students' attitudes towards learning," says Cynthia Cukiernik, a UNCSA Visual Arts alumna and ArtistCorps member. "There are skills at play when you're doing art—like collaboration—that carry over into other areas."
Peyton says that he's enjoyed encouraging students to explore and use their new skills creatively.
"I've learned how to give agency to the students," he says, "to give them the space and knowledge they need to come up with these ideas on their own without holding their hands."
Christian Flowers, a fourth-year student in the UNCSA School of Filmmaking, says that he wants students to see people of color who are achieving their dreams while also being present in the lives of children.
"I heard after the first day that some kids hoped to grow up and look like me, do what I'm doing, or even told me I reminded them of certain family members," he says. "It is important for these kids to see an able-bodied, athletic black man choose to be here. Kids know who chose to be here and who needed to be here. And ArtistCorps has helped shape what I ultimately hope to do."
As you might imagine, coordinating over 120 third and fifth graders is quite a task. Getting them to collaborate and create multifaceted works of art is even more challenging.
"One girl wasn't very engaged to begin with. She would sometimes speak out to answer a difficult question nobody had a solution to, from behind her book without looking up," Christian says. "When we would go to filming locations or voice recording locations she would always walk behind us at a distance."
Her resistance began to melt while the team was trying an idea that ultimately wasn't used in the final films.
"I brought in some party favor blowouts one day to try out as the tongue of a frog. She asked me what they were. I showed her," he says. "She smiled with such delight at the silly little unrolling of the paper, and proceeded to make an obstacle course for a water bottle she had to navigate by pushing it only with the blowout. For the first time, she was fully engaged, she was smiling, she was thankful.
It's these breakthrough moments of connection that make the challenges worthwhile. Like when one student had the chance to share their story through acting.
"We were reenacting a short film we'd watched," Cynthia says. "The cue was, 'You're in a new place and you don't know anybody. You're trying to make friends.' One kid had just moved here and wanted to play that part so I let him because he was at that emotional time. The role was very personal for him, and he really felt connected to the character."
I was able to attend the premieres of the films, and celebrate the hard work of the Brunson students and the ArtistCorps members. Each class focused on a different plant or animal—from poison dart frogs, to blue macaws, to tualang trees—and created unique stories around them based on what they had learned about the ecosystems they come from. The films showed leafcutter ants rescuing their queen from flooding, honey badgers fighting lions, macaws in search of food, and even a young orangutan learning to conquer her fear of heights.
There was something magical about watching the films in all their grade-school jauntiness alongside their young creators. Looking around the room seeing the kids' faces, one could catch a glimpse of something many people lose as they grow older: unabashed pride in their creative work. The kids had created content they were proud to share with their peers.
As the 120 third through fifth graders fell silent each time a new film began, applauded afterward, and shared their comments, compliments, and personal brags about what they had just watched they were experiencing the fruits of their long, hard efforts – and the joy was palpable.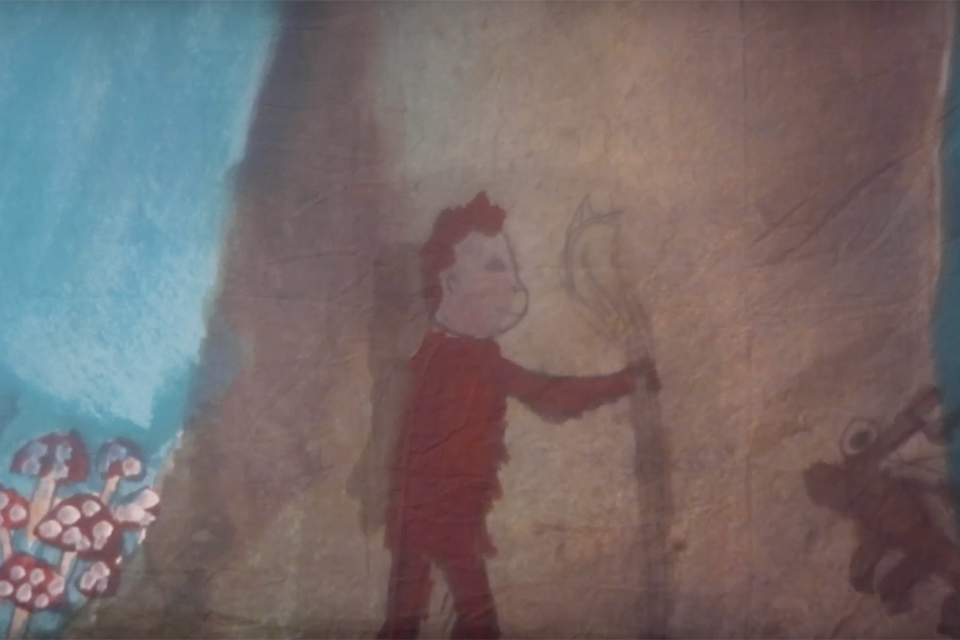 Watch "Tangerine and the Tualang" here!