Tony Award-winner J.T. Rogers reflects on journey to success
Fresh off several major wins during the 2017 awards season, School of Drama alumnus J.T. Rogers is having a moment. The highly-acclaimed political drama "Oslo," which he wrote, claimed four Lucille Lortel Awards, an Obie Award and an Outer Critics Circle Award before going on to win a Drama Desk award for Outstanding Play and a Tony Award for Best Play.
After wrapping a successful run of "Oslo" in New York City, Rogers is currently working to prepare for the London opening of the show. He's also writing a screenplay for the film adaptation.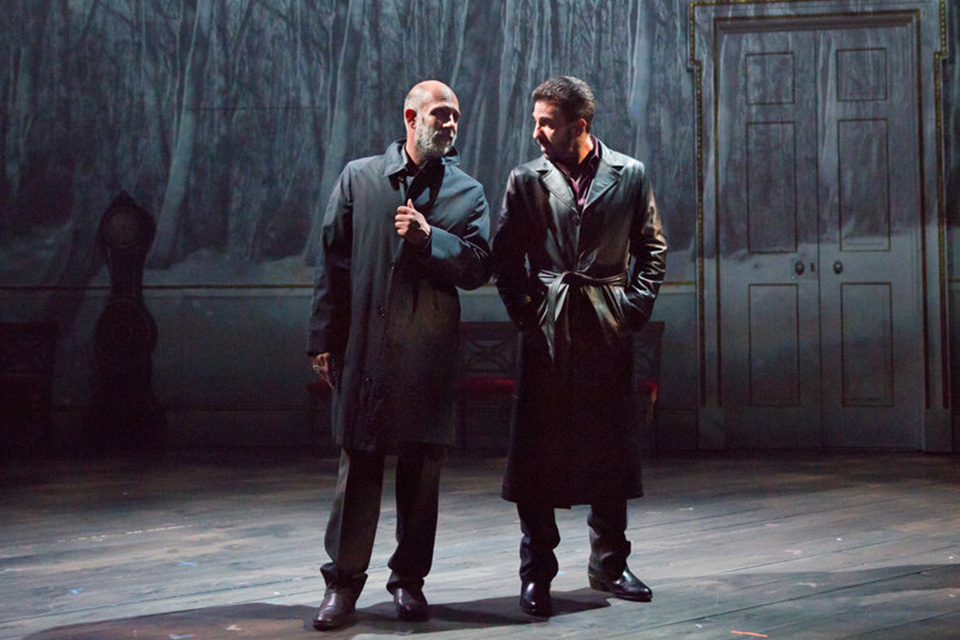 Watch the cast and creators of "Oslo" talk about what makes it a special production.
Rogers has spent nearly 20 years honing his craft. Below, he reflects on what it meant to him to study at UNCSA's School of Drama and how he overcame challenges to reach new heights in his career:
Why did you choose UNCSA?
I wanted to be an actor ever since I was 9 and when it was time to apply to acting conservatories, I kept hearing how great ours was, so I applied.
Share a significant UNCSA memory:
First day. Every freshman actor was asked to perform a monologue for the faculty. I was watching and watching and thinking, "Oh. Everyone is amazing. What am I doing here?"
Did you have an influential faculty or staff mentor at UNCSA?
Bob Francesconi is a God.
How did UNCSA prepare you for your career?
Learning how to act at UNCSA gave me all the tools for being a playwright. Writing for the stage is for actors and I had been one and I knew (or at least was on my way to knowing) what worked and what didn't work coming out of an actor's mouth.
What are some challenges you've encountered in your career? How did you overcome them?
I spent nearly 20 years writing and writing and writing and going nowhere career-wise, but going everywhere craft-wise. You have to do your work and trust that one day it will be seen. God knows it can be hard—painfully hard—some days, but the doing is all. The overused idea of the 10,000 Hour Rule really is true. We ache to be "successful" right away, but patience and endless practice is the road to deepening, meaningful, expansive work.
We ache to be 'successful' right away, but patience and endless practice is the road to deepening, meaningful, expansive work.

J.T. Rogers
What are some connections you made at UNCSA that you still maintain today?
Gus Reyes (Drama '90) directed my work for 15 years and founded The Next Stage Company with me. He is my brother; we learned everything together. Any writer or actor that can work with him will be very, very lucky.
Jennifer Ehle was a year behind me in the drama program. It's taken us 30 years to finally get to do a proper show together. Boy, was it worth the wait. I am going to write for her until I keel over.
Editor's note: Jennifer Ehle originated the role of Mona Juul in "Oslo," a role for which she received a Lucille Lortel Award for Outstanding Lead Actress and was nominated for a Tony Award for Best Actress.
What advice would you share with current or prospective Drama students:
Read and read and read—about everything. Good actors know about the world. The wider your knowledge, the better your acting.
Does what you do now connect to what you wanted to do when you graduated?
Every day, every hour.