The accidental producer: How a Tony-winning alumnus found his dream career
Twenty years after graduating from UNCSA's High School Drama Program, Orin Wolf is moving to New York City for the second time, but this time he's packing a Tony Award.
The lead producer of "The Band's Visit," the 10-time Tony Award-winning Best Musical, says it seems like yesterday that his "whole world opened up" at the School of the Arts. "It was an extraordinary year," he says. "It changed my whole life."
Wolf fondly remembers his senior year of high school as the year he grew up. Back home in Cleveland, Ohio, he and his older brother, Miky, were involved in youth theatre. Miky headed to UNCSA's undergraduate acting program, while Orin struggled back home at prep school.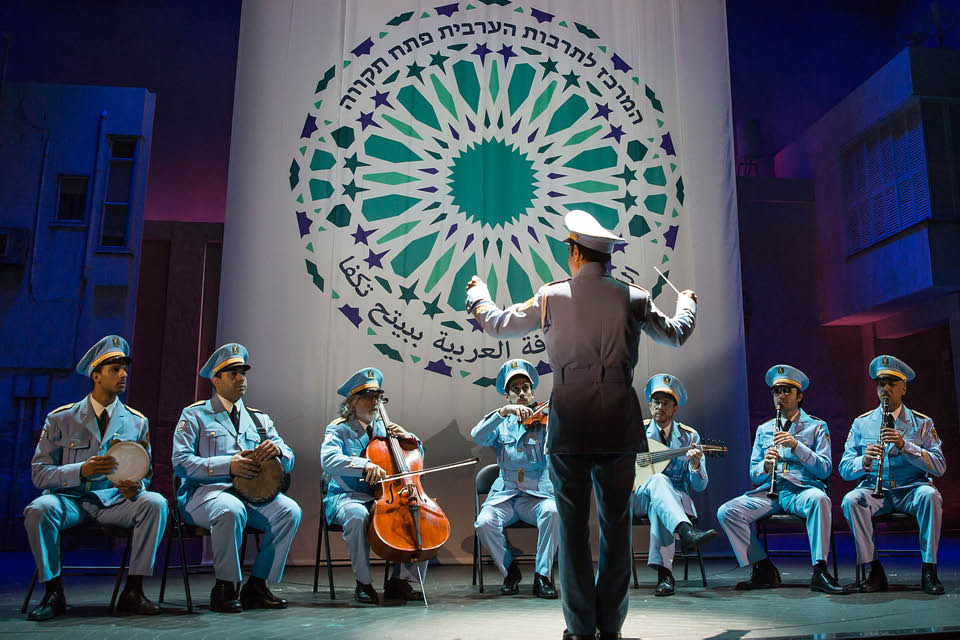 "The Band's Visit," produced by Orin Wolf, won 10 Tony Awards, including Best Musical. Watch a trailer for the production.
"Mom asked me what I really wanted to do, and I told her I really loved theater," he recalls. "Miky was at (U)NCSA and loving it, so mom let me audition for the high school program."
But even as he thrived in the conservatory experience, Wolf says he know deep down that he didn't love to act. He recalls a class with Tanya Belov, who was giving him notes on an acting exercise. "She was a great acting teacher and through her I saw great acting," he says. "But I just remember thinking, 'I hate this. I hate acting. Why am I doing this?' I loved the theatre, but I didn't love acting."
Bob Moyer, who directed the High School Drama Program at the time, recognized what Wolf was beginning to realize, and said to Orin's mother, "Maybe Orin should not studying acting. Maybe he should get in a VW van and drive around the country."
Instead, Wolf spent a year after graduation rambling around Europe. "My mom agreed that I could go to Europe for a year if I promised to go to college," he recalls.
Back from his travels, Wolf chose to attend the Hartt School, a small conservatory program at the University of Hartford in Connecticut. It was there that he—accidentally—found his passion for theatrical producing.
"I enrolled in Hartt to study acting because I didn't know there was another path," he says.
During his junior year he was cast in a lead role. "It was a hot summer day, and the air conditioner wasn't working," he recalls. "I was worried about the audience being too hot so I ran around borrowing fans from my friends' apartments. My director bawled me out for doing that instead of warming up for my role.
"He said that's what a producer does, so go be a producer."
So that's what Wolf did.
During his senior year, he produced some one-act plays for the Hartt School, and the rest is Broadway history. He moved to New York and was one of the first students accepted into the T Fellowship for creative producing at Columbia University, led by legendary Broadway producer Hal Prince, winner of 21 Tony Awards.
In 2007, he took his wife to an Israeli art film about an Egyptian police orchestra stranded for a night in a remote village in the middle of the Israeli dessert. Wolf recently told the New York Times that he was moved by "the film's silence and the longing surrounding the musicality of the orchestra." He turned to his wife as the credits were rolling and said, "I want to adapt this on stage."
On paper, it looks like Wolf spent a decade getting "The Band's Visit" to Broadway. The reality, he says, was much different. He was also co-producing other Broadway shows: "That Championship Season" in 2011; "Once," which won eight Tonys in 2012; "Orphans" in 2012; "Beautiful: The Carole King Musical," winner of two Tonys in 2014 and "Fiddler on the Roof" in 2015. He got married, had two children and moved to Columbia, Maryland, as president of NETworks, a company that produces tours of Broadway shows.
"I was living a life," he says. "I wasn't crazy focused on it for ten years. But part of the reason it took so long is that I didn't compromise. I was unwavering in how I wanted it to be."
It all came together for "The Band's Visit" in 2016, when it opened off Broadway at Atlantic Theatre Company, earning rave reviews and the interest of investors. The sold-out, limited engagement was extended twice, playing its final performance in January 2017. With nearly $9 million in additional financing, Wolf brought his quiet little musical to Broadway's 1,039-seat Ethel Barrymore Theatre later that year.
Critics fell in love.
Ben Brantley of the New York Times said, "Breaking news for Broadway: It is time to fall in love again! ('The Band's Visit' is) one of the most ravishing musicals you will ever be seduced by."
For New York Magazine, Sara Holdren wrote, "This show gave me more hope for what Broadway might welcome, might foster, might become, than any musical in a long time."
The American Theatre Wing loved it as well, awarding it ten of the 11 prizes for which it was nominated. In addition to the Best Musical Tony, it won three of the four musical acting awards, and the Best Book of a Musical Award, heavily expected to go to Tina Fey's "Mean Girls."
"That was a fun night," Wolf says. "This was MY play. I was very close to it, at the center of it. Not only was I raising the money and dealing with the budget, I was making the decisions. That is rare for any producer."
"The Band's Visit" is scheduled to run through June 2019, when a national tour will begin. Wolf, meanwhile, is planning his future—including the move back to Manhattan.
"My brother is there," he says, adding that Miky is a successful producer of music videos, commercials, television and films. "It's time to be with family, time for my kids to be with their cousins."
Now the Tony Award-winning producer is working on new musical productions, but nothing he's ready to disclose... and nothing that will take 10 years. "I have the ability to move faster now (because of the Tony Awards). I've proven myself," he says. "I suspect, and it is my sincere hope, that moving forward it will not take so long."
He will continue his work at NETworks, commuting a few times a week to Maryland. He is now director of the T Fellowship program at Columbia, and he is a passionate advocate for adding creative producing courses to theater education programs.
"I got into actor training because I didn't know there was anything else," he says. "I'm sure I'm not alone. There are so many young artists who love theater and think acting is the only way."
Even though I didn't want to be an actor, my training gives me a different perspective. I want other young creative people to be aware of producing as an option.

Orin Wolf
Many of Wolf's producing colleagues have backgrounds in business and finance. "My training as an actor makes me unique," he says. "Even though I didn't want to be an actor, my training gives me a different perspective. I want other young creative people to be aware of producing as an option."
Though his passion for theatrical producing came during a light-bulb moment at the Hartt School, Wolf has no trouble tracing its origins back to that one year two decades ago at the School of the Arts, when he cemented his love of theater.
"I came in as a goof-off who didn't take himself seriously. It was a big year for me. I grew up and began to take things more seriously," he says.
"It was a beautiful year."