New Residence Hall: Artist Village
New Residence Hall: Artist Village
The name of the newest residence hall at UNCSA is Artist Village. The two wings of the building are referred to as Artist Village East and Artist Village West. This name is simple and clear, yet unique to UNCSA. The term "Village" invokes the tight-knit community that is at the heart of the UNCSA experience. And, it focuses on the most important part of this university and those who will inhabit the space: Artists.
About Artist Village
Artist Village is five stories high and incorporates two wings. It accommodates about 450 students in suite-style housing, offering two double or single rooms and a suite-shared bathroom space. It features multiple gaming areas, community lounges, community kitchens on the first and fifth floors, studies on each floor and a central laundry facility on the first floor.
Watch how Artist Village was built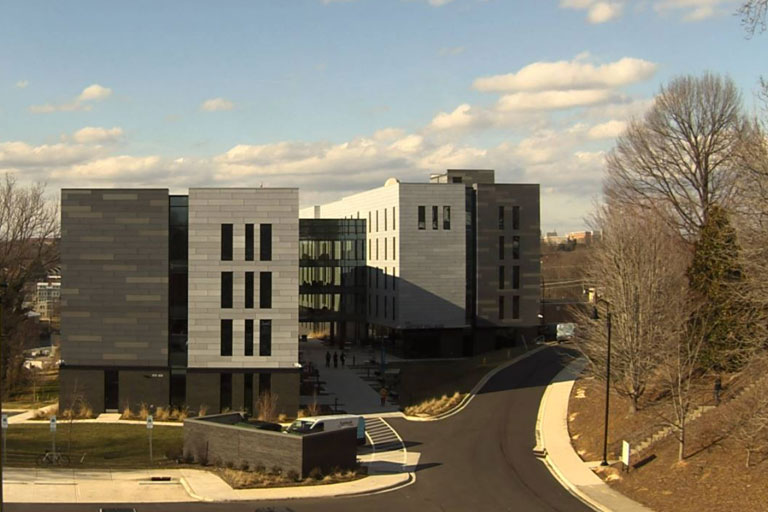 Watch time-lapse videos of Artist Village as it was being built.
About this project
Artist Village is near the former site of Bailey Street Apartments. The $46 million residence hall opened in January 2022, offering students amenities that are not available in the traditional style of Residence Halls A-F, which were built in 1972. UNCSA identified a new residence hall for college students as a priority in its Strategic Action Plan in 2015 and its Campus Master Plan, approved in 2017.
The Artist Village was designed by LS3P, a multi-disciplinary firm offering architecture, interiors, and planning services to a wide variety of clients nationwide. LS3P has offices in North and South Carolina and Georgia. The construction manager is Metcon, a Native American-owned business (Lumbee) founded in 1999 in Pembroke. Metcon delivers general contracting and construction management services for higher education, K-12, medical, corporate, and government entities throughout the East Coast.