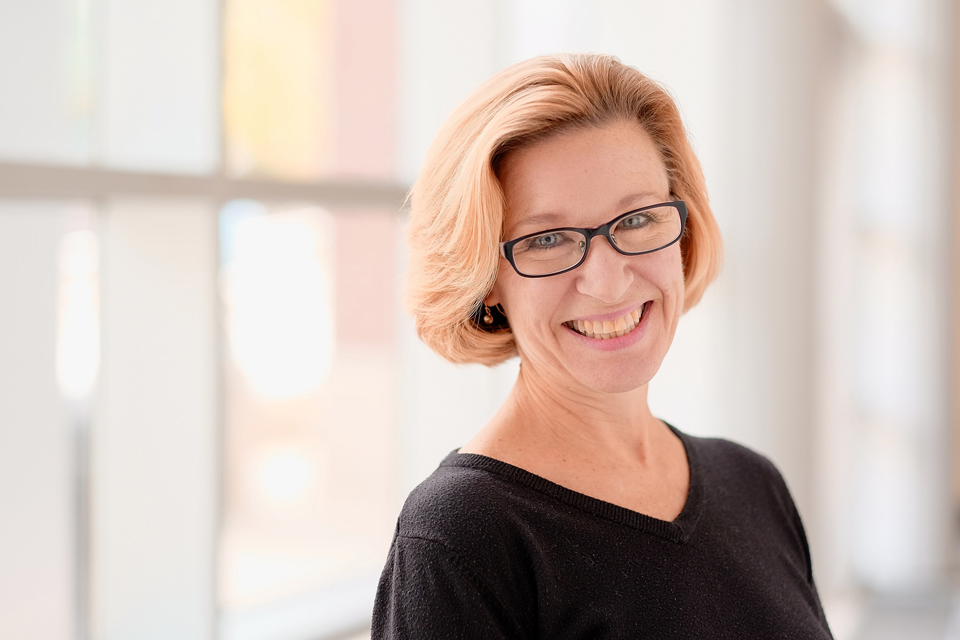 UNCSA alumna and School of Dance ballet faculty member Dayna Fox has spent more than 25 years teaching in UNCSA's high school and undergraduate ballet programs, and has served as director for the Preparatory Dance program for young children. She had many experiences in her life that have and continue to shape her journey as a teacher.
Fox's early training in the Vaganova technique, combined with 25 years of teaching children, has made her a stickler for correct placement and alignment; developing core strength; understanding the concept, development and application of rotation; and emphasizing the importance of classical line, positions and aesthetics. As a teacher, Fox tries to instill a feeling of "self" in her students, helping them realize how each of them has something unique to offer. Fox believes her job as a teacher is to provide students with all the tools and inspiration they will need to ultimately achieve their goals as confident young adults and artists.
Credentials
Tap, Jazz, and Musical Theater Training with teachers such as Jackie Hardy Wright, Charles Kelly, Gus Giordono, Luigi and Patricia Birch, 1965-1970
Ballet Metropolitan (Ballet Met), Columbus, Ohio, 1970-1976. Worked with prominent teachers and guest artists including Tatjana Akinfieva-Smith, Bud Kerwin, Vitale Fokine, Veronica Tennant, Karen Kane and Hazaros Surmeyen
North Carolina Dance Theater (NCDT), Winston-Salem, 1977-1986, working with Artistic Director Robert Lindgren and Associate Director Salvatore Aiello. During her time at NCDT, the company brought dance to the masses and was featured in the June 1980 issue of Dance Magazine as the busiest dance touring company in the country, having provided over 254 public performances that calendar year.
Career Highlights
Soloist and principal roles in such works as Salvatore Aiello's "Clowns and Others" and "Piano Concerto #1," George Balanchine's "Allegro Brilliante," "Pas de Dix" and "Scotch Symphony," August Bournonville's "Napoli," Senta Driver's "Resettings," and Vicente Nebrada's "Pentimento" while dancing with the North Carolina Dance Theater
The opportunity to dance with a small repertory company, tour on a school bus, and perform in 42 states across the US (from Alaska, to Florida, from Maine, to Hawaii…and everything in between).
Performances at the Kennedy Center, Washington, D.C.
Performances at the Brooklyn Academy of Music (BAM), Brooklyn, New York
Performances at the Festival of Two Worlds in Spoleto, Italy
Two European tours of Italy, France, Spain and Portugal
Student success stories from Preparatory Dance Program graduates
Education
B.F.A. DanceUNC School of the Arts
High School DiplomaUNC School of the Arts