2020 Festival of North Carolina Dance at UNCSA is largest yet
A total of 635 dance students from nearly 40 dance schools and companies across North Carolina – the most participants ever – recently attended the 2020 Festival of North Carolina Dance at UNCSA.
"We were so happy to host the Festival of North Carolina Dance again this year on our campus," said Dean Susan Jaffe, a principal dancer with American Ballet Theatre for 22 years and School of Dance dean at UNCSA since 2012. "We're also delighted that the festival continues to grow, as more and more studios and companies seek out our stellar faculty for training and advice. It's an affirmation of our school's importance in the state's dance community."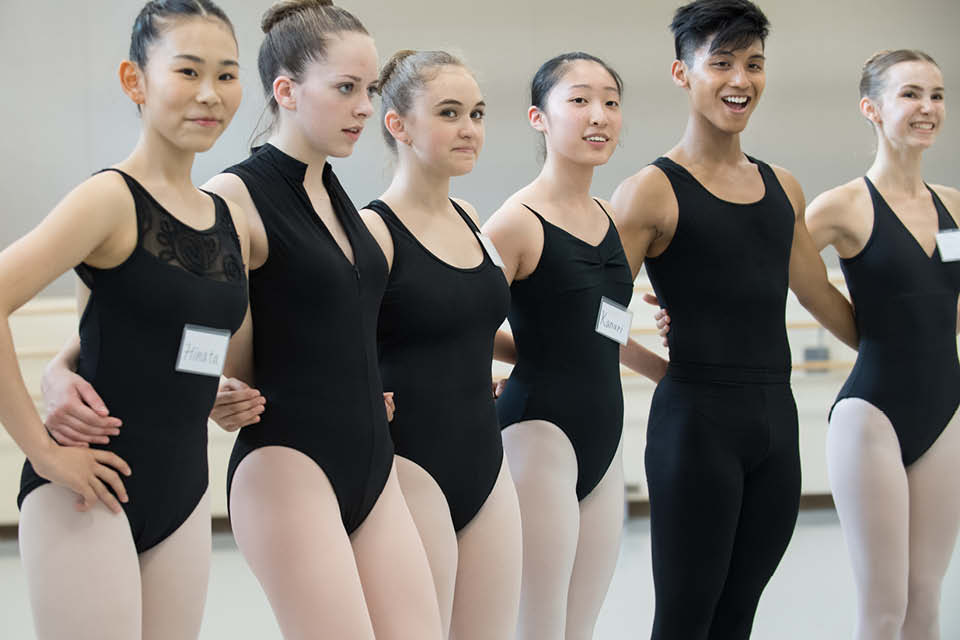 Over a three-day weekend, Feb. 28-March 1, participating students took master classes taught by members of the UNCSA School of Dance faculty and guest faculty. Classes included ballet technique, contemporary, men's class, pointe/variations, jazz, and character. Participants also had the opportunity to audition for the UNCSA Summer Dance Intensive, and see the Winter Dance concert, performed by UNCSA dance students.
Festival Coordinator Dayna Fox, a UNCSA alumna and member of the School of Dance faculty, said: "These young dancers who come to UNCSA from all over the state have one thing in common: a passion for the dance. This enthusiasm and dedication will serve them well as they pursue a career in dance, the arts or whatever field they choose later in life."
Fox, who has been teaching at UNCSA for more than 25 years – including directing the UNCSA Preparatory Dance Program for young children – was assisted at the Festival of North Carolina Dance this year by fellow alum Robert Gosnell, a member of the Class of 1998 who danced with Nashville Ballet for nearly a decade, as well as with Atlanta Dance Theatre, Roswell Dance Theatre and High Point Ballet.
Other activities during the special weekend included a Directors Dinner on Saturday evening before the Winter Dance performance, and a Festival Gala, presented Sunday evening for festival-goers and their families. Fourteen companies were chosen this year to perform at the gala through an adjudication process.
Dance companies participating included: Apex -- Infinity Ballet; Asheville -- Center Stage Dance Studio, The Academy at Terpsicorps, The New Studio of Dance (school of Asheville Contemporary Dance Theatre); Burlington -- Burlington Academy of Dance & Arts, Burlington Dance Center, Walkerdance Ballet Theatre; Cary -- Cary Ballet Company; Chapel Hill -- the Ballet School of Chapel Hill, Triangle Youth Ballet; Charlotte -- BD2 (Baran Dance's apprentice company), Carolina Performing Arts Center, Charlotte Cirque and Dance Center, Charlotte City Ballet, Charlotte School of Ballet, Jami Masters School of Dance; Davidson – Dance Davidson; Durham -- Encore Academy of Dance, Walltown Children's Theatre; Faison – The Arts Company; Gastonia -- Gaston Dance Theatre; Greensboro – Dance Project, Greensboro Performing Arts; Greenville -- N.C. Academy of Dance Arts, The Greenville Civic Ballet; Havelock – The Center for the Performing Arts; Monroe -- Monroe City Ballet; Morehead City -- Dance Arts Studio; Raleigh – Carolina Civic Ballet, City Ballet Raleigh, Raleigh Dance Theatre, Stage Door Dance Productions, The School of Carolina Ballet; Swansboro – Swansboro Dance Studio; and Wilmington – City Ballet of Wilmington, DREAMS of Wilmington, South East Dance Academy, Wilmington Conservatory of Fine Arts.
Get the best news, performance and alumni stories from UNCSA.
SUBSCRIBE TO OUR NEWSLETTERS