For David Gordon Green, filmmaking is all about the perfect collaboration
It's hard to ignore the diversity of genres in filmmaker David Gordon Green's repertoire. The School of Filmmaking alumnus ('98) has directed, written or produced everything from dramas about the realities of life in the economically-depressed South—his critical debut, "George Washington," for example—to stoner comedies like "Pineapple Express."
Recent ventures include political satire, animation, TV comedy series and a sequel to John Carpenter's 1978 horror classic, "Halloween."
At the risk of repeating his entire IMDB profile as proof, let's just say his career has been prolific and varied.
Green and his production company Rough House Pictures—co-owned with fellow UNCSA alumni Jody Hill and Danny McBride—have a bit of a reputation for being hard to pin down, producing passion projects and films because they find them interesting. Rough House is not necessarily a company with a specific brand or genre, but a way for the trio to continue the sense of camaraderie and collaboration that started in film school at UNCSA.
"As much as we like the name Rough House and our community to mean something, our taste is pretty diverse," Green said in an interview with Indiewire. "You can't say what's the same about 'Eastbound and Down' and 'Dayveon.' There's a world where people with similar tastes can appreciate both of those things, but it's not like Adam Sandler's Happy Madison stamp that says, 'This type of comedy is what you'll get.' It's more that the pieces that seem random start to make sense. There's a commonality that people can subtly start to see."
As much as we like the name Rough House and our community to mean something, our taste is pretty diverse... It's more that the pieces that seem random start to make sense. There's a commonality that people can subtly start to see.

David Gordon Green, on diversity in his film projects
In that way, Green has managed to preserve some of what made his college years at UNCSA so formative and meaningful. "Honestly, I can't say our dynamic evolved that much since we were in college," Green said of Hill, McBride and the network of filmmakers they've collaborated with over the last two decades.
"We put together a modest lifestyle. Jody and I do commercials on the side," he added. "We keep it lo-fi. That's what keeps our ambition honest so we can do what we want and not overspend to make it happen."
At the same time that Rough House gives life to indie projects and supports aspiring filmmakers, Green has worked with some of the biggest names in Hollywood: Clint Eastwood, Al Pacino, Sandra Bullock, Jake Gyllenhaal and recently, Jamie Lee Curtis.
His approach to these big-name projects seems to encompass the same sense of film-as-collaboration as his smaller work. In an interview with The Independent for "Our Brand Is Crisis" starring Bullock, Green said, "People think 'oh you got a big movie so you have the pressure on you,' but it's great because it becomes our show, rather than my show."
"I don't take a credit above a movie, like you see with a lot of people: 'this is a film by so-and-so'. I think my name would actually be distracting, it's confusing to people," he added—another nod to the fact that his name alone doesn't represent a particular genre or type of film.
Green's name may not be plastered in large print on the posters for his films, but he's been recognized time and time again for his work by critics and audiences alike.
"George Washington", "All The Real Girls", "Prince Avalanche" and other films were all nominated or placed in awards categories at multiple film festivals. "Halloween" was first runner-up for the Grolsch People's Choice Midnight Madness Award at the Toronto Film Festival this year.
Given all of this, Green's transition to horror and the "Halloween" franchise doesn't seem like such an unusual trajectory after all. He co-wrote the film with McBride and UNCSA alumnus Jeff Fradley, and it is his horror directorial debut.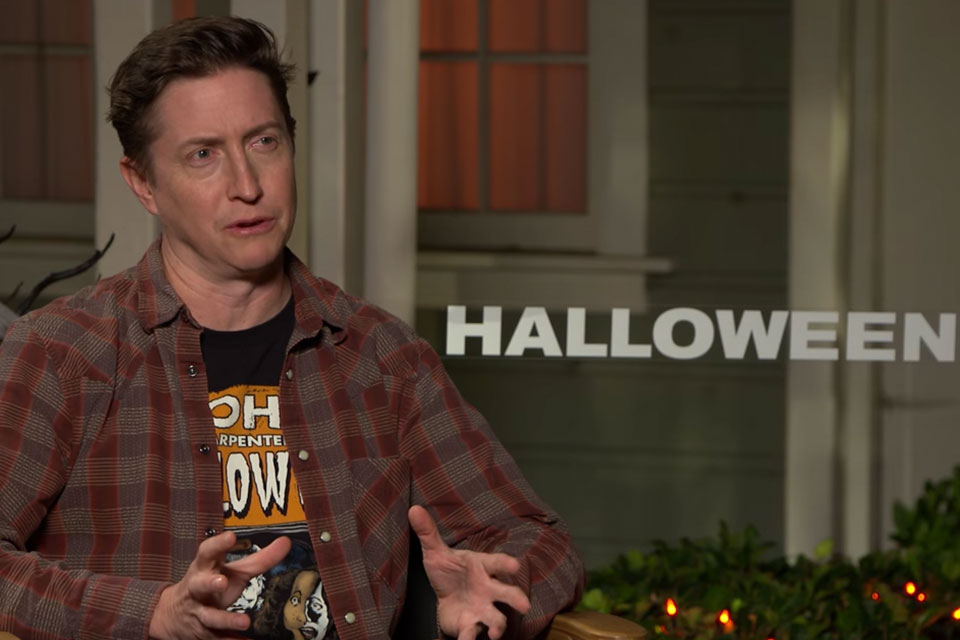 Watch David Gordon Green discuss the differences between the 2018 "Halloween" and what audiences remember from other films in the franchise.
He had help from seasoned slasher professionals, including input from original "Halloween" writer and director John Carpenter. In an interview with Collider, Green once again credited his collaborators with bringing the movie to life.
"Everyone on this set is talent that is working for the passion of this movie and that's interesting because you don't often see a passion project as a low budget horror film," he said. "We're really lucky to have the people that we have; intelligent, technical and creative minds around us."
Plus, he's always been a huge horror buff.
"I always look at that age between 11 and 17, the culture, when I was just absorbing things, digging through things," Green said. "Music to me was The Doors and movies to me were horror films; 'Suspiria' and 'Halloween', 'Chainsaw Massacre.' It was a time where I was so affected by things I was seeing and I've really retained them."
Green still maintains some of those connections to his youth—and to UNCSA. He, along with Fradley and McBride, returned to campus to screen "Halloween" to current School of Filmmaking students before the film's theatrical release.
"It's amazing to watch the credits scroll and to see how strangely little life has changed," Green told students after the screening. "We keep that camaraderie and that closeness."