Danny McBride delivers laughs and thrills as a multi-faceted filmmaker
Danny McBride, a 1999 graduate of the School of Filmmaking, is fast emerging as one of the most formidable multiple threats in film and television.
The sundry titles he's assumed over the last few years include executive producer for "Halloween," a reboot of John Carpenter's 1978 classic horror film. He also co-wrote the movie's script with UNCSA alumni Jeff Fradley and David Gordon Green, also the film's director.
Previously, over two seasons, in 2016 and 2017, McBride portrayed administrator Neal Gamby in HBO's "Vice Principals." He also directed two episodes of the series, in addition to serving as its creator, writer and executive producer.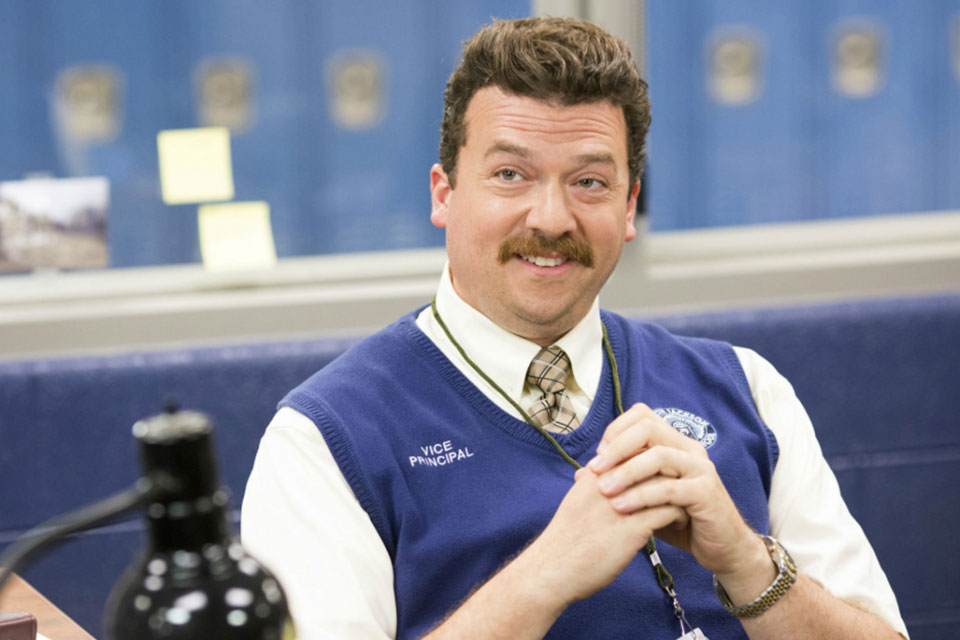 Watch a clip from the pilot episode of "Vice Principals."
McBride is wearing multiple hats for HBO again, having recently announced that "The Righteous Gemstones" will become a series about the infamous televangelist family of the same name. He created, wrote, acted in and directed the recently shot pilot. For "Gemstones," he will write, direct and play Jesse Gemstone, in addition to executive-producing with Green and Jody Hill, both of whom McBride befriended while they were students at UNCSA. Jesse is the eldest son of Eli Gemstone, who will be played by John Goodman.
So, what accounts for McBride's remarkably successful versatility?
Talent, drive and a willingness to embrace new challenges are certainly reasons—as is a knack for leveraging the relationships he forged at UNCSA. He also attributes much of his filmmaking acumen to the hands-on knowledge he gained from working on student productions.
This became clear as McBride talked recently about his current projects and more on the telephone from Charleston, South Carolina. Since summer 2017, Charleston has been both his home and that of Rough House Pictures—a production company that, like McBride, was originally based in Los Angeles. The company's partners are McBride, Brandon James, Green and Hill. All but Hill have moved from Los Angeles to Charleston.
For "Halloween," one of the most anticipated films of the fall, you were part of a team of three writers, all School of Filmmaking alumni. Such UNCSA collaborations have become fixtures in many of your projects. What accounts for their staying power?
At the School of the Arts, we had that incredible screening room and we spent weekends watching movies and talking about them. I think that appreciation for film has just continued on through our adult lives. We constantly fed each other's creativity and it's just something that we have kind of maintained. Also, the School of the Arts is located in Winston-Salem, far away from New York and Los Angeles, and that made us feel like underdogs. Keeping camaraderie was a tool as we kind of ventured into this bigger world.
You once told The New York Times that you're a fan of horror movies, documentaries and "Real Housewives" shows—not necessarily comedies, in which you've excelled as an actor. Which horror films are among your favorites and what was it about their scripts that influenced your writing of the 2018 "Halloween" iteration?
Two films come to mind: "The Shining" and "Jaws." There's something in the simplicity of these films that still works today. They tap into something that is primal, a fear that just isn't too convoluted. It's very clear what you're afraid of, in other words. We took a similar approach with "Halloween," shunning the mythology that the other sequels created and just boiled it down to what was just essentially scary about it.
Your "Halloween" also seems to capitalize on the ordinariness of its suburban setting.
Sometimes, when you have a really heightened horror movie that takes place in some extreme location it's kind of hard, when the movie is over with, to be frightened by it because you're not in that situation. But everybody sits at home in the house alone at night and thinks they hear a noise outside. That's kind of what "Halloween" taps into so effectively.
Let's shift gears a bit. You've made many independent films, following a process with which UNCSA first acquainted you during student productions. What's one key lesson that you still draw on when you make a film?
What I loved about School of the Arts was that there was a set budget of what you had to spend for each production. Everyone had to obey that and everyone had to operate under that. It prepared me a little bit more for what we were up against with independent films. The budget is the budget, you know? You have to make it come in.
What I loved about School of the Arts was that there was a set budget of what you had to spend for each production. Everyone had to obey that and everyone had to operate under that. It prepared me a little bit more for what we were up against with independent films.

Danny McBride
We faced that challenge even with "Halloween," which was made for just a little over 10 million dollars. You get creative and figure out how to get the most bang for your buck. Ultimately, that makes for better storytelling because you really make sure that what you're executing is exactly what you need.
Is there anything else about your UNCSA experience that you still directly apply to your career?
I think that the student productions taught me to really look to the people around you for support and to find out what it is that they excel at, embrace that and give everyone a chance to do what they do best. We still try to give as many people as we know opportunities and we try to shepherd people into this industry.