Box office and critical acclaim propel independent filmmaker Jeff Nichols to success
If Jeff Nichols ('01) wasn't so busy making movies, he could write a textbook on how to forge a wildly successful independent film career from scratch. Nichols' sci-fi thriller "Midnight Special" was released in March, and his film "Loving," the moving story of Richard and Mildred Loving, who took their very personal fight for interracial marriage all the way to the Supreme Court in the 1960s, competed in the Cannes Film Festival in May.
These latest films, each with big Hollywood stars (and budgets), were propelled into existence by the box-office and critical success of "Mud," Nichols' 2012 thriller starring Matthew McConaughey and Reese Witherspoon.
All of this sounds a little crazy when you think that Nichols only graduated from UNCSA's School of Filmmaking in 2001, and didn't release his first feature-length film until 2007's "Shotgun Stories." But Nichols' rapid ascension from unknown Southern filmmaker to indie juggernaut makes perfect sense when you see how strategically he has mapped out his artistic career, starting way back when he was a green film student student in Winston-Salem.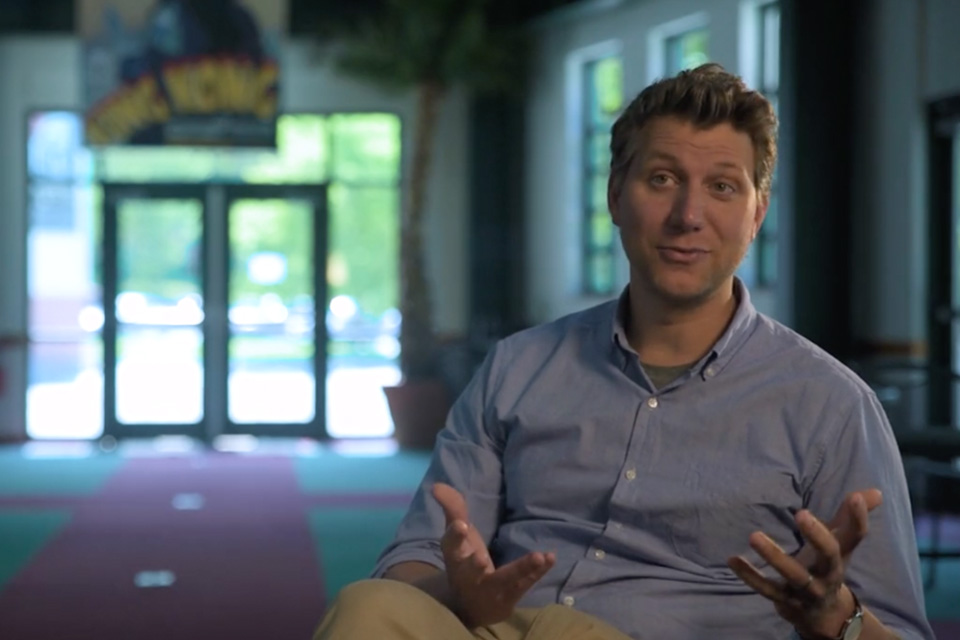 Watch: Nichols returns to his film school roots to reflect on his time as a student at UNCSA.
Nichols grew up near the Arkansas River in Little Rock, about as far from Hollywood as you can get. As a young reader, he fell hard for Tom Sawyer and Huckleberry Finn, Mark Twain's iconic coming-of-age stories on the wide, muddy rivers of the American South.
Nichols hatched the idea for "Mud" when he was still a college kid at UNCSA. At the time, he was reading a lot of Cormac McCarthy and Larry Brown, Southern Gothic authors who famously plumb the darkest regions of human nature. In his film-class daydreams, Nichols couldn't shake the image of a man living alone on an island in a river, looking for redemption from a violent past. The storyline of "Mud" was born from a desire to combine Twain's classic distillation of childhood with the darker undercurrents of McCarthy and Brown.
And of course, it had to be epic. From the start, Nichols wanted "Mud" to look and feel like his favorite childhood movies, "Lawrence of Arabia" and anything by Spielberg. Nichols knew that he had to shoot "Mud" on film (never digital) and fill the whole canvas with a wide and glorious 2:35 aspect ratio. To do it right, there needed to be a real deserted island on the Mississippi River, a real boat suspended in a real tree, a Steadicam and the best cast of working actors available. All of that would cost money — serious money — something Nichols knew he couldn't access until he had proven himself. So he hatched a plan.
At UNCSA, Nichols was not only a student of filmmaking, but a student of the filmmaking industry. He closely tracked the career of his friend and fellow UNCSA alumnus David Gordon Green ('99), who broke out as a young director with "George Washington," a strangely beautiful little movie starring first-time child actors that won Best Picture and Best Director at the 2000 Newport Film Festival.
Nichols knew that his first movie needed to be small, deeply personal and cheap — and aimed squarely at the film festival circuit. "Shotgun Stories," shot in 2004, was set in the dusty Arkansas flatlands of Nichols' youth, and centered around three half brothers, violence and revenge.
"['Shotgun Stories'] was made to be my first film," Nichols told The Guardian in 2013. "We had about $50,000, so it was designed as something I could pull off. We didn't move the camera; we shot all the exteriors during the day because we didn't have a big enough crew to light at night; we couldn't afford bullets."
Shot and edited with a skeleton crew of UNCSA grads, including cinematographer Adam Stone ('99), "Shotgun Stories" was Nichols' first collaboration with Michael Shannon, then an unknown actor who Nichols spotted on some footage that a UNCSA professor brought back from the Sundance Institute.
"I was like, 'Who is that?'" Nichols told Interview magazine in 2013. "I want that guy to be in every movie I ever make." It turned out to be one heck of a prediction. With the latest movie, "Loving," Shannon has appeared in all five of Nichols' feature films.
"Shotgun Stories" was accepted at a dozen film festivals, won some impressive awards, and established Nichols as an exciting and original young voice in American filmmaking. Again, Nichols credits David Gordon Green with marking the path.
"[David's] the most giving filmmaker I know," Nichols told Indiewire in 2011. "A lot of independent filmmakers are really catty. If you're David's friend and he likes you, then he wants to see you succeed. He's extremely generous in that regard. I have to think that David was the first one to kick down that door… then held it open for all of us to walk in."
After "Shotgun Stories," Nichols wrote two scripts in one year, the long-awaited "Mud" and another called "Take Shelter," an apocalyptic drama about a family man losing his grip on reality. Nichols desperately wanted to make "Mud," which he wrote specifically for McConaughey (who he'd never met), but he knew that he still didn't have the "juice" as a filmmaker to raise enough cash to do it right. So he made another calculated creative choice.
Nichols decided to shoot another film festival movie, but one that upped the stakes. The script for "Take Shelter" included CGI special effects — storms of oily black rain, tornadoes, flocks of menacing birds — that required real money to produce. But the pitch to financial backers was that the supernatural elements would also appeal to a wider, non-indie audience.
"I had to write a movie that someone would pay to make," Nichols told The Guardian. "It wasn't a foregone conclusion after 'Shotgun Stories.'"
"Take Shelter," which starred Shannon (of course) and a little-known actress named Jessica Chastain (yes, her), blew festival audiences away. It was nominated for the Grand Jury Prize at Sundance and won three awards, including the Critics Week Grand Prize, at Cannes.
With help from producing partner Sarah Green — she's the one who had recommended Chastain after working on Terrence Malick's "Tree of Life" — Nichols finally had the name recognition and industry heat to make "Mud," his passion project since college. Nichols pitched the script to McConaughey, who was coming off a succession of bad rom-com roles.
"'Lone Star,' the John Sayles film, was the one I held on to," Nichols told The Guardian. "I knew [McConaughey] was out there doing that other stuff, but I thought he was waiting to do something like this. Obviously Soderbergh and Friedkin thought the same way. As a director, you see something in someone; you know it's there, you just got to go get it. You do that with any actor. That's your job."
Nichols brilliantly leveraged the star power of McConaughey and Reese Witherspoon to sell what was otherwise a straight-up indie flick full of moody atmospherics and understated dialogue. In addition to being a box office success, "Mud" was nominated for the Palm d'Or at the 2012 Cannes Film Festival. It bears mentioning that the "Mud" crew included 11 UNCSA alumni including long-time cinematographer Adam Stone and production designer Richard Wright ('99).
Nichols has officially hit his stride. When not filming in Arkansas or Virginia, he lives in Austin with his wife and young son, not far from his UNCSA buddy Green. If his past is any indication, Nichols has a long-range plan for a continuously evolving and brilliant career. We can't wait to watch it unfold on the big screen.
June 2, 2016