Producer Martha Stephens' film 'Land Ho!' earns a Film Independent Spirit Award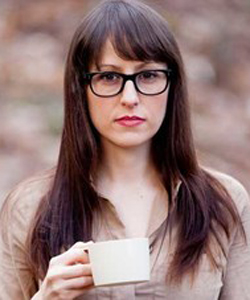 While Martha Stephens ('06) may not be your typical girl next door, to those in her small Kentucky town she fits right in. Maybe a bit quirky, somewhat reserved, she is extremely humble and down-to-earth, with not a pretentious bone in her body. But the graduate of UNCSA's School of Filmmaking has something to be very proud about. Not only is she a Spirit Award winner, but she just sold her latest film, "Land Ho!" to Sony Pictures Classic.
Despite the success, she hasn't strayed too far from her roots, opting to live just 20 minutes from her hometown. Stephens grew up in a gritty, industrialized Appalachian town in Kentucky where the opportunities for "fun" were somewhat limited to the small movie theater and one's own imagination.
"It was simple," she said of her upbringing, "but there's something nice in a childhood routine."
Luckily for Stephens and her three older brothers, their mother, a painter, helped expand their imaginations through art.
"She always made art a big part of our lives," Stephens recalled. "While other kids were going on trips to Myrtle Beach, we were going to D.C. for the art museums."
A small town gave way to a small school, where Stephens graduated with 60-some fellow classmates. There weren't many unique offerings in the form of arts classes while she attended - although now there is an entire art wing where an autographed poster for "Land Ho!" now hangs. "There was a drama club," she said skeptically, "but nothing really happened except for going to the Cincinnati Renaissance Fair once a year."
While some students may have turned to athletics to fill the extracurricular void, Stephens, a self-described introvert, opted for reading books.
"I was always a very visually oriented person, I always loved storytelling, so books were an escape," she said. And since "film is visual storytelling, it was a sweet spot for me."
Stephens grew up fascinated by and drawn to Tim Burton movies, especially "Edward Scissorhands" and "Beetlejuice."
"All of these movies are about misfits. I've always had that complex of not fitting in," she explained, "of yearning for something that you can't quite put a finger on."