Guitar alumnus embraces the musical side of the Old North State
WATCH: The new video for "Rumba" by Ed Stephenson and The Paco Band below.
Ed Stephenson ended up as a college student in UNCSA's School of Music essentially by chance. And yet it was the start of the Canada native's life as a working musician, much of which has taken place right here North Carolina.
Stephenson grew up in Toronto studying classical guitar and when it was time to choose a college, his teacher insisted that there was only one man to study with – Aaron Shearer. At the time, the renowned instructor was working at the Peabody Conservatory at Johns Hopkins University. When Shearer was recruited to Winston-Salem to lead the guitar program at the School of the Arts, Stephenson (like many students) followed.
"Aaron was very proactive," he says. "He felt the School of the Arts was the place to be." He agrees. Shearer, he adds, cultivated a program in a unique learning environment where Stephenson could accomplish what he wanted most – to learn to perform. And that education in performing manifested itself in some memorable ways.
During his time as a student at UNCSA, the school re-opened the Stevens Center, restoring it from its silent movie-era glory to the performing space it is today. The grand opening was a star-studded event that included the Stevens Center's namesake Broadway producer Roger L. Stevens and famous figures like Leonard Bernstein, Maya Angelou, Gerald and Betty Ford, Lady Bird Johnson, Agnes de Mille and many others. Screen legend Gregory Peck was master of ceremonies.
Students played a concert as part of the grand event, with Stephenson performing on the mandolin. Playing for those guests, he says, was a highlight of his college career. But the best part of that evening, for him, happened backstage.
As he waited behind the scenes, he noticed a security guard standing at the entrance to Peck's dressing room. When the guard temporarily left his post, Stephenson seized the moment. "I knocked on the door," he remembers with a laugh, "and Mr. Peck opened it."
I said, 'Mr. Peck, would you like to hear some soothing classical guitar music?'
Amazingly, Peck said yes and Stephenson performed an impromptu private concert for the Hollywood legend.
He may have technically broken the rules that night, but the way he sees it, he couldn't not knock on that door. "I could not help myself," he says. "I had watched all of his movies. I had to talk to Gregory Peck."
When he shared that story with Shearer years later, his mentor was impressed. It's that kind of determination that has led to Stephenson's success as a solo classical guitarist, flamenco artist, ensemble musician and instructor.
But the musician didn't necessarily have plans to find that success in the state of his alma mater. "I didn't think I'd end up here," he says. But he didn't really have plans to end up anywhere.
I put no borders on where I would go and what I would do. That's how you have to be as an artist.
Fresh out of college, a job offer to teach guitar at Meredith College in Raleigh (where he still teaches) kept him firmly rooted in North Carolina, for which he feels grateful. "My luck as a musician has been incredible," he says. "North Carolina is a great place to be."
In the last 15 years or so, he has especially seen growth in the arts in the Triangle area, which he calls home. And with a local professional hockey team, he jokes, there's almost no reason for the Canadian to leave the Tar Heel state.
These days, the Triangle is even home to the state-of-the-art Manifold Recording Studios where he and his band, Ed Stephenson and the Paco Band, recorded their latest album "Rosamaria" (named after his mom, "who deserves to have an album named after her").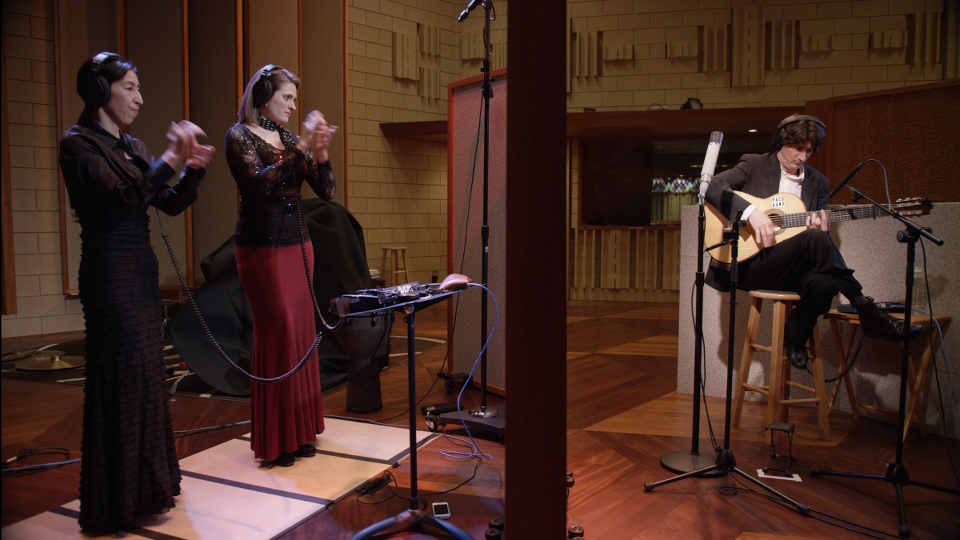 Watch the new video "Rumba" from the album "Rosamaria." Written by Ed Stephenson, performed by Ed Stephenson and The Paco Band. Recorded live at Manifold Recording.
With that, the UNCSA connection has come full circle. Manifold Recording is the brainchild of Michael Tiemann, incoming chair of the UNCSA Board of Trustees and longtime lover of the arts. Manifold has played host to UNCSA master classes, board retreats and special recording sessions and fundraisers for A.J. Fletcher Opera Institute fellows. Tiemann has also invited faculty and students from the Schools of Filmmaking and Design & Production to assist with video and lighting projects at the studios.
Tiemann and Stephenson did not establish their UNCSA connection until after they began working together. Tiemann says when he realized Stephenson was a School of the Arts graduate, "It created a great connection. I suddenly knew what I was dealing with, the professional training that Ed brought with him."
For Stephenson, his life as a musician can't get much better — he plays concerts with the North Carolina Guitar Quartet several times a year, tours solo and with the Paco Band throughout the United States and Canada and plays with local and regional orchestras. He stays busy, he says, and he loves it. "I am doing all of my favorite things."
Want to hear more music by Ed Stephenson? Listen in on Pandora and YouTube.