Music paves the way for career in performing arts management
It has been a busy year for Elizabeth Sobol (Music '81), who moved to upstate New York to take the reigns as President and CEO of the Saratoga Performing Arts Center (SPAC) in October 2016. The venue hosts a range of artists each year—everything from jazz rock band Chicago and country singer Luke Bryan to the New York City Ballet, the Philadelphia Orchestra and the Chamber Music Society of Lincoln Center.
After wrapping up a success summer festival at SPAC, Sobol checked in with her alma mater to discuss her work in arts administration and how UNCSA prepared her for a career she loves:
What does a typical day or week look like for you?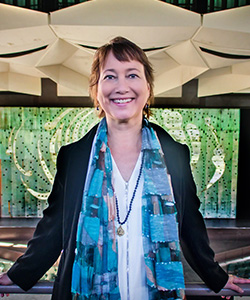 People used to ask me the same question when I ran IMG Artists, and then when I was President and CEO of Universal Music Classics. And the answer is the same... There is no typical day or week.
For the last three months, for example, our 2017 Summer Festival season has been in full swing. So any given day, I might have been meeting with Yannick Nezet-Seguin, Music Director of the Philadelphia Orchestra and Allison Vulgamore, the Orchestra's President and CEO about long-term planning. I might have been sitting in the amphitheatre in the morning watching a New York City Ballet rehearsal with donors and patrons. Maybe I was attending a daily meeting about marketing and ticket sales—or at WAMC (Northeast Public Radio) giving an interview about our programming. Or perhaps I was backstage at a Sting concert talking with our partners at Live Nation.
Basically my job is all-consuming around areas of overall artistic programming and strategy, fund-raising, marketing, budgeting, education, community outreach and engagement, as well as some long-term planning about capital improvements and strategic growth we are contemplating.
Talk about about your career journey. Was your goal always arts administration?
Well, UNCSA plays a huge role in my career journey. I was a high school piano student and then, after some travel and study in Europe, I came back to finish my Bachelor's degree. By the end of my junior year, I had come to the realization that I didn't have what it takes to be a great pianist, and I knew that I didn't want to be a mediocre one.
Right around the time I was having this epiphany, the School hosted, for the first time ever, a symposium on careers in music. Two women from NYC—a famous classical music publicist and a prominent classical music promoter—came to talk to juniors and seniors about the how-to's of head shots and demos and symphonic audition prep and so on. I sat there and thought, "those women live in NYC and make their living working with artists and helping them realize their dreams.…that's what I want to do."
I immediately went to talk to my piano teacher and the School of Music Dean about my epiphany. They reached out to several artist management agencies in NYC and secured two internships for me. One of those agencies was bought shortly after my internship, becoming IMG Artists, and I was hired back by them. Over the course of many years there, I went from intern to Managing Director. From there to Universal, and then to the Saratoga Performing Arts Center.
How has your background as a musician and performer translated into your administrative roles? What about skills you learned as a music student?
Having been a student of music, I not only have knowledge of the repertoire and the history, but I also have an understanding of the mind and heart of artists. Being an artist manager requires knowledge and savvy, but it also requires a tremendous amount of instinct and psychology. The study and experience music gave me are so much a part of that.
Being an artist manager requires knowledge and savvy, but it also requires a tremendous amount of instinct and psychology. The study and experience music gave me are so much a part of that.

Elizabeth Sobol
You earned a B.M. in Piano from UNCSA. Do you still have opportunities for piano performance? What about other passion projects?
For a long time I practiced the piano every night, playing Bach preludes and bits of the Goldberg Variations before I went to bed. But alas, given the rigors of my work life, that doesn't happen any more. My most passionate "project" is really life-long learning, and that generally has to do with reading two or three books a week. I love poetry and literature and history and languages and books about physics for lay-people—basically anything that helps me see the world from a different point of view.
What led you to UNCSA?
I grew up in a small town in North Carolina. My parents were the first in their families to go to college. My mom studied flute and voice, and she passed her love of music on to me. By the time I was 12, I was so passionate about the piano and classical music… I wanted to focus on it—and be surrounded by it. My teacher at the time told me about UNCSA and it became my dream to go there.
Do you have any special UNCSA memories to share?
There are so many memories it's hard to pick just one. But one that had a lasting, concrete impact on my career was the following: Growing up in my hometown, I knew nothing about modern dance. But when I got to UNCSA, not only was the modern program incredible, I had to walk by the studios every day on my way to the practice rooms. Virtually every day I found myself standing mesmerized watching the modern classes (and often missing critical bits of practice time!)
Years later, that passion for contemporary dance and choreography that was sparked by those moments led me to start a dance division for IMG. My first client was Bill T. Jones—and I went on to represent some of the most exciting companies and choreographers of that era. My "training" in dance all happened there at UNCSA watching classes. It never left me.