Meet the Studio
Meet the Studio
The UNCSA Double Bass studio is led by Paul Sharpe.
---
Elspeth Burdette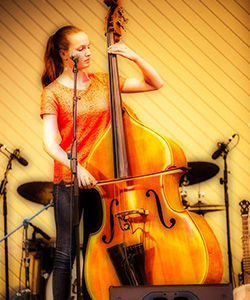 Elspeth Burdette, bassist, is in the High School program at UNCSA. A student of Paul Sharpe, she can be found playing a wide variety of music styles from bluegrass to jazz, celtic to classical. Along with her two sisters, she is a founding member of Americana band "The Dan River Girls," and with the group has performed regionally and internationally. Their first CD was released in 2015 to wide acclaim and their current project, "Sounds of Skye," pays tribute to their Scottish heritage. When she is not studying classical bass, Elspeth studies voice with Martha Bassett, bluegrass music with Rex McGee and Celtic music with the acclaimed cellist Natalie Haas. In her spare time, she enjoys riding horses, reading, swimming, hiking and baking.
Solomon Caldwell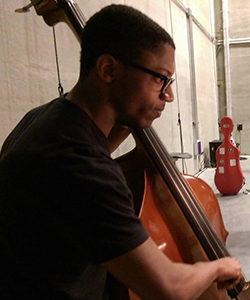 Solomon Caldwell is a bassist from Greensboro, N.C. After graduating from the High School program at UNCSA, his love of chamber music and cross-disciplinary collaboration led him to continue his studies with Paul Sharpe at the undergraduate level. In the summer of 2016 he attended the Anchorage Chamber Music Festival and the Fairbanks Summer Arts Festival where he participated in several chamber and full orchestra engagements. In addition to enjoying chamber music and orchestral performance, Solomon also enjoys finding ways to perform in unconventional settings. To that end, he has started a small music initiative in Greensboro called Sonitus, in which the goal is to make classical music more acessible and relatable to audiences and encourage improvisatory collaboration between musicians.
Nathaniel Goldsmith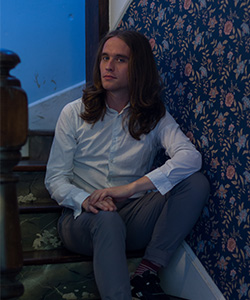 Nate Goldsmith has enjoyed a varied career as a double bassist in the Triad area since moving to Greensboro in 2011. He can frequently be heard performing with orchestras across the state of North Carolina, as well as with Greensboro Opera and the Bel Canto Company. Nate also had the chance to accompany violin virtuoso Nadja Salerno-Sonnenberg in 2015 as a member of the Gate City Camerata. He is currently studying with Paul Sharpe at UNCSA, in pursuit of a Master's Degree in Bass Performance.
Garrett Hilliard
Garrett Hilliard is an undergraduate student at UNCSA, studying double bass under the instruction of Paul Sharpe. While at UNCSA, Garrett has been a part of the school's annual production of "The Nutcracker," performed in the UNCSA Symphony Orchestra and in the UNCSA Wind Ensemble. He has been a part of many double bass chamber groups including a bass ensemble, a bass quartet, and a bass duet. In the Winston-Salem community, Garrett was principal bass of Twin City Stage's production of "Little Women," and has subbed with the Winston-Salem Symphony. In the summer of 2017, he attended the National Music Festival as an apprentice, studying under Robert Stiles. Garrett is very active in solo performance as well, performing in numerous guest master classes featuring top double bass players from around the country, including: Robert Oppelt (Principal Bass of the National Symphony), Robin Kesselman (Principal Bass of Houston Symphony), Nicholas Scales (Principal of Amarillo Symphony) and Nicholas Walker (President of the International Society of Bassists). When not practicing, Garrett loves to cook, mountain bike, read and shoot pool.
Zane Hollomon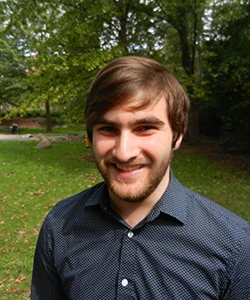 Born in Mansfield, Ohio, Zane Holloman began his musical studies with piano. With his mother as his primary teacher through elementary school, he learned his love of music with Christmas tunes, which he still plays to this day. After spending a short time studying cello, Zane began to teach himself the basics of double bass playing, and three years later began his formal study. He has been a participant in the North Carolina All-District and All-State bands, and was the winner of the 2016 Annual President's Cup as a member of Davie High School. Zane is currently studying at UNCSA with Professor Paul Sharpe and he enjoys artistic endeavors with the electric bass, guitar, spoken word poetry, storytelling and filmmaking.
Ian Narlock
Ian Narlock is a double bassist from El Paso, Texas. As a student of Paul Sharpe, he received a Bachelor's degree from Texas Tech University and a Master's degree from UNCSA. Currently, he is the Principal Double Bass of the El Paso Symphony Orchestra and the Assistant Principal of the Las Cruces Symphony Orchestra. In the past, he has played for many regional orchestras in Texas, New Mexico and North Carolina. As an educator, he has served as faculty at the Chamber Music on the Hill Festival (North Carolina), UTEP Double Bass Event (Texas), the El Paso Symphony Youth Orchestras, staff at the Bad Boyz of Bass Camp (Indiana), as well as maintaining a private studio.
John Park
John Park is a double-bassist from Fayetteville, N.C. He started playing bass when he was fourteen years old, and began his study with Paul Sharpe the following year. John has been very active as a soloist as well as an orchestra player. Prior to coming to UNCSA, he played in the Fayetteville International Youth Symphony, Fayetteville Chamber Orchestra and the Berean Baptist Academy Orchestra. He has received second place in the Strings Solo Competition for North Carolina Christian School Association (NCCSA). Service and volunteerism have always been prominent parts of his life, and he serves in the UNCSA High School Student Government, Artists Reaching Out club and plays regularly in his church's worship praise band. John hopes to pursue music and science as his career in the future.
Isaac Present
Isaac Present was born in Winston Salem, N.C., and began his career in double bass at the age of twelve in the Paisley Middle School Orchestra. During his time at Paisley, he attended the All-County and Western Regional orchestras and performed as the principal bassist of the Winston Salem Youth Symphony. To further his studies in bass, he is currently a student at UNCSA, studying full time with Professor Paul Sharpe, who he had previously taken private lessons from. He has attended summer programs at UNCSA, the Fairbanks Summer Music Festival and the Butler Double Bass intensive. At UNCSA, Isaac has performed in the UNCSA Orchestra, Wind Ensemble, Bass Quartet and in the Double Bass duo.
Ella Sharpe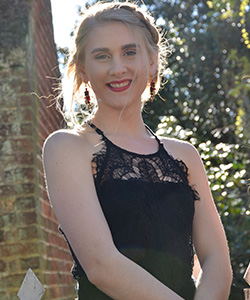 Ella Sharpe is a double bass player from Winston-Salem, N.C. She began school at UNCSA her sophomore year of high school and is currently finishing up her senior year. She started playing bass when she was seven years old under the tutelage of her father, Paul Sharpe. Since then, she has attended numerous summer intensives for both solo and orchestral work. In 2015, she attended the Boston University Tanglewood Institute's orchestral program under conductor Paul Haas. In 2016 and 2017, she was a part of the National Youth Orchestra in both their Europe and Latin American tour. She has had the opportunity to play concert venues from Carnegie Hall to the Concertgebouw under conductors such as Christoph Eschenbach, Valery Gergiev and Marin Alsop. In summer 2017, she made it to the semi-finals of the International Society of Bassists younger division of the solo competition. She hopes to continue her musical studies in college and is eager to see what new opportunities music will bring.
Victor Stahoviak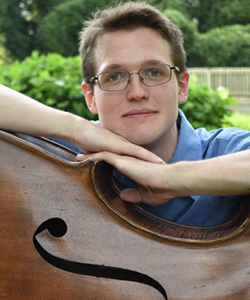 Victor Stahoviak is an undergraduate double bassist from Durham, N.C. He first began to play the bass in the sixth grade when he was 11, but did not begin his formal training until he first attended UNCSA in its high school program for his senior year. In two years studying under Professor Paul Sharpe, Victor has developed rapidly as a bassist from learning his first solo work to being part of one of the nation's most competitive summer music programs, Texas Music Festival. Victor enjoys playing opera and has performed in UNCSA's productions of "Florencia en el Amazonas" and "Ariadne auf Naxos," and has also taken every opportunity to play in double bass quartets at summer festivals and at UNCSA. Victor has a strong interest in jazz upright and electric bass playing, and currently plays with UNCSA's jazz ensemble.
Hanna Wilson-Smith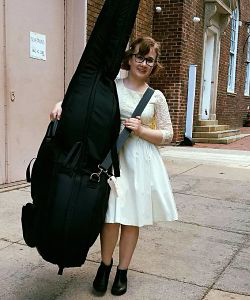 Hanna Wilson-Smith is a resident of Raleigh, N.C. She began to play the double bass in the eighth grade after two years on the cello and a growth spurt. Hanna and her half-size bass have participated in many musical ensembles around the Triangle area, including the Honors division of Eastern Regional Orchestra, First chair in Triangle Youth Symphony and Governor's School West 2017, as well as accompanying youth choirs and playing in her former school's musical. She is enjoying the challenging environment and high standards of the music school at UNCSA and as a student of Professor Paul Sharpe, she is looking forward to reaching her highest potential.