Meet the Double Bass Studio
Meet the Double Bass Studio
The UNCSA Double Bass studio is led by Paul Sharpe.
---
El Arnold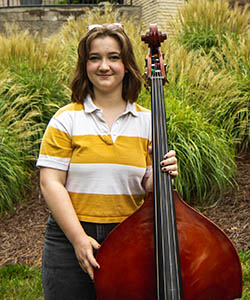 From Jacksonville, North Carolina, El Arnold is a senior in the UNCSA high school program. She began studying viola in in sixth grade but made the switch to the double bass in seventh grade and has stuck to it ever since. El joined the UNCSA bass studio in the 2021-2022 school year and participated in the Winston-Salem Youth Symphony. Over summer, she was granted the opportunity to study in Ochsenhausen, Germany for a couple of weeks with Professor Sharpe. When not playing bass, El is usually reading, cooking, or listening to all kinds of music.
---
Sara Nell Chase
Sara Nell Chase is a junior double bassist from Asheville, NC. She began playing double bass in sixth grade and, prior to coming to the UNCSA bass studio, has been mostly self-taught with two notable exceptions: She got her start with the late Eliot Wadopian, Grammy award-winning bassist from Paul Winter Consort and Free Planet Radio; and, beginning in 2021, a year of intensive study under Kevin Kehrberg, chair of Warren Wilson College's Music Department and IBMA award-winner.
In 2019 and 2020, Sara Nell was chosen as first chair bass for both West Region and All State bands. In 2021, she signed on to play bass with the Carolina Youth Orchestra in Greenville, SC (housed at Furman University) and was awarded the position of principal bassist. At the age of six, Sara Nell began playing violin; she now plays for enjoyment and the pursuit of deeper knowledge of old-time and bluegrass music. In addition to playing classical bass, Sara Nell also enjoys playing jazz and old-time music.
She is often found playing old-time with her sister at festivals and has played on many stages — Raleigh's Museum of Natural History (part of Pinecone's Music of the Carolinas series), at International Bluegrass Music Association's World of Bluegrass festival, Merlefest, and for the nationally-syndicated Song of the Mountains. When not playing music, you can find Sara Nell in the kitchen making pastry, working on her family's farm, or playing with one of her many beloved pets.
---
Sean Darney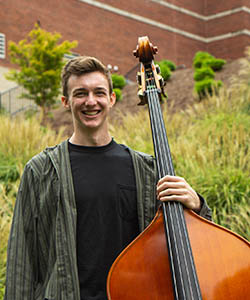 Sean Darney is a high school double bassist from Cary, NC. Sean started guitar as his first instrument at 2 1/2 years old. As soon as Sean was able to join the middle school orchestra, he joined and chose bass. The low sound and being able to feel the bass is why he chose it. He started playing the bass in 3rd grade and never looked back at the guitar. He got his first teacher in 4th grade and played in TYO/TYS from 4th to 8th grade. In middle school, he made Allstate orchestra and in his 8th grade year he got first chair for Allstate orchestra. He also made NCASTA and got third chair in middle school and that is where he met Paul Sharpe. Professor Sharpe shared the high school UNCSA program with Sean. Sean immediately fell in love with UNCSA and now is in his Junior year at UNCSA.
---
Gavin Hardy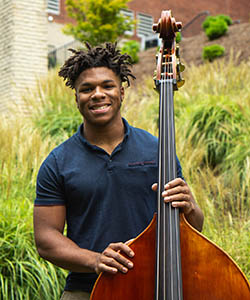 Gavin Hardy is a high school double bassist from Winston-Salem, North Carolina. He began playing the double bass at the age of 12. He started his journey as a string musician playing the violin and cello, but after hearing the warm, resonant, and powerful sound of the double bass, he was hooked. During his time in middle school, he was first chair of the Forsyth County "All County" Orchestra for two years straight.
After playing the national anthem on the double bass before a basketball game in 8th grade, the video went viral, and through this, he was connected to Paul Sharpe. After the first lesson with Sharpe, all his lessons were over Zoom due to Covid-19. Nevertheless, he recorded a successful audition tape for the National Youth Orchestra's NYO2 ensemble, and attended there this past summer. Additionally, he was one of ten finalists from around the world (including Turkey, Equador, Hungary and the United States) at the International Society of Bassists Solo Competition 2021 (15-18 division). Gavin's goal as a musician is to become the principal double bassist for a major symphony, and teach the double bass at a music conservatory.
---
Zane Hollomon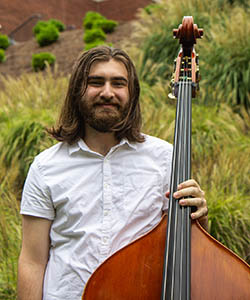 Zane Hollomon is an undergraduate double bassist from Winston-Salem, North Carolina. Since 2012, he has enjoyed playing his instrument in many of different settings; from classical and jazz to folk and contemporary, he prides himself on his musical diversity. He has had the pleasure of studying under some of the finest faculty at UNCSA, learning the intricacies of double bass performance from Paul Sharpe and demystifying the vibrant world of jazz improvisation with Ronald Rudkin. When he's not practicing his scales or learning new symphonies, Zane can be found on stage performing with his blues-rock band Caffeine Daydream, or in the studio writing, recording and producing music for films and video games.
---
Aaron Lawton
---
Labron Thompson
Labron Thompson is from Charlotte, North Carolina, and is a senior in the UNCSA high school program. This is his first year at UNCSA. A member of the Charlotte Symphony's Youth Orchestra for four years, he was also a member of North Carolina's Honors Orchestra (All-State) in 2021. After hearing Labron play through the NYO-USA audition repertoire, and learning that he prepared the material without a teacher, Prof. Sharpe invited him to audition for his senior year of high school. Labron credits the Charlotte Youth Symphony's program with giving him a passion for music and the double bass. His other passion is engineering, particularly in aerospace, which is the field in which he intends to major in college. Attending UNCSA has deepened his love for music and the bass, and it always be part of his life.
---
Simon Vazquez-Carr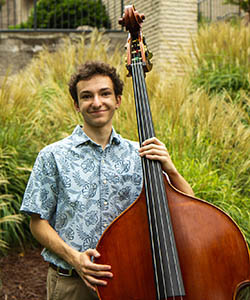 Simon Vázquez-Carr is a bassist who has lived in many different places across the United States. He is a junior in high school, and has been playing the bass for five years. Although the bass is his instrument of choice he explored other instruments well before landing on the bass. He took piano lessons, guitar lessons, sang as a member of the Wilmington (DE) Children's Choir and later played in his school's band, jazz band, choir and chamber choir. He started playing bass in the Kennebec (ME) Valley Youth Symphony Orchestra. He came to UNCSA when his family moved to Durham, North Carolina, and has been studying with Professor Sharpe since his freshman year. His rapid improvement over his first years culminated in his acceptance into the NYO2 orchesta of Carnegie Hall's NYO-USA program. While playing double bass is his passion he also enjoys, chess, video games and spending time with his family.
---
Emery Wegh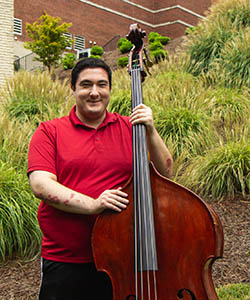 Emery Wegh started playing the cello in the second grade in the Farmington, CT public schools, and then was offered the chance to switch to the double bass. After having immersed himself totally in orchestral repertoire for a number of years, his focus shifted, and he soon found himself exploring the world of Bach cello suite transcriptions and double bass concerto repertoire. The experience of performing in the Connecticut All-State Orchestra and Hartford Youth Symphony solidified his passion for the instrument and he decided to pursue music as a career. He attended the Hartt School of Music and studied with contemporary and avant-garde double bassist, Robert Black. After he graduated, he joined the master of music program at UNCSA, studying with Paul Sharpe. He has performed in music festivals throughout Europe and the United States. Currently, he is a Performing Arts Certificate student at UNCSA, and is focused on audition repertoire preparation. In the Fall of 2022 he won the assistant principal position with the Salisbury Symphony Orchestra, and he continues to play regularly with the Western Piedmont and Winston-Salem Symphony Orchestras. He is a very active private double bass teacher, with a large studio of private students and frequent clinics in middle and high schools.
---
David Wintermute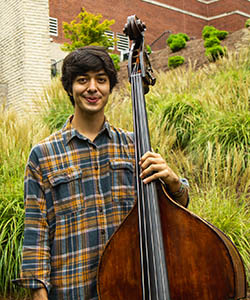 David Wintermute, originally from Durham, North Carolina, began to play the bass his junior year of high school in Guanajuato, Mexico. His objective is to compose -- combining elements of neoclassical, ethnojazz and folk music, blending genres, languages, cultures and borders. David is particularly focused on expression through activism. He believes in music that lets people feel more in touch with each other, and with their ecosystem; incorporating creative writing, the voice, the bow and the double bass as mediums of protest for environmental and social justice.
---
Laurel Young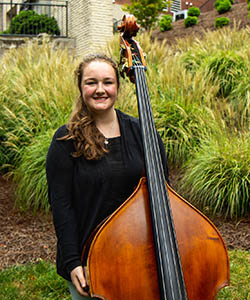 Laurel Young is a senior in high school at UNCSA and has been playing bass since she was in sixth grade. She has performed across the state over the past five years and has been a member of multiple youth symphony ensembles since the fall of 2019 including the Charlotte Symphony Youth Philharmonic, the Charlotte Symphony Youth Orchestra, and the Winston-Salem Symphony Youth Orchestra. Laurel has also taken part in a variety of summer programs since 2017 and in recent years has attended the 2021 Instrumental Music program at North Carolina Governor's School West, and the Brevard Music Center's 2022 High School Orchestra Intensive. Although she really loves learning, she also enjoys teaching and has dedicated her time to instructing privately, along with helping out with middle school classes at the school she used to attend.