Meet the Double Bass Studio
Meet the Double Bass Studio
The UNCSA Double Bass studio is led by Paul Sharpe.
---
Eliana Arnold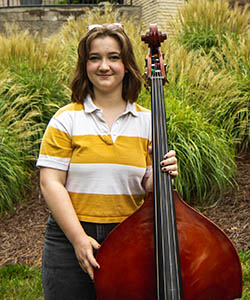 Coming from Jacksonville, North Carolina, Eliana Arnold is a junior in the UNCSA high school program and has been studying bass for four years. Starting on viola in sixth grade, she began playing bass halfway through seventh grade at the request of her teacher. Before her freshman year of high school, she decided to make double bass her primary instrument. Having only studied under violinists throughout her musical education, Eliana applied to UNCSA in hopes of being able to study with a bassist. Other than her virtual private lessons that began June 2020, she has also participated in programs that allow her short-term work with bassists during the University of North Carolina Greensboro's Summer Music Camp, Honors Eastern Regional Orchestra and Honors All-State Orchestra. It is Eliana's first year at UNCSA and she looks forward to growing as a musician and studying with Paul Sharpe.
---
Payton Baysinger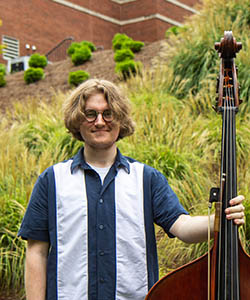 Payton Baysinger has lived in a variety of places across the United States. He began playing the bass at 10 years old in fourth grade at his elementary school in Southington, Connecticut. A member of the All-State Symphony Orchestra in Connecticut many times, he also was a member of the Hartford Youth Symphony. After moving to North Carolina, Payton's musical exploration and ability expanded greatly, and he became a member of North Carolina's All-State Orchestra. As an undergraduate student, he performed in the UNCSA Symphony Orchestra and Wind Ensemble, the UNCSA Opera Orchestra and the Graduate/Undergraduate Bass Ensemble. In his spare time, he enjoys composing and has just completed the second movement of his first symphony.
---
Lucas Caceres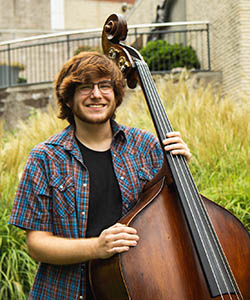 Lucas Caceres is a senior in the high school program at UNCSA. He enjoys playing bass in all settings, including genres of music outside of classical. His musical journey began when he was eight years old with an electric guitar and rock and roll music, and that led him to finding his way to electric bass in the sixth grade. In eighth grade, he joined his school orchestra and learned how to play the double bass. Since then, the double bass has become his main instrument. He has played in the Charlotte Symphony Youth Orchestra, North Carolina Western Regional Honors Orchestra, North Carolina All-State Honors Orchestra, Southeast Honors Strings Festival and various ensembles at UNCSA. Over the past summer, he discovered he enjoys teaching, and is the double bass instructor at Davidson Violins. When not holding a double bass, he enjoys cooking, baking, gaming, rugby and reading.
---
Sean Darney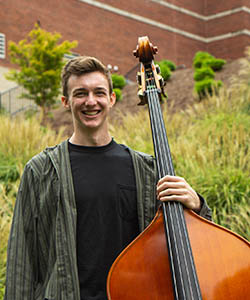 Sean Darney is a high school double bassist from Cary, NC. He started guitar as his first instrument at 2 and a half years old. He started learning the bass in the third grade and never touched the guitar again. He just loved the bass' low sound and being able to feel the resonant vibration of it while being played. In fact, because of his height he was invited to join the middle school orchestra while he was still in the third grade. He got his first teacher in fourth grade and played in the Triad Youth Orchestra and Symphony from fourth to eighth grade. In middle school, he made North Carolina Middle School All-State orchestra and in eighth grade he was principal double bass of that orchestra. He was also selected for NCASTA while still in middle school, and that is where he met Paul Sharpe who invited him to audition for UNCSA. Sean fell in love with UNCSA and is now is in his junior year.
---
Gavin Hardy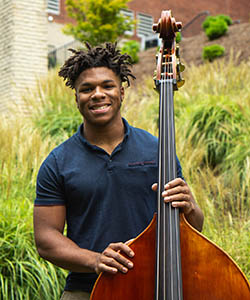 Gavin Hardy is a high school double bassist from Winston-Salem, North Carolina. He began playing the double bass at the age of 12. He started his journey as a string musician playing the violin and cello, but after hearing the warm, resonant, and powerful sound of the double bass, he was hooked. During his time in middle school, he was first chair of the Forsyth County "All County" Orchestra for two years straight.
After playing the national anthem on the double bass before a basketball game in 8th grade, the video went viral, and through this, he was connected to Paul Sharpe. After the first lesson with Sharpe, all his lessons were over Zoom due to Covid-19. Nevertheless, he recorded a successful audition tape for the National Youth Orchestra's NYO2 ensemble, and attended there this past summer. Additionally, he was one of ten finalists from around the world (including Turkey, Equador, Hungary and the United States) at the International Society of Bassists Solo Competition 2021 (15-18 division). Gavin's goal as a musician is to become the principal double bassist for a major symphony, and teach the double bass at a music conservatory.
---
Zane Hollomon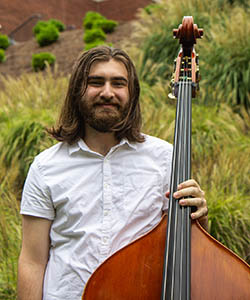 Zane Hollomon is an undergraduate double bassist from Winston-Salem, North Carolina. Since 2012, he has enjoyed playing his instrument in many of different settings; from classical and jazz to folk and contemporary, he prides himself on his musical diversity. He has had the pleasure of studying under some of the finest faculty at UNCSA, learning the intricacies of double bass performance from Paul Sharpe and demystifying the vibrant world of jazz improvisation with Ronald Rudkin. When he's not practicing his scales or learning new symphonies, Zane can be found on stage performing with his blues-rock band Caffeine Daydream, or in the studio writing, recording and producing music for films and video games.
---
Simon Vazquez-Carr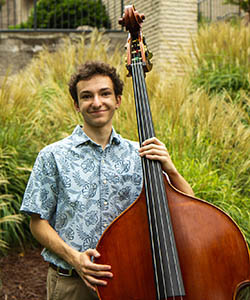 Simon Vazquez-Carr is a bassist who has lived in many different places across the United States. He is a sophomore in high school, and has been playing the bass for four years. Although the bass is his instrument of choice he explored music well before landing on the bass. He took piano lessons, guitar lessons, sang as a member of the Wilmington (DE) Children's Choir and later played in his school's band, jazz band, choir and chamber choir. He started playing bass in the Kennebec (ME) Valley Youth Symphony Orchestra. He came to UNCSA when his family moved to Durham, North Carolina, and has been studying with Professor Sharpe since his freshman year. His ability as a bassist improved greatly under Professor Sharpe's instruction. He currently participates in the UNCSA Symphony Orchestra as well as the High School Bass quartet. While playing double bass is his passion he also enjoys, chess, video games and spending time with his family.
---
Emery Wegh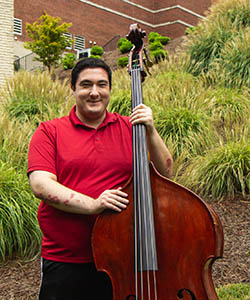 Emery Wegh started playing the cello in the second grade in the Farmington, CT Public Schools and then was offered the chance to switch to the double bass. He seized that opportunity and has never looked back. After having immersed himself totally in orchestral repertoire for a number of years, his focus shifted, and he soon found himself exploring the world of Bach cello suite transcriptions and double bass concerto repertoire. The experience of performing in the Connecticut All-State Orchestra and Hartford Youth Symphony solidified his passion for the instrument and he decided to pursue music as a career. He attended the Hartt School of Music and studied with contemporary and avant-garde double bassist, Robert Black. After he graduated, he joined the master of music program at UNCSA, studying with Paul Sharpe and has performed in music festivals throughout Europe and the United States. Emery hopes to gain a position in a professional orchestra and to teach as many students as he can.
---
David Wintermute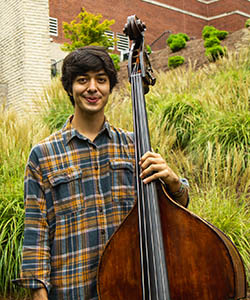 David Wintermute is originally from Durham, North Carolina. He began playing the double bass during high school in Guanajuato, Mexico studying with Russell Brown. He currently is pursuing his undergraduate studies with Paul Sharpe.
A life-changing moment happened when he heard a solo double bass piece, "Hymn" by Lars Peter Hagen, at a recital given by Dan Styffe, the co-principal of the Oslo Philharmonic. In an instant he understood what his purpose in performing was to be – to play not for prestige or recognition, but for the earth; in gratitude for its brilliant biodiversity and cultures. He is especially interested in arranging contemporary world folk music for Western Classical string instruments and ensembles; particularly folk music from Senegal, Cuba, Southern Mexico and the Andes. He aspires to found a collective of musicians, conservation biologists, and environmental activists to hold concerts to promote the international preservation of biodiversity at ecological reserves throughout the world.
He has attended many festivals, including UNT Bass Masterclasses, Ticino Musica Festival, Biarritz International Bass Academy, Domaine Forget and Sa' Oaxaca String Festival. As a sophomore he was selected to compete in the finals of the UNCSA Concerto Competition, playing Andres Martin's Concerto No.1. When he is not playing the double bass, he likes to write folk songs, ride his bike, and dance tango.
---
Laurel Young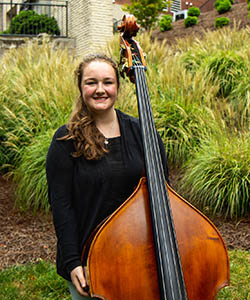 Laurel has been playing bass since she was in sixth grade and has performed across the state over the past four years. She has been the principal bassist for both the Charlotte Symphony Youth Philharmonic and the Charlotte Symphony Youth Orchestra and is a current member of the Winston-Salem Symphony Youth Orchestra. During the past summer Laurel was able to attend the North Carolina Governor's School West as an instrumental music major before she arrived for her first year at UNCSA. Although she really loves learning, she also loves teaching, and has dedicated her time to helping out with middle school classes at the school she used to attend.